Bappi Lahiri is a well known music director in Bollywood, who has also sung some popular songs. He has recently stepped into politics as a member of BJP from the Srirampur constituency in West Bengal.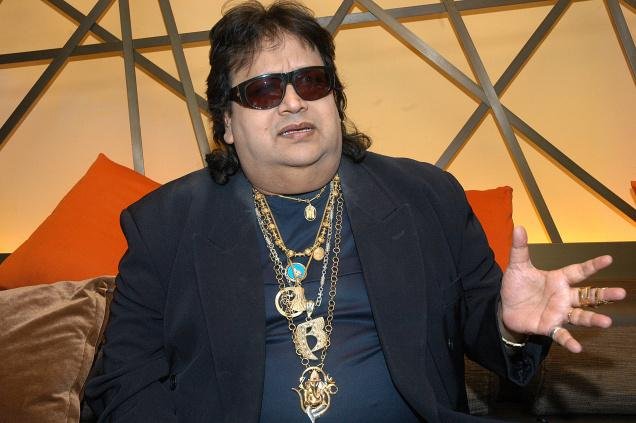 Net Worth: Rs 12 crore
Income Sources: Bappi Lahiri is a music composer, singer, actor and producer. He has recently joined politics as a member of BJP.
Born: 27th November, 1952 (62 years old)
Real Name: Alokesh Lahiri
Height: 5'4″ Feet
Marital Status: Married to Chitrani Lahiri since 1977. The couple has two children, daughter Rema Lahiri and son, Bappa Lahiri. Both of them are in the musical field.
Personal Background
Bappi Lahiri was born in Kolkata and comes from an illustrious musical family, with his parents Aparesh Lahiri and Bansari Lahiri being well known Bengali classical singers and musicians. The famous artists Kishore Kumar and S Mukherjee are related to him from his maternal side. He started young, playing tabla at the age of 3 years and was later trained by his parents in music. He became a member of BJP in 2014 and fought the elections for Lok Sabha seat from Srirampur in West Bengal. Bappi Lahiri is recognized for his taste in gold jewelry and eye wear.
Career Graph
Bappi Lahiri started his film career at the age of 19 years, when he moved to Mumbai in search of work. He made his debut in 1972, with a Bengali film called "Daadu" and his Hindi debut came in 1973 with a movie called "Nanha Shikari". He made his debut as a playback singer in 1975 with a Hindi film called "Zakhmee", for which he also composed music. Some other hit songs came with films like "Wardat", "Pyara Dushman", "Armaan", "Disco Dancer", "Dance Dance", "Pyar Ke Naam Kurbaan", "Namal Halal", "Sharaabi" and "Commando", in which he showed his versatility, particularly in disco genre. He was considered the best choice for composing music for Mithun Chakraborty movies. He has aptly been given the title of "Disco King". He has made it into Guinness Book of World Records for having recorded more than 180 songs in 33 films during 1986. Till date, he has composed more than 5000 songs in over 500 movies in diverse languages, including Hindi, Bengali, Gujarati, Marathi, Punjabi, Tamil, Telugu, Kannada, ,Malayalam, Oriya and Assamese. He has also composes music for some Bangladeshi films. Additionally, he has composed music for some Hollywood film too, such as "Eye Witness to Murder" and "Divine Lovers". Bappi lahiri is a multi talented artist, who has not only made it big in music composing and singing, but also acted in a few films including "Badhti ka Naam Daadhi", "Kalakaar", "Geet", "Bombay Girls" and "Om Shanti Om".
Assets
When Bappi Lahiri filed his nomination as a BJP candidate in the 2014 Lok Sabha Elections, he declared assets worth Rs 12 crore, which include a residential apartment and agricultural land. Lahiri and his wife also possess gold and silver ornaments, which are worth in lakhs. He is famous for sporting a large number of gold chains in public.