Azim Premji Wiki, Age, Height, Biography, Wife, Net Worth
Azim Premji is a renowned business tycoon and chairman of the IT giant, Wipro Limited. He has been leading the company for the past for decades, steering it on a path of success and growth and earmarking India as a software pioneer on the global front.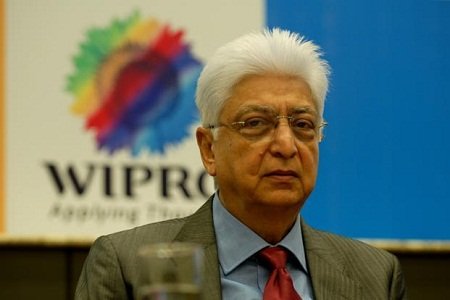 Net Worth: $ 19.4 billion
Income Sources: Azim Premji is the fourth richest Indian in the world, who owns a 75% stake in the software giant, Wipro Limited. He also has the ownership of a private equity fund called Premji Invest, which is another major source of income for him.
Born: 24th July, 1945 (73 years old)
Full Name: Azim Hashim Premji
Marital Status: Married to Yasmeen Premji. The couple has two sons Rishad Premji and Tariq Premji.
Biography
Azim Premji was born in Mumbai in a Muslim family, which came from the Kutch region in Gujarat. He was literally born with a silver spoon in his mouth and belonged to an influential business family. His father Mohammed Hashem Premji was a leading businessman dealing in rice and Jinnah himself invited him to come to Pakistan during partition, a proposal which was rejected by him. Azim Premji completed his Bachelors degree in Electrical Engineering from the prestigious Stanford University in USA. When his father died in 1966, Azim Premji, who was just 21 years old at that time, had to return from Stanford University to join the family business, which was named as Western Indian Vegetable Products then. Premji took the company which manufactured vegetable oils, on a path of diversification and soon it stepped into production of bakery fats, toiletries, hair care products, lighting equipment and hydraulic cylinders. Later in the 80s, he realized that he could capitalize on the expulsion of the IT giant IBM from the country and renamed his company as Wipro, which was now engaged in manufacture of computers. Wipro framed collaboration with the leading American IT company called Sentinel Computer Corporation, and started providing software services in India. His company received huge success as well as recognition on the global level and soon he became one of the richest people in India, besides being declared as the 61st richest person in the world in 2014. Premji has been honored with a number of awards and felicitations on account of his glorious contribution in the field of IT business. The most prestigious one amongst these is the Padma Vibhushan, the second highest civilian honor in the country.
He has also been recognized among the Greatest Entrepreneurs by the Business Week for making Wipro one of the faster growing IT companies in the world. Additionally, he has received honorary doctorates from Wesleyan University in Middle town, Connecticut and Manipal Academy of Higher Education. Despite being one of the richest and most successful business tycoons in the country, Azim Premji is known for leading a very simple life, choosing to stay away from luxurious things like private jets and yachts. He is also appreciated for his philanthropic efforts, making generous donations for encouraging quality education in the country and making it available for one and the all. He has established an NGO called Azim Premji Foundation for reaching the fulfillment of this noble cause.