There are many fabulous features of arkray glucocard G+ blood glucose test strips. To embark on, the fantastic feature of the strip is shelf life. It means even the expiry date has been gone; people can still use the test trip for monitoring the sugar level. The strip is convenient to carry and share. The package of the strip is lightweight that is travel friendly, and can be taken along anywhere.
One packaging of the strips consists of 50 pieces. It has been proven that it is the accurate strips without the errors in the reading. It ensures the perfect reading of the sugar level. More broadly, you have a humidity protection feature that keeps the quality of the test strip intact. That means the test strip has minimum exposure to the environment.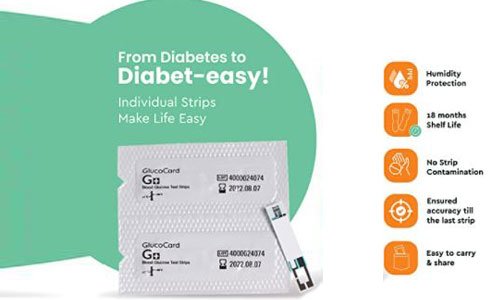 Key uses of Arkray glucocard G+ blood glucose test strips

Self-testing the blood sugar level
Key benefits
The reading taken through the test strip is easy and is proven accurate. In addition, errors are minimized by the strip.
The strip is designed incredibly because it has humidity protection. Hence, it keeps the quality intact.
To carry the test strip is easy, but on top of that, it helps to share the results with friends and family members.
The test strip minimizes the wastage because it does not have open expiry. Therefore, it has a shelflife that can be used more.
The strip packaging consists of 50 strips that individually can be used for an extended period.
Directions for use
The Arkray glucocard test strip is the quality strip that is accurate for monitoring the sugar level. To know the readings follow the instructions below.
Place the test strip on the Arkray G+ Glucocard glucometer.
And by considering the requirement of the test strip and prick the finger and provide the sample for blood.
Wait for a few seconds, and the result will be shown immediately on the Display screen of the glucometer.
Hence, this is the practical and effortless working of test strips.
Safety Information
The test strips can be used only one time. Therefore, be sure that you are not using the same strip for the second time.
Consulting a doctor about the medical disease is best that gives the appropriate results.
While taking the blood sample on the strip, do not squeeze the finger or pressurize it.
Before using the strip, confirm that it is not out of the expiry date.
To prevent the infection, clean your hands thoroughly and then insert the strip into the glucometer.