Ali Zafar is a multi talented Pakistani actor, singer and music composer, who has made it big in the B-town too, besides being a popular star in his own country. His handsome face and melodious voice have helped him win many a heart in India and all around the world.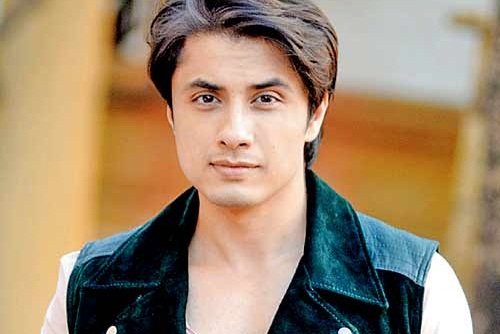 Net Worth: $ 16 million
Income Source: After his success as a singer and model in Pakistan, Ali has received great response in the Indian film industry too and is getting a considerable amount of money per movie, which is around Rs 2-3 crore.
Born: 18th May, 1980 (34 years old)
Full Name: Ali Mohammad Zafar
Marital Status: Ali Zafar is married to his long time sweetheart, Ayesha Fazli since 2009. Ayesha is related to actor Aamir Khan. They have a son called Azaan Zafar, who was born in 2010.
Height/Weight: 5 feet 10 inches, 77 kg
Personal Background
Ali Zafar was born in a Punjabi family in Lahore, Pakistan and started showing his artistic drive right from a young age. He even made his own comic as an 8 year old and later completed a graduate degree in Fine Arts from National College of Arts, Lahore. He was even employed by the Pearl Continental Hotel, Lahore as a sketch artist and this was where he met his would be wife, Ayesha Fazli for the first time. Later, he went on to become one of the most popular rock stars in his country, followed by phenomenal success in India too.
Career Graph
Before Ali Zafar started his acting career, he was recognized widely as a singer and music composer. His singing career began with a song "Jugnuon se Bhar le Aanchal" in the Pakistani movie called "Shararat", which was followed by his first album "Huqa pani" (2003), featuring the highly acclaimed single "Channo". The album became a raving success, selling more than 5 million copies worldwide. Son, he became one of the most successful singers in his country and his good looks brought him offers for some TV shows. Zafar was bitten by the acting bug and decided to cross the border to try his luck in Bollywood. he made his Bollywod debut in "Tere Bin Laden", which got a reasonable response and also earned him a nomination for Filmfare Best Male Debut Award. Ali Zafar got a chance in the Yash raj film "Mere Brother ki Dulhan", in which he co starred with Katrina Kaif and Imran Khan, and this was when he tasted his first commercial success. Then came "London, Paris, New York", "Luv ka The End", "Chashme Baddoor", "Total Siyapaa" and "Kill Dill", and Zafar was appreciated in each of these movies. He has received a number of acting awards in India, including MTV Style Awards, Lux Style Awards, Indus Music Awards, Stardust Awards and the most prestigious one, Dadasaheb Phalke Academy Award. He has also been acclaimed with the title of "Sexiest Asian Man on the Planet", on the basis of a poll conducted by a British newspaper, Eastern Eye.