Ajith Kumar is one of the most acclaimed actors in the Tamil film industry and has a considerable fan following in this part of the country. He has had an illustrious career here, during which he has come up with a large number of hits as well as numerous awards and honors.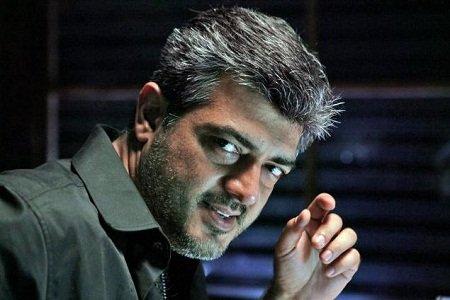 Net Worth: Coming soon….
Income Sources: Ajith Kumar has made most of his net worth by working Tamil movies. He has also tried his hand in car racing and has excelled there too. Before coming into films, he has done some modeling assignments too.
Full Name: Ajith Kumar Subramani
Date of Birth: 1st May, 1971 (47 Years)
Height/Weight: 5 feet 11 inches, 73 kg
Marital Status: Ajith Kumar is married to Shalini, a former actress, since 2000. The couple has a daughter, Anoushka and a son, Aadvik.
Personal Background
Ajith Kumar hails from a mixed lineage, with his father being a Keralite and mother a Sindhi from Kolkata. He could not speak Tamil as a child but learnt the language only after joining the industry. Ajith Kumar was a school dropout and worked as a bike mechanic, during which he developed interest in car and bike racing. He even did apprenticeship in car racing, besides starting up a garment export business. During this time, he also did some modeling assignments with print media. From here, he got a break in films in 1992 and he later went back to his first love, car racing in 2004, when he participated in British Formula Three Season. In fact, he was on number three rank amongst the best race drivers in India. Ajith Kumar has always been in news, not only for his successful film career, but also a series of relationships before he got married to actress Shalini and making some controversial comments. He has earned a place on the Top 100 Celebrities List 2014 by Forbes India.
Career Graph
Ajith Kumar started his film career with a supporting role in a Telugu movie called "Prema Pustakam", which released in 1992. This is the only Telugu movie he has done till now. Next came, the Tamil release called "Amaravathi" in which his voice was dubbed by Vikram. He had to stay away from films for a period of one and a half year after that as he suffered a racing accident and had to undergo surgeries. Then he made a comeback in 1993 with a small role in "Paasamalargal" in 1993 but big recognition came his way with the thriller film called "Aasai", which released in 1995. Following this, Ajith Kumar delivered hit after hit, with the likes of "Aval Varuvala", "Kadhal Kottai", "Billa", "Villian", "Mankatha", "Veeram" and "Arrambam", to name just a few. Currently, he is one of the most popular figures in the Tamil film industry. He has earned this position by his exceptional performances and has also been honored with three Filmfare Best Actor Awards during this period. Ajith Kuamr has proved his versatility by working in different genres like action, drama and romance, all with equal flair.