Ajinkya Rahane is a 27-year-old famous Indian Cricketer who is now considered as an emerging talent of Indian squad. In the domestic cricket tournament, he is under the cricket team of Mumbai. His role in the team is a right-handed batsman.
His debut in the international cricket arena was during the Twenty 20 International when India played against England, held in the magnificent city of Manchester, England.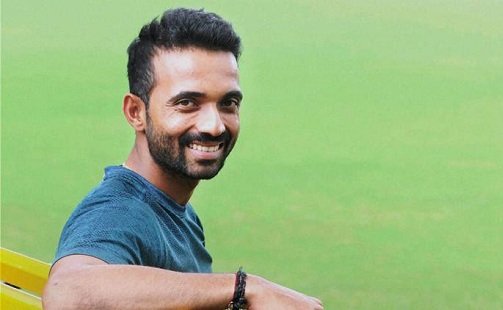 Net Worth: $3 million (Estimated)
Sources of Income: Ajinkya Rahane is earning a whopping amount of money from playing cricket domestically and internationally. If you are wondering where he gets his great wealth, then the answer is this sport. In fact, he is being paid 4 lakh in every One day cricket match. In every T20 match, he is being paid 2 lakh, 7 lakh in every Test match, and around 4.5 crore in IPL season.
Full Name: Ajinkya Madhukar Rahane
Born: 6th June, 1988 (30 Year)
Marital Status: Way back on the 26th day of September year 2014, Ajinkya Rahane took a marriage vow with the love of his life as well as his childhood friend, Radhika Dhopavkar.
Height/Weight: He stands 5 feet and 7 inches, and weighs 60 kilograms.
Personal Background
Ajinkya Rahane was born and raised in Ashwi Khurd village, Ahmednagar District in the Indian state of Maharashtra. His father is named Madhukar Baburao Rahane, while his mother is none other than Sujata Rahane. He is the eldest of the three siblings. He has a brother and a sister named Shashank and Apurva respectively. When he was still young, he was already trained on how to play cricket well. He used to go to a small coaching camp in the city of Dombivli with his father. He was not sent to a bigger and wider coaching camp simply because they don't have enough fortune at that time.
He started training in the camp since he was 7 years old. Fortunately, he was being coached by a former batsman of the Indian cricket team, whom was Pravin Amre, at the age of 17. Ajinkya finished high school in SV Joshi High School, located in the city Dombivli.
Career Graph
In was in the year 2007 when Ajinkya Rahane's career in the cricket world has started. He became an official player in India U-19. Since he performed well during that time, he was given a big break for his first-class career at the very young age of 19. He was playing with the Mumbai team against the team of Karachi Urban on September 2007 for the Mohammad Nissar Trophy. This big break of him was considered to be accidental since the first-choice players of Mumbai team were unavailable for valid different reasons. He then played in the Irani Trophy match where he performed very well. After that, he played excellently in the Ranji season, in which he made the rest of the Mumbai cricket team very proud. In the year 2011, he was given the chance to showcase his excellent skills in cricket in the international arena during the Test match.
He played under the team of West Indies. Until now, Ajinkya Rahane is still the standard in India that needs to be surpassed, as far as cricket playing is concerned.
Save