The AccuSure simple test strips are our primary use for self-testing the blood sugar level. These strips are fabulous and are perfectly designed for people who need to check their glucose level in the blood frequently.
People need to get the tiny drop of the blood and apply it on both edges of the strips to get instant results without any hassles. This is the hassle-free testing that can be done at people's comfort level.
The blood sample is required minimal, that is approximately 0.7 µL. These compatible test strips can be used with the AccuSure Simple glucometer to make the process of testing breeze for diabetic people. This pocket-size, the easy-to-use product gives accurate results.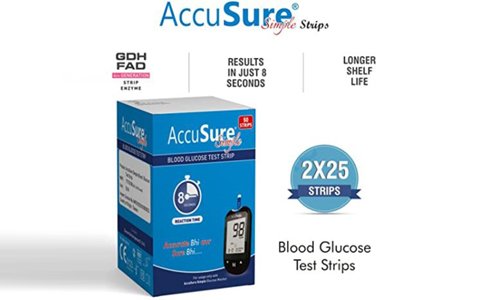 Key uses of AccuSure Simple Test Strips
Measure the glucose level in blood
Key benefits
The test strip known as AccuSure simple is tremendous and compatible with the same model of a glucometer.
The result is visible on the screen within eight seconds. On top of that, it requires a minimal amount of blood samples.
The strip packaging consists of 50 in total that can be used for an extended period.
The product's weight is 40 g, which is lightweight and easy to carry effortlessly.
The sucking feature of the strip is fabulous and absorbs the blood instantly.
Directions for use
The AccuSure simple blood Glucose test strips can be used easily. The usage instruction of the strips is mentioned below.
First, Set your glucometer machine properly by collecting the additional devices such as an alcohol prep pad, a Lancet, and a test strip.
Apply the test strip on the glucometer. Plus, collect the minimal amount of blood according to the microlitre.
Wait for a few seconds, and the results are visible on the screen instantly.
In this way, testing glucose levels and reaching the goal can be done effectively.
Safety Information
Refer to read the details on the packaging carefully before using the test strips to take a sample.
Clean the fingertip and do not squeeze it when taking the blood drop sample.
Be sure that it is not in the reach of children. It might harm their finger due to the pain on the strip.
To ensure the accurate working of The test strip, it will be convenient to examine the expiry date on the packaging.
While taking the blood sample, be sure that you are slightly pricking your finger.