If you are tired of searching for a reliable glucometer then this article is for you. After reading this you will find an exact guideline about the best glucometer available in the market. Yes, it is Accu-Chek Guide Glucometer.
The Accu-Chek Guide Glucometer is a battery-powered portable glucometer with a companion app facility. You can easily connect your phone with this glucometer with the help of wireless Bluetooth and thus easily present blood sugar reading and history. Its accuracy follows international standards. This glucometer is an easy-to-use device that can be operated by a diabetic patient with little operating knowledge. With the help of the glucometer, you can easily monitor your blood sugar level.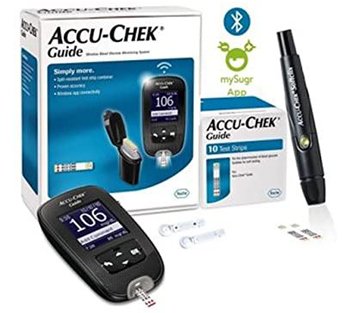 What are the main features of this glucometer?
To improve the testing experience this glucometer bears the following features-
Bluetooth Connectivity helps you to connect this device with your phone.
This glucometer uses a '3V CR2032' battery.
It is available in different size packs with test strips of 10/25/50.
It has a 'Target Percentage' display.
It has a 'Pattern Detection' facility.
Provides accurate and reliable results.
Stips can be disposed of easily.
To eject strips this glucometer has a 'Push Button', so you don't have to touch the strips.
No paper is required to display the result.
Anyone can use it without any coding chip.
It is fast, accurate, and comes with 10 free strips.
'Easy to read' display helps you to read the result in a clear vision.
It is very popular because of its large blood-drop area.
Spill-resistant 'SmartPack' vial.
How to use this Accu-Chek Guide Glucometer?
Printed instructions along with this glucometer help you to use it easily. However, here are a few steps to guide you.
First of all turn on the device and place one test strip on the glucometer in the right orientation.
Open one lancet and place it on the lancet device, open the needle, and apply it to prick fingertip.
Pour a small amount of blood on the test strip and within four seconds you will get the result.
Pros:
Now the question that arises in customers' minds is why this glucometer is in growing demand. These points will give you a surety about this glucometer-
Wireless Bluetooth technology helps you to connect the device with the smartphone.
The glucometer has an inbuilt calculator that helps you to determine insulin doses.
Provides accurate results.
Long-lasting battery helps you to cut down your expenses.
You can easily dispose of the used strips.
'Spill-resistant' container for test strips is more convinient than the conventional test strips vials.
Cons:
The main drawbacks behind this glucometer are-
You can not connect this glucometer with other glucometers so there is a problem of sharing data.
Price barrier is a factor for this device.
Safety information:
Before using this glucometer, keep these points in your mind-
Don't rift your finger very hard.
Don't press the meter to squeeze excessive blood.
Use only a small amount of blood for testing.
Keep this glucometer away from heat and sunlight.
Keep the device away from the children.