Sardar Vallabh Bhai Patel, also known as the "Iron Man of India" was born on 31st October 1875 in a small village in Nadiad, Gujarat. His father name was Jhaver bhai Patel and working as a farmer whereas his mother named Laad Bai was a simple housewife.  He was one of the important and key leaders of Indian National Congress at that time. His nickname was Sardar which symbolizes as 'Head'.
The greatest contribution of Sardar Patel in Indian Politics was to unite all the independent princely states and put under the umbrella of the federal structure as per the Indian constitution. He was also the First Deputy Prime Minister of India during the tenure of Pt. Jawahar Lal Nehru. Here is the list of Top 10 interesting facts about Sardar Patel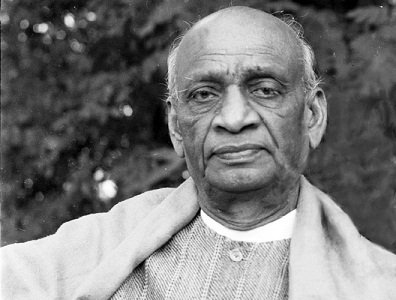 10. No official record of Date of Birth
There is no official record or document of Date of Birth of Sardar Patel. The date of birth generally referring was the basis on the date which was mentioned in his examination papers of metric. But his place of birth is confirmed as the small village in Gujarat named Nadiad.
9. Deep attachment with Father of Nation i.e. Mahatma Gandhi
It was well-known at that time the close relationship of Sardar Patel with Mahatma Gandhi. He was so much inspired by Father of Nation that he did not bear his loss. When Gandhi ji was assassinated then, Sardar Patel was shocked and broke from inside and his health declined continuously. Within next two months, he suffered from the major heart attack which he could not bear.
8. Payment guaranteed of Privy Purses
Sardar Patel was the strong decision maker and stick to that. During the integration of multiple princely states, he persuaded the constituent assembly and guaranteed the payment of Privy Purses. This would safeguard the rights of former rulers of states. This decision was opposed by its party and rejected his proposal out rightly, but was Patel stick to it.
7. A true friend by heart
Sardar Patel was known for his friendship and he is a person who is a true friend by heart. In the year 1930, the disease known as the bubonic plague spread out in the whole state of Gujarat in which one of his close friends was also affected. He didn't bother about the doctor advice and went to his friend and take care of him. He himself was caught by the plague due to this incident. For some time he had to live in isolation in a dilapidated temple in the Nadiad village until he recovered fully.
6. Ground level person – Not forgot his roots
Sardar Patel belonged from a poor family and worked with his father in the fields during his childhood days. He saw the tough situation at her home. This makes him a ground level person who do not forget his roots. Due to his bringing in such kind of poor family, he always had a soft corner in her heart for poor people of the nation.
5. Committed to his duties and responsibilities
Patel was barrister by profession and a man of principles. He was sincere and dedicated towards his responsibilities and duties. In the year 1909, Sardar Patel wife passed away during the surgical operation in a hospital. At that time, he was busy in proceedings of the court. When he got this sad news, instead of reacting immediately, he continued his proceedings and informed this demise news of his wife to others after the adjournment of court.
4. Strongly opposed the existence of RSS
This is the fact which is known to only a few Indians that Patel during his tenure of first Home Minister of Independent India implemented the ban of Rashtriya Swayamsevak Sangh (RSS) for their suspected role in the assassination of our father of nation i.e. Mahatma Gandhi. He strongly condemned the RSS activities of violence against the minority group of people.
3. Nation First
He always put the nation on the top priority before himself. In 1946, the majority of the party workers wanted Sardar Patel as the Congress party President but Gandhi ji put forward the name of Nehru for this position. Nehru simply denied that he could not work under the leadership of anyone. Patel has deep respect for Gandhi ji, therefore he withdrew his candidature for the sake of the nation.
2. Farsighted Person
Patel was farsighted persona and warned Nehru in 1950 against the China ambition in the northeast region. Nehru did not take this seriously at that time and we got a humiliating defeat from China in 1962 war.
1. Supporter of India Civil Servants
Sardar Patel believed that due to our nation diverse culture, we need a strong bureaucratic structure to run the country. He played a major role in the construction of Indian Administrative Services. (IAS).