There are many beautiful places on Earth that makes us feel awestruck. Sometimes we wouldn't have even visited a place whose very name will kindle a feeling of familiarity. There are times we have yearned to settle down in a particular place for the rest of our life time. Places and places are there across the world with which we would like to attach ourselves. One such place that is considered as a heaven on earth is Idukki in the Indian state of Kerala. Idukki is an astonishing place in the midst of stunning greenery. The district has many heartwarming waterfalls and hill stations that offer absolute serenity to human minds. Let us have a look at 10 interesting facts about Idukki
#10. The total area of Idukki is 4479 square kilometers. 97% of Idukki is occupied by dense forests and the rest of the portion by water bodies. Idukki is not a shore district unlike the many other districts of Kerala. On the land surface, Idukki is surrounded by other major districts like Pathanamthitta, Kottayam, Ernakulam and Thrissur to the South, South West, North West and North respectively. Theni, Dindugal and Coimbatore districts of Tamilnadu lies in the East of Idukki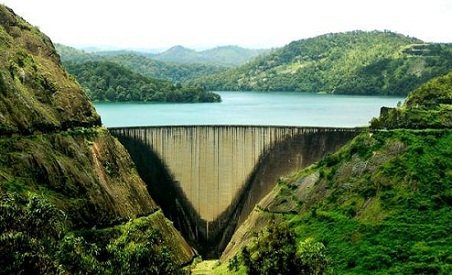 #9. Idukki which is located in the Western Ghats is considered as the second largest district among the 14 districts in Kerala. The word Idukki means 'Narrow Gap' in the local language which is Malayalam. It also means 'Narrow Gorge'. 'Idukki Dam' is considered as the largest Arch Dam in Asia. The water flows between two huge rocks that are massive in size which are named as Kuravan and Kurathi. The history behind these two rocks date back to the Ramayana period
#8. There are many places to visit in and around the Idukki district. Munnar which acted as the British government's summer resort is one among the key places of interest. Vagamon is a hill station that lies towards the South of Idukki and is an excellent for people who love adventure sports. Ramakkalmedu is both a hamlet and hill station in the Idukki district and is located at a height which is 3500 feet above the sea level. The hill station has lush green grass that grows in Shola forest laced out by bamboo forests that are sporadic in nature. The other important tourist spot is Thekkady which lies in between Kerala and Tamilnadu border. Marayur which grows sandalwood trees in abundance is found near Idukki in the slopes of Western Ghats.
#7. Idukki has many Wildlife Sanctuaries which are world famous. Some such wildlife sanctuaries that offer a unique experience to tourists are Thattekad Bird Sanctuary, Eravikulam Wild Life Sanctuary, Periyar Tiger Reserve, Periyar National Park and Wildlife Sanctuary, Pampaduumshola National Park and Kurinjimala Sanctuary among the many others in the region.
#6. Idukki has many protected regions which take care of the flora and fauna to safeguard the state's greenery. Some such protected areas are Periyar Tiger Reserve, the Kurinjimala Sanctuary, Chinnar Wildlife Sanctuary, Eravikulam National Park, Anamudi Shola National park, Pampadum Shola National Park and Thattekad Bird Sanctuary among the many others. Through making these areas protected ones, many endangered speices like Nilgiri Wood pigeon, Sambar Deer, Niligiri Tahr, Purple Frog, Tiger, Gaur, Elephant and Neelakurinji are protected from extinction
#5. The many waterfalls like Cheeyappara Waterfall and Thommankkuthu Waterfall helps keep Idukki green with lush vegetation all around. These waterfalls were found by mankind as early as the 1920's. They are today main tourist attractions and act as water sources for many small villages in Idukki district
#4. Idukki District administration is divided into eight community development block Panchayats which are further divide into Talukas. Many villages come under the administration of these Talukas. The two municipalities that participate in the administration of Idukki district are Thodupuzha and Kattappana. The townships that come under Idukki district jurisdiction are Thankamany, Adimali, Vandiperiyar, Nedumkandam, Thekkady, Kumily, Kuttikkanam, Peermade, Vagamon, Anakkara, Munnar and Murickassery
#3. The mixed type of culture Idukki adorns has a mix of the local tribes and people who have migrated from the other areas. Idukki's art forms that are indigenous in nature are yet to be experienced by the vast world spread across the globe. However, the rich culture gets expressed in multiple ways throughout the year through the celebrations during the festivals.
#2. Idukki can be reached by Road travel through the Ghat Roads. The scenic travel through the Western Ghats offers a mesmerizing experience throughout the journey. The fragrance that runs along the nostrils during the travel takes us not only to our destinations but also to a surreal heaven on earth. Though there are no regular trains to Idukki Sabari Railway will connect Idukki with Thodupuzha along with neighborhood areas. Idukki can also be reached by Air through Coimbatore Airport or Cochin Airport.
#1. Idukki's perennial beauty makes it a place suitable for visit throughout the year. While Idukki experiences summer between March to May every year, from the month of June to September it is Monsoon. Between the months October to February Idukki experiences winter.
Save