Scooters make commuting much easier on a densely populate country like India. There's a lot of people who use scooters to get to point B from A every day in quest of their jobs, education or other work. These two wheelers are typically much easier to ride than a regular motorcycle and offers great deals on the mileage as well. It is best option for college girls, working women and school boys.
India is one of the best distributing markets for scooters made by Indian and other origin companies. If you are looking forward to buying a new scooter in 2016, following are the models you should consider in the price range of 45k to 55k.
10. Honda Dio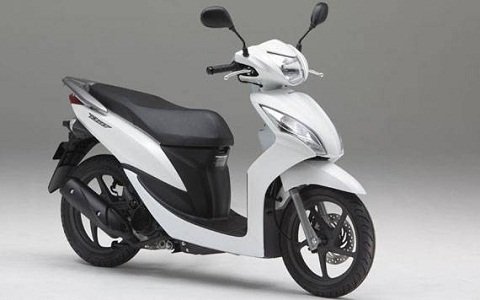 Honda Dio is a very regular scooter, but the design language reflects the youth demands of the country. It's based on a unisex appeal, both men and women can ride this scooter and the automatic gearbox makes it easier for everyone to ride the Dio. Engine on this scooter is 109cc, it's a petrol engine with CDI ignition. It has a 6 liter fuel tank with 66 kmpl mileage. Price: Rs. 52,155.
9. Hero Pleasure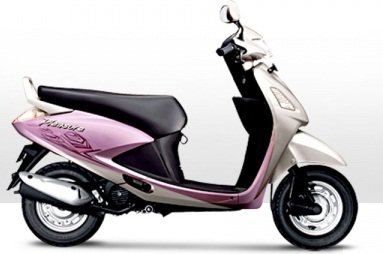 The Hero Pleasure scooter is lightweight and fuel efficient, the design language would suite anyone in their early late teenage or early 20s. This scooter comes with an upgraded braking system called IBS, almost similar to CBS found in other Hero motorbikes. The engine is 102cc, single cylinder with 7bhp maximum power. Fuel efficiency on this scooter is 63kmpl. Price: Rs. 52,372.
8. Mahindra Duro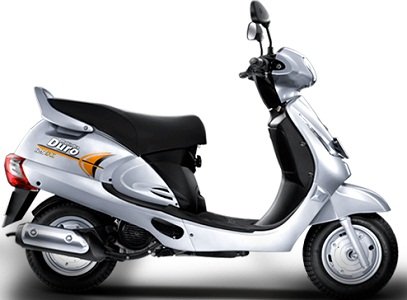 Few scooters in Indian market comes with a powerful 125cc engine, and the Mahindra Duro enrolls itself into that list. The maximum power output is 8bhp, the engine is single cylinder and air cooled. It has an automatic transmission system. The fuel tank capacity is 6 liters, and rated mileage on Duro is 56kmpl. Price: Rs. 47,140.
7. TVS Scooty Streak
The TVC Scooty Streak comes in smaller body proportions, making it a better option for girls. The design language is very unisex though, meaning anyone can ride the Streak without any trouble. It comes with an 88cc engine that produces 5bhp maximum power. It's a petrol engine with automatic transmission. The fuel tank capacity is 4 liters and rated mileage is 68kmpl. Price: Rs. 45,140.
6. TVS Wego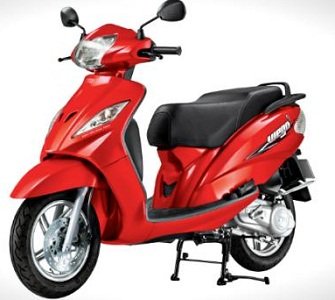 The Wego from TVS is widely popular among the university students and young executives. The 110cc in TVS Wego is quite powerful in comparison to its size, it pulls off 8bhp maximum power through the single cylinder petrol engine. There's both electronic and kick starters equipped. This scooty has a 5 liter engine and the rated mileage is 70kmpl. Wego's curb weight is 108kgs. Price: Rs. 52,018.
5. Mahindra Gusto 125
The Mhindra Gusto 125 is quite a powerful scooter, people who ride in tough terrains very often should pick the Mahindra Gusto 125 over the other models. The engine displacement is 124.60 cc, this engine pulls off 8.50bhp maximum power at 7,000 rpm and the maximum torque is 10Nm at 5,500 rpm. Mileage on the Mahindra Gusto 125 is around 60 kmpl, combined. Price: Rs. 53,570.
4. Yamaha Ray-Z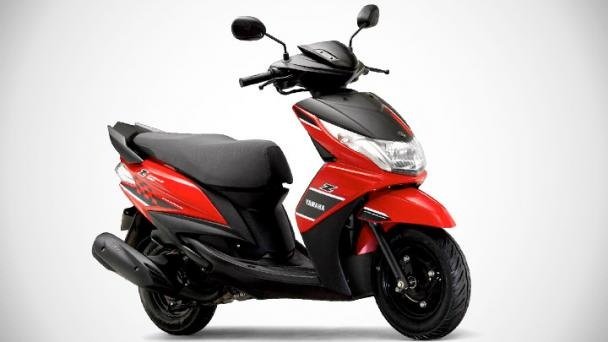 The Yamaha Ray-Z looks exceptionally smart and on-point for a scooter. This two-wheeler is powered by an 113cc engine that pulls off 7bhp maximum power. The engine has single cylinder, the ignition takes place via a CDI mechanism. It has automatic transmission, V-belt based. The fuel tank capacity is 5 liters with 62kmpl rated mileage. Price: Rs. 52,842.
3. Hero Maestro
To show off maestro level skills on a two wheeler, the Hero Maestro scooter could be a good option. The engine displacement is 109cc with 8.20bhp maximum power capability. The engine is based on carburetor, comes with single cylinder and the ignition is based on AC CDI technology. Transmission system on the Hero Maestro is automatic; the rated mileage is 68kmpl. Price: Rs. 52,804.
2. TVS Jupiter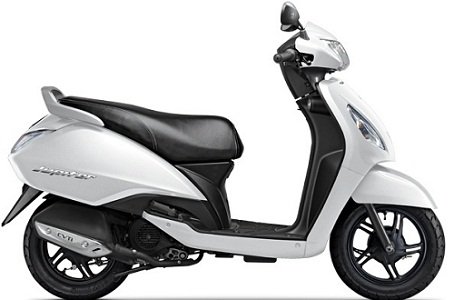 TVS Jupiter comes in 8 different colors, all bold and striking – no wonder this scooter intends to sell the most among the youngsters. However, the engine displacement of the TVS Jupiter engine is 109cc with maximum power output 7.80bhp at 7,500rpm. This single cylinder engine ignites through a digital IDI technology. The engine is air cooled and comes equipped alongside an automatic transmission box. Rated mileage is 56kmpl. Price: Rs. 51,812.
1. Honda Activai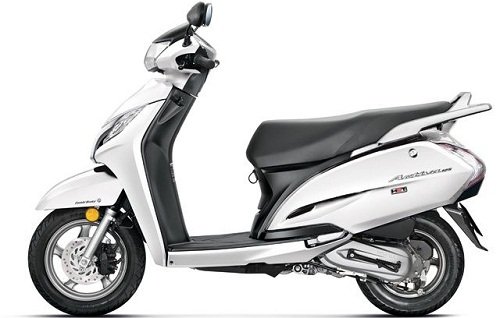 With greater number of sales and revenue generation stream, we could say how the Honda Activai actually tops the list of most selling scooters in India. This is not indeed the most powerful scooter, yet popular especially among the girls. The engine offers 109.19cc displacement and 8bhp maximum power. It has automatic transmission, ignition works on CDI principle. Rated mileage on the Honda Activai is 66kmpl. Price: Rs. 50,407.
Conclusion
One who is looking for a scooter in the Indian market in 2016, should find their best pick among this list. However, the readers are encourage to contact the nearest scooter dealership for the most accurate pricing.
Save
Save
Save
Save