Zaheer Khan is a successful pace bowler and also one of the highest wicket takers for the Indian cricket team. He has given excellent performances for Team India in all the formats of the game, including ODI, Test matches and T20.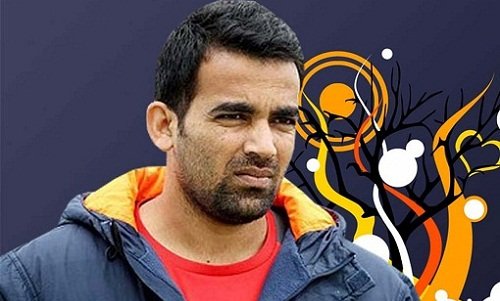 Net Worth: The net worth of Zaheer Khan is $10 million.
Income Source: Besides making money from playing international cricket and getting IPL cricket tournament fees, Zaheer Khan has been roped in as a brand ambassador for endorsing a number of leading brands, including Idea and Adidas. He was signed in by the famous health care brand Dabur, to represent their product called Dabur Glucose in 2009. In 2011, he was made the brand ambassador of the popular online clothing retail brand called Sher Khan, of which he is also a co owner of this brand of clothing for men and women.
Real Name/Nick Name: Zaheer Khan is called by the nick name of Zak or Zakky by his team mates, which is a shorter version of his name.
Born: 7th October, 1978 (38 years old)
Marital Status: After an 8 year old affair with acclaimed dancer and actress Isha Sharwani, and they reportedly got married in 2012 but later they broke up. Later, there were rumors that Zaheer is dating VJ Ramona.
Height and Weight: 6 feet 1 inch/1.85 m, 79 kg/174 pounds
Personal Background
Zaheer Khan was born in a Muslim family Shrirampur in Maharashtra to Bakhtiyar Khan and Zakiya Khan. He has two brothers, an elder one called Zeeshan and a younger one called Anees. He can speak fluent Marathi, due to the fact that he was born and educated in Maharashtra. His illustrious career is marked by recurring injuries, which is the reason he has set up a special training and rehabilitation center called ProSport Fitness Services.
Career Graph
Zaheer Khan is a left arm pace bowler, who is just behind the great fast bowler Kapil Dev, in terms of wickets taken, having claimed 282 wickets in nearly 200 ODIs and 311 wickets in 92 tests. He made his international debut in 2000, besides playing country cricket for Worcestershire and domestic cricket for Mumbai, though he made his domestic debut by playing for Baroda. He has played for the IPL team Royal Challengers Bangalore and currently, Mumbai Indians. Besides his glorious contribution with the ball, Zaheer has also made a record for making the highest number of runs by a player on the 11th spot. He did it by scoring 75 runs in a match against Bangladesh in 2004. Zaheer Khan received several honors during his cricketing career. He was nominated as the Wisden Cricketer of the Year in 2008 and also honored with the prestigious Arjuna Award in 2011, for his excellent performance in the ICC World Cup, 2011, where he bagged 21 wickets in 9 matches.
Salary and assets
Zaheer Khan gets a salary of nearly Rs 1 crore per annum. He currently resides in Mumbai and also owns a restaurant called ZKs in Pune.