Yuvraj Singh is one of the most prolific Indian cricketers, who have made glorious contribution to Indian cricket, whether we talk about batting, bowling or fielding. He is also known for his good looks and tough determination, particularly because of an astonishing comeback he made to the game after beating cancer.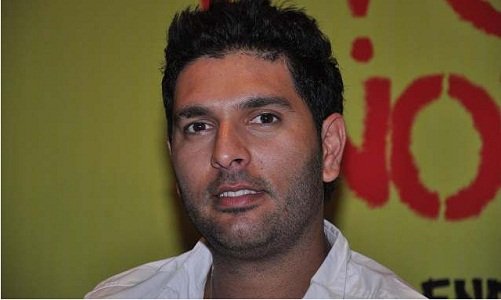 Net Worth: The net worth of Yuvraj Singh is $ 35.5 million.
Income Source: Yuvraj Singh earns a salary of nearly $ 3 million per annum, in addition which he makes money by endorsing a number of leading international brands such as Reebok, Fiat and Microsoft, to name just a few. He is also the brand ambassador of Ulysee Nardin watches and sports365.in, a leading online brand of sports and fitness merchandise. His good looks and stylish attitude have earned him a lot of ad campaigns and brand endorsements.
Nick Name: His team mates lovingly call him Yuvi.
Born: 12th December, 1981 (aged 35 years)
Marital Status: Soon he is getting to married his girlfriend Hazel Keech.

Height/Weight: 6 feet 2 inches (1.88 m)/78 kg (172 lbs)
Personal Background
Yuvraj Singh was born in Chandigarh to a well known Punjabi actor and former cricketer Yuvraj Singh and Shabnam Singh, with whom he lives after the separation of his parents. As a youngster, Yuvraj played other sports like tennis and skating, but too over playing cricket on the insistence of his father. Yuvraj was at the prime of his career when he was diagnosed with lung tumor in 2011 after a brilliant run in the World Cup that year. But he battled the disease with great resilience and grit and recovered from it after a prolonged treatment in the US. Not only did he beat the disease, but returned to his international cricket career with a bang in 2012.
Career Graph
Yuvraj Singh joined the Indian cricket team in 2000 with his first ODI match and became a part of the test team in 2003. He has played the valuable role of an all rounder for the team, as a left hand middle order batsman and slow left arm orthodox bowler. He has played the role of the vice captain of Team India in 2007-08. He has played 293 ODIs till date, in which he has made 8329 runs and another 1900 runs in 40 odd test matches. He has also played an instrumental role in the victories of the team in World Cup 2011 and World T20 2007. Who can forget the glorious six sixes in an over hit by him against England in the World T20 2007! He was honored with the title f Man of the Tournament in the World Cup 2011. In IPL, he has represented Kings XI Punjab, Pune Warriors and at present, he is playing for Royal Challengers Bangalore. Yuvraj has been conferred with prestigious national awards, Arjuna Award and Padma Shri, for his glorious contribution to the game of cricket, both of which came after his comeback in 2012.
Salary and Assets
Yuvraj draws a salary of approximately $ 3 million annually, consisting of his match fees, bonus and other winning amounts. Besides his ancestral home in Chandigarh, Yuvraj owns a house in Mumbai too. He is planning to purchase another spacious property in the heart of Mumbai, which would cost an exorbitant sum of about Rs 60 crores. He has a discerning taste in luxury cars and owns cars worth nearly Rs 6.5 crores. His fleet of cars includes some big names such as BMW M3, BMW M5, Audi Q3, Porsche and Lamborghini.
Save