Sony TV has traditionally been in a position of unrivalled dominance when it pertains to the creation of television series with novel storylines. The channel's latest offering, titled "Yashomati Maiyaa Ke Nandlala," will make its debut on June 13th, 2022. This decision was made in response to the desire from viewers for a continuation of the mythical story of Lord Krishna.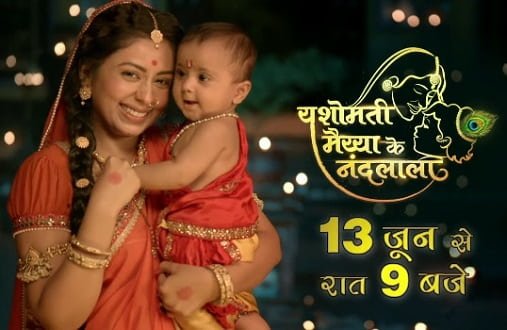 Wiki
As a result of being immersed in the tradition of the area, the audience's comprehension of Lord Krishna and Yashomati will become far more profound. Vrindavan and Mathura connote a sense of tranquilly and contentment, both of which will be shown in this television series.
Story
The program will provide viewers with a new perspective on Krishna's life by centering their attention on the loving mother-son bond that existed between Yashoda and her son. The actress Neha Sargam, she plays the role of Yashomati in the program, will travel to Vrindavan, the city where Lord Krishna was born, in order to gain wisdom and obtain the god's blessings for the production.
The focus of the play is on Krishna God who tries to win his mother's love and devotion by keeping his brilliance a secret from his own mother. When he takes on the form of a human, he is jovial and naughty, and he pines away for a boyhood that was full of both his mother's affection and the whack of her cane.
According to him, Yashoda ought to treat him the same way she would any other youngster his age. The storyline of the show portrays Krishna as a normal being who was reborn for the purpose of experiencing life as a human being.
He resides in Vrindavan, in this place he is showered with the support and affection of his friends, family, and community.
The first destination on the program's journey will be at Vrindavan, which is traditionally regarded as the place where Krishna spent his childhood.
Temples may be discovered all across the region; the majority of them are consecrated to the mythical hero of the locals. An actress will arrive in town to seek the blessings of Krishna before she begins on a tour to narrate the legendary traditions of Krishna & his mom, Yashomati. This will be the first time an actress has done so.
Timings
Yashomati Maiyaa Ka Nandlala is a brand new Indian television drama series that is produced by Contiloe Entertainment. On the 13th of June 2022 at 9 PM, it made its debut on Sony Entertainment Television. Every Monday to Friday, this show is aired at the same timing.
Cast Names
Rahul Sharma as Nand Maharaj
Neha Sargam as Yashomati Maiyaa
Suman Gupta as Devaki
Ram Yashvardhan as Kans
Hitanshu Jinsi as Lord Vishnu
Reema Vohra
Kailash Topnani
Aarya Vimal Bhadra
Nazea Hasan
Anupam Bhattacharya
Piyali Munsi
Shweta Kanoje