Vindu Dara Singh is an Indian actor who has acted in the comedy genre. He is the son of famous character artist, Late Dara Singh but shot to fame by winning the popular television reality show "Bigg Boss Season 3".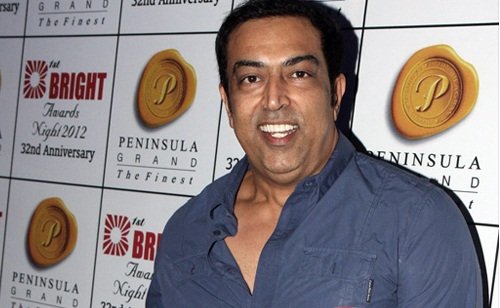 Net Worth: Rs 35 crore
Income Sources: Vindu has inherited a major chunk of his wealth from his father. He has also acted in a number of movies and serials. Additionally, he has been a part of an ad campaign of Pepsi, along with young actor, Ranbir Kapoor.
Born: 6th May, 1964 (41 years old)
Height: 5'11" Feet
Marital Status: Married to model Dina Umarova and the couple has a daughter called Amelia. Vindu was previously married to actress Farah Naaz but the couple got divorced. They have a son called Fateh Randhawa.
Personal Background
Vindu Dara Singh comes from a prestigious background, with his father being a famous wrestler and film actor. He was born in Punjab but came to Mumbai due to the Bollywood connection of his father. The black mark of his career came in 2013, when he was alleged for spot fixing during the IPL Series and was arrested for the same.
Career Graph
Vindu started his film career in 1994, with a movie called "Karan", but the film was not noticed at all. Next came a Punjabi movie called "Rab Diyan Rakhan" in 1996, which was made by his own father. The movie was an average success, but soon Vindu realized that he was not a lead actor material and switched over to smaller supporting roles. some other Hindi movies in which Vindu has done comic and supporting roles are "Partner", "Kambakkht Ishq", "Maine Pyar Kyun Kiya", "Housefull 2", "Himmatwala", "Son of Sardar" and "Kick". The turning point of his career came when he was offered the role of Hanuman in "Jai Veer Hanuman", a television serial. Some other TV serial of which he has been a part are "Ssshh Koi Hai", "Black" and "Karma". He became a household name by emerging victorious in the reality show "Bigg Boss". In addition to the prize money, he also won the luxurios Chevrolet car in the show. Besides being crowned as the winner, Vindu also earned the title of Bade Dil Wala or the Man with Golden Heart, due to the generosity he exhibited during the show. In addition to Hindi movies and television serials, Vindu has also acted in some Punjabi movies such as "Jatt James Bond" and also a few Telugu movies.