13 Unforgettable Characters of Sholay Movie
Sholay, a movie that was released decades back but the aura of the movie is still fresh in people's minds. A Ramesh Sippy movie, Sholay is filled with both characters predicting angels and demons. There's friendship and also love depicted beautifully in the movie. There are many characters out there who are just too hard to forget because of their perfectly said dialogues and just for the way they performed. Some characters are so sweet and there were some who filled the mind with terror. The movie just flowed at the box office and even after 40 years of that movie, people are not just able to take their eyes off the movie.
Some of the amazing characters of Sholay are listed as under:
1. Thakur Baldev Singh
The whole movie revolves around the story of Thakur Baldev Singh who wanted revenge of the brutal murder of his family members. His hands were also cut down as a punishment for something he had not done. A retired police officer, he joined hands with two fellas to help him get on his journey of revenge. Sanjeev Kumar portrayed his character in a wonder way where he showed his anger and pain with zeal and enthusiasm.
2. Veeru
Basanti's lover, Veeru was that guy who is really chilled out and love his friend to the ultimatum. He had fear in his mind and he never stopped flirting with Basanti in the entire movie. Either showing his anger on Mausiji or charging at Gabbar with all his might, Veeru was loved by all. His character was total dynamite and Dharmendra played his role in the greatest way.
3. Gabbar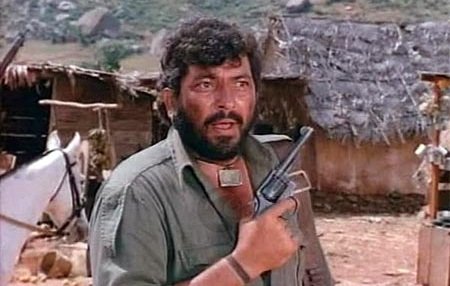 The epitome of the movie, Gabbar was a fierce and rutheless character played fantastically well by Amjad Khan. Amjad Khan rose to popularity with the making of Sholay. The throwing of dialogue or giving demands to the villagers, Gabbar was the "man" and he loved riots and killing of innocent lives. He made the lives of villagers in Ramgarh a living hell. The scene when he massacred Thakur's entire family is still spine chilling and horrific. In other words, Gabbar was the most wanted " Gunda" whom everyone feared.
4. Basanti
A ghora Gaddi rider, Basanti just loved her horse and she is seen as the fun loving and bubbly ride who helped the two friends on their way to Gabbar . She provided them with free rides and she was being shown falling for Veeru. Audiences applauded for Hema Malini where with very few entries in the movie, she won millions of hearts. In the last, she was also shown dancing on pieces of broken glass which made this movie even more dramatic.
5. Jai
A tall and arrogant fellow, the role of Jai was played by Amitabh Bacchan and he gave the perfect combination to Veeru's flamboyant nature. A silent character, everyone lamented at his loss in the end because of the coin. The climax of Sholay took a fascinating turn with Jai.
6. Jailor
The Jailor was basically the fool of Sholay but he never thought himself to be a fool. The jailor played the era of British days with moments of Jai and Veeru in those scenes.
7. Mausi
Mausi was the only family of Basanti and she wanted the best for her always. She was someone to rely on. She found vast differences between Jai and Veeru and never thought Veeru to be Basanti's man.
8. Radha
jaya Bhaduri played the role of Jaya, a Holi loving girl but things took the wrong turn for her after the burtal massacre. Radha is also shown developed a soft corner for Jai because of all his deeds and actions. She is that character who lost her family and her cheerful life took a dreaded turning.
9. Kaalia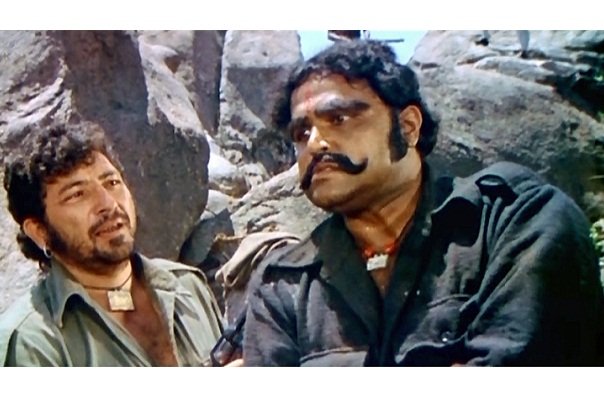 Gabbar's" Namak" professing servant who followed every command of his master. Kaalia's moustache got very famous and also his temper and dialogue delivery are never to be forgotten.
10. Samba
A man standing on the top of a mountain hill with a gun, he was Gabbar's man and the dialogue " Arre O samba?" got famous with every passing day. Samba is not that important in the film but Gabbar did make him so.
11. Imam Chacha
Imam Chacha is the patient and poignant character who played the sentimental character in the film Sholay! He always stood to anti violence and he also loses his son to Gabbar.
12. Dhanno
Dhanno was also a significant character in the film rode by Basanti. The horse gets quite relentless when Gabbar's men take Basanti away and try every way to protect his master. The public remember Dhanno even after so many years.
13. Hariram
The private conspirator in the jail, Hariram was always sneaking into others matters and he always wanted to know what others were planning. He wanted points from the jailor and so he did these hilarious stuffs. Hariram portrayed a very funny character.
My most favourite Character of Sholay is Gabbar because of his fierce nature. He is not afraid of anyone and does all of his works diligently. He is that confident men who can also kill people to get his works done. The voice and aura of Gabbar melted my heart and I instantly fell in love with his personality.