Do you have a dress choice for the Diwali festival? A kurta is not a bad attire that you can style and stand out in on the next Diwali. Do not undermine the power of a well-styled Kurta. For there are different silhouettes that you can choose from and they also have a high fashion appeal. This boosts the look of the salwar that is paired with to bring out a neat and ravishing look. During the Diwali enjoy choosing through different kurtas and Kurtis on one that you find gorgeous for this festival. The bottoms are important but they should not worry you as much for they blend well with any that you choose.
Either it is a salwar, leggings, dhotis or palazzos. Borrow some inspiration from the list below as you choose your kurta Diwali look.
1. Go for the peach look
A peach look is a great choice that never disappoints. This type of kurta color blends in well with any skin tone. Do not wear it plainly but a hint of gold will add some glamour to it and flatter your overall look. Through this color, this kurta looks expensive, stylish and a go-to dress for anyone. Plus, this is the type of dress that you do not have to pair with any bottoms. Just have it made straight with a front slit at knee length. Pair it with heels and if necessary you can add matching peach-colored pants to blend in and make it comfortable.
2. Purple silk kurta 
To many, purple is not a color they wear in confidence due to how flashy it is. However, embrace the purple silk kurta this Diwali and look pretty in it. Choose an A-line design for this kurta and have it slightly below the knee. Have some white leggings to pair with and simple sandals or wedged shoes. This kurta flatters all body types especially for those who love to match with their sisters, cousins and other family members during the Diwali festivities. Steal the spotlight with this royal kurta and enjoy the Diwali celebrations looking the part.
3. White Magic Kurti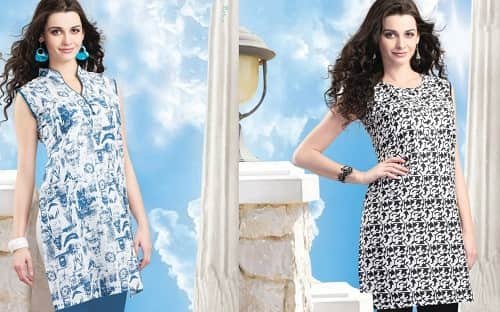 White as a color always impresses in whatever attire you wear it in. Yes, it is restrictive, bright and unusual but when worn it is always right. As the mirror work Kurti has a touch of uniqueness, so is the white kurta when worn for a festivity such as the Diwali. Its versatility is unmatched for you can match it with different colors and designs and still look splendid. Choose a long kurta in this color with a checked or print pattern that has minimal texture. And to add to its glamour a hint of gold or silver sequin will boost the design to make it beautiful to the wearer.
4. Gold and Mustard kurta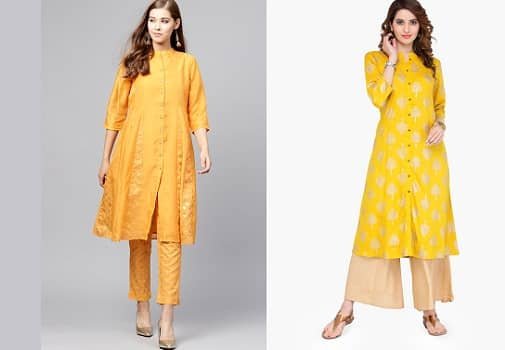 Diwali festivities are a time to try on all colors and flashy designs to look glamorous in the celebrations. Hence with the combination of a gold and mustard sleeveless kurta, you will turn heads. Ensure the one you choose looks simple yet ravishing due to its design. Add thigh-high slits and one that is at floor length. To add volume to it pair with palazzos or Sharara and a gorgeous pair of heels. The color and design are perfect for the trendy generation to look mature and stylish at the Diwali around friends and relatives.
5. Ready in Red Kurta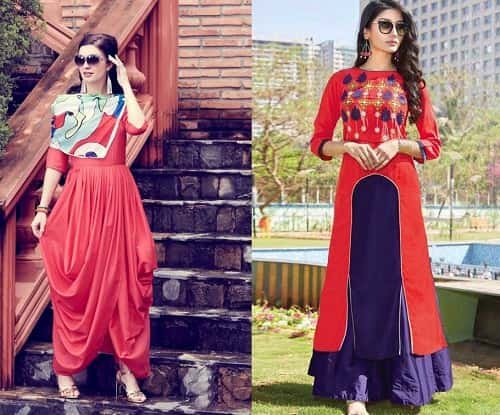 Red is not only a wedding color but a perfect choice for any festivities. Although most Indians restrict it for specific ceremonies and celebrations. Go away from the norm and choose the rager red for your next Diwali look. The look is easy to put together and you stand out at the party with a red kurta. Chose one with a front slit and with a gold or embroidered border to add the charm to its beauty. Go all the way with accessories and make Diwali a unique one for you from the dress code to your choice of accessories.
6. Orange kurta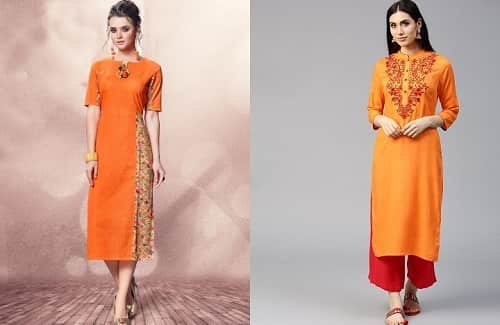 Many people are not fans of the color orange and it is underrated too in the fashion world. Well, for the next Diwali embrace the orange color in a kurta and blend in with the Diwali meaning. Diwali stands for a time of moving from good to bad, dark to bright. Plus, a time of warmth, joy, enthusiasm, and creativity so is the color orange. Choose this as the theme color for your Diwali attires with your family and stand out at the party. For the kurta, go for the flared design that is of mini length and bottoms choose a Patiala salwar to bring out the perfect party vibes.
7. The rust-colored kurta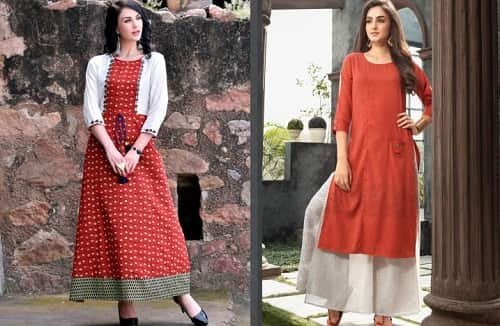 To glam up during the Diwali at times it's not about all the flashy colors and blends of them. Put some trust in the rust color as an ultimate pick for your Kurta. Then design it as a look you can adorn to again to the office and other celebrations. A kurta design in this color is elegant as much as it is a random choice for a festival like Diwali. However, do not wear it plain, ensure that there is a pattern, embroidery in a contrasting color that does not overpower the rust color. Make it a flared cut, and pair with cropped pants in bright colors like white and beige and a pair of heels for that styled up look for an awesome Diwali party session.
8. The Pink flared kurta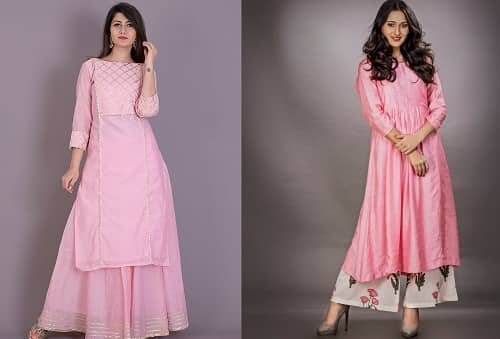 Go all girly with this pink look and twirl through the music during the Diwali party. The pink color is a hot and posh choice whether in a layered ensemble or a single flare with matching bottoms. This is also a great add on to your wardrobe and it adds to the feels that go along during the Diwali.
Choose a multicolored dupatta to accessorize the look and enjoy your pink paradise. This new dress code is a great fashion investment . Enjoy your Diwali!