Today we welcome you to the land of Kerala, where tradition and style come together to create the most beautiful traditional dress you'll ever lay your eyes on. When you are exploring Kerala it is more like walking into a living, breathing fashion show! But it's not just about the attires or traditional dresses, it's more about the culture, history, and heritage that comes with it. Each piece of traditional attire in Kerala has its own unique story to tell.
And guess what? You don't need to be a history lover or a fashion expert to appreciate the beauty of Kerala's traditional dresses. It is more like you'll be automatically attracted and will begin to appreciate the beauty of these unique traditional dresses. So grab your travel bag/backpack, and get ready to dive into a world of vibrant colors and traditional fabrics, where you'll see how tradition and modernity meet in a display of beauty, elegance, and style.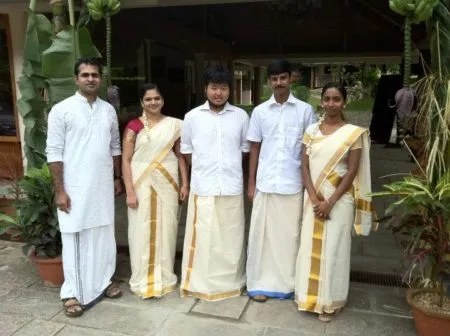 Traditional Dress Of Kerala For Men
Step right up and take a closer look at the traditional lower garment of the men of Kerala – the mundu or lungi. This might be a piece of white cotton cloth worn around the waist, reaching the ankles but it's much more than that! It's an expression of style, tradition, and elegance all rolled into one. Just take a look at the border, the Kara, it can be of any color but mostly golden. It's not just an accessory but it defines the wearer's personality and style. And for those who love to stand out, the Kara can be embroidered or decorated with ornaments for special occasions.
Just by tucking the lower end of the mundu into the waist, you'll be turning this traditional garment into a modern and versatile one. This is what makes men in Kerala love the mundu, it's comfortable and perfect for any activity, and it's a fashion statement at the same time. But the fun doesn't stop there, the upper garment, called 'Melmundu' worn like a towel on the shoulders is another detail to be taken into account, it adds to the elegance and distinction of the traditional attire.
Traditional Dress Of Kerala For Women
The traditional dress Mundum-Neriyathum is not just a simple piece of clothing, it's an intricate dance of colors, fabrics, and designs that comes together to create a stunning and elegant look. One mundu is worn around the hips, reaching the ankles, and the other is wrapped around the upper body, paired with a blouse, one end tucked in the lower mundu at the waist, and the other passed through the shoulder, falling to the ground from the back, resembling a saree. The result is a beautiful and traditional look that's perfect for any occasion.
The traditional attire for women in Kerala is not a one-size-fits-all, it varies depending on the occasion, culture, and customs. Hindu women may wear a mundu or a saree depending on the occasion, and for weddings, they prefer Kanchipuram sarees made of silk and have Zardosi or Kundan work on them. Muslim women wear sarees or lehengas for their weddings with a lot of embroidery and golden zari on the veil. Sometimes, purdah is also opted to cover the face, depending on the customs. Christian women prefer white sarees and white blouses, complete white attire. It's not just a traditional dress but it's a tradition in itself, it's an art and it's a reflection of the culture and heritage of the state. The traditional dress of women in Kerala is not only limited to special occasions but also to daily life, it's elegant and comfortable and it's a fashion statement in itself.
Western Influence On Kerala's Traditional Dresses
Kerala's people may have adopted some modern western styles into their everyday wardrobe, but when it comes to special occasions, tradition is still very much alive and well. Take a stroll along the streets of Kerala and it's like taking a step back in time – the vibrant colors, beautiful silks and intricate embroidery of traditional attire make for a truly mesmerizing sight. Everyone still holds their traditional attire close to their heart, and the sight of so many people dressed in their finest is a clear tribute to the rich cultural heritage of the state.