Imagine yourself in a land where ancient monuments stand tall and proud, and vibrant colors fill the streets. Now, stop imagining, because that place exists and it's called Karnataka, a southern state of India. This place is a treasure trove of history, culture, and natural beauty, that you'll find yourself falling in love with the more you explore. Whether you're a history buff, a culture lover, or a nature enthusiast, you'll find it all in Karnataka. And what's the cherry on top?
The traditional attire of the locals, it's a true representation of the state's rich heritage and diversity. So, get ready for a journey where you'll not only see but experience a whole new world.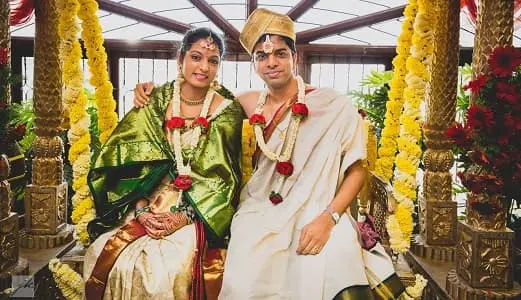 Traditional Dress Of Karnataka For Men
The traditional dress of the men in Karnataka is a sight to behold, it's called the "Panche" and it's a combination of class and comfort that'll make you do a double take. This traditional wear sits below the waistline, accompanied by a shirt on top, and it's also known as the Lungi, Dhoti, or Veshti. But wait, there's more! The Panche comes with a secret weapon – the "Angavastram", a silk or cotton muffler that's worn around the neck, adding a dash of elegance and mystery to the outfit. And let's not forget the traditional headgear – the Mysore Peta, that'll make any man look like royalty. But of course, with modernization men in cities might prefer to stick to modern wear more often, but it's still a sight to see when they go traditional.
And as we move to the Kodagu community, the traditional dress for men gets even more exciting. Decorative sashes, swords, daggers, and gold-trimmed turbans are sure to make any man feel like a warrior prince, and the dark robes or tunics only add to the regal look. It's like taking a trip back to ancient times when tradition and culture were celebrated with pride.
Traditional Dress Of Karnataka For Women
If you visit any place in Karnataka, wherever you go, you'll find women wearing sarees and the influence of Western culture would seem like a myth to you. Saree is the go-to choice for Women in Karnataka, not just for special occasions, saree is a preferred choice for everyday attire. On the other hand, teenage girls prefer silk skirts with tops as their traditional attire. Coming back to the sarees worn by women of Karnataka, there's a lot of variety in them. For example, in the Kodagu community of Karnataka, you'll find women wearing saree in a unique manner where the pleats are tied at the back and the pallu is set over the shoulder. The material used in such sarees is either cotton or silk. However, silk sarees are usually worn on special occasions and marriages.
One thing that you'll never seem to forget about the traditional attire of women in Karnataka is that their sarees and outfits are quite colorful and vibrant. And in different parts of the state, you'll find slightly different types of sarees such as Kanchipuram sarees, Ilkal sarees, etc. Along with sarees, we want to mention some other items that women in Karnataka like to wear, and these include the Langa Davani or Half sari, Guledgudda Khana, Kasuti Embroidery, etc. On top of that, the touch of traditional ornaments always looks good, especially when it is a special occasion or a traditional ritual.
The Cultural Significances Of Traditional Karnataka Dresses
You may know Karnataka as this huge silk-producing state of India, and that is why people in this part of the country are traditionally fond of silk clothes. However over the years, Western fashion has influenced not just Karnataka's general population, but it is the same case with people all across India. The people of Karnataka are deeply rooted in their culture, history, and traditions, that's why the Western influence isn't as strong as in other parts of the country. That is how you know specifically that you are standing on the land of Karnataka when you see people around you wearing traditional dresses, both men and women. And in our opinion, tourists visiting the state should take the time to learn about and experience the traditional dress of Karnataka for a more authentic and enriching cultural experience.