Jharkhand is for sure a culturally rich state of India, and sometimes it is also referred to as "Bushland" and that is because the general population of Jharkhand really embraces nature. If you are traveling to this awesome place, situated in the heart of Eastern India, you'll find yourself not being able to stop appreciating enough the beauty, traditions, customs, and of course the people. And one thing that you'll always admire is the dressing style of people in Jharkhand. In this culturally rich state, you'll find both men and women wearing traditional dresses of Jharkhand.
Jharkhand is definitely a place where age-old customs and traditions come alive in a modern world, and with the dressing sense of local people, you'll begin to automatically appreciate how well local people are connected to the history, customs, and culture of this region. The vibrant colors, patterns, and motifs of the attire come together in a stunning display of creativity and artistry, leaving you in awe. So are you ready to delve deep into discovering the true beauty of Jharkhand? Let's get going.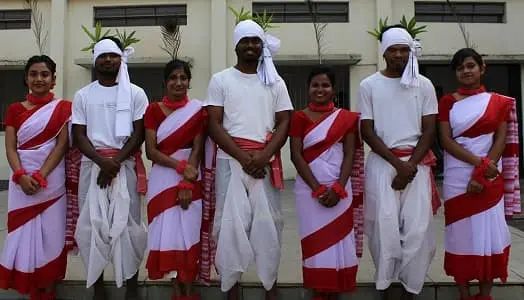 Tradition Dress Of Jharkhand For Women
The typical dress that women in Jharkhand wear is the Saari and Blouse. The saree is simply a true representation of the grace and beauty of Jharkhand's women. The traditional attire of women in Jharkhand is rather simple, which makes it feel really traditional. However, over time the western fashion style seems to be influencing people in Jharkhand, but still, you'll be amazed to see how many people, especially women, prefer to wear traditional dresses. Talking about sarees, the Tussar silk saree is the most famous and preferred one in this part of the country. However, not everyone in Jharkhand wears Saree, especially the tribal population. Instead, they offer something called "Parthan and Panchi costumes." Since the people of Jharkhand are very respectful of culture, tradition, and nature, that's why these traditional costumes are still in trend. And when it comes to marriages and other special occasions, people, especially women like to wear embroidered clothes with a touch of pieces of jewelry and some other accessories.
Tradition Dress Of Jharkhand For Men
When you visit Jharkhand, you'll see many men in traditional dresses, which kind of look really stylish. Especially if you visit the rural areas, where the western fashion influence isn't as strong as in the big cities, you'll find men wearing Santhals and Pahari's. If you don't know what Santhals and Pahari's are, it is basically the variation of Kurta and Dhoti. These pieces of clothing are generally made out of cotton, and that's why they are quite breathable and comfortable to wear. And when you look at the men's traditional attire, you'll find that they prefer to wear minimalistic, and comfortable clothes. However, you'll see many people wearing colorful clothes or dresses, and that indicates that people in Jharkhand don't hesitate to play around with the color and vibe of their outfits. Even when it comes to special occasions, like marriages and other occasions, men in Jharkhand keep their attire minimalistic, however the type of material used in the clothes changes.
The Cultural Significances Of Traditional Jharkhand Dresses In The Region
Like in any other region of the country, people usually prefer to wear traditional dresses to pay respect to previous generations, gods, customs, and nature. And the same seems to be the case in Jharkhand. However, the western influence isn't as strong in Jharkhand as in other regions of the country. Whenever you visit a place where people prefer to wear traditional dresses on special occasions, keep in mind that it symbolizes that people in that region are deeply rooted in their tradition, culture, and history.