Sonakshi Sinha has truly made an impact on the movie industry ever since her debut in the Salman Khan blockbuster 'Dabangg'. Born to the legendary Bollywood couple, Shatrughan and Poonam Sinha, Sonakshi has successfully stepped out of her parents shadow and created her own space in Bollywood. Although she has been criticized for acting in movies that are male centric, she has surely gotten noticed and has won numerous awards as well.
Here are Sonakshi's ten best movies in Bollywood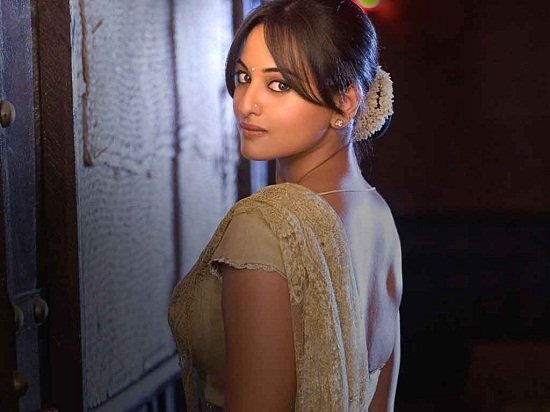 10. Tevar
Tevar was one of the best movies that Sonakshi Sinha acted in. She starred opposite Arjun Kapoor in the movie and she managed to pull off her role with ease and finesse. The movie was a remake of the Telegu movie 'Okkadu' which was a huge hit down south. While Tevar did not do so well at the box office, Sonakshi's performance in the movie was highly appreciated. The movie was directed by Amith Ravindernath Sharma.
9. R… Rajkumar
R… Rajkumar was one of her best movies where she was most appreciated for her dance numbers. The movie was a hit and Sonakshi was highly appreciated for her performance in R… Rajkumar. The movie released in 2013 and this was the first time Sonakshi proved critics wrong about her acting skills. She starred opposite Shahid Kapoor in the movie. While most actresses choose to reveal a lot of skin on screen, Sonkashi still prefers to stick to staying modest and decent and this behavior paid off.
8. Holiday: A Soldier Is Never Off Duty
Holiday: A Soldier Is Never Off Duty is an action thriller released in 2014. The movie stars Akshay Kumar and Sonakshi Sinha in lead roles. Although the movie is centered around Akshay Kumar, Sonakshi delivers a powerful performance. Her role as a boxer was widely appreciated by her fans and critics alike.
7. Lingaa
Not a lot of actresses get a chance to star opposite Rajnikanth even after years in the industry; Sonakshi got the opportunity to do so in a short time. Lingaa is a Tamil movie that was also released in Hindi and Sonakshi's performance was outstanding. She matched up to Rajnikanth which is not an easy thing to do. Sonakshi learnt Tamil for the movie.
6. Action Jackson
Action Jackson is an action comedy directed by the legendary Prabhu Deva. The movie stars Ajay Devgn (dual role), Sonakshi Sinha, Manasvi Mamgai and Yami Gautam in lead roles. Although it is an action packed movie, Sonakshi's role of a simple human resource executive impressed everyone. Her chemistry with Ajay was widely appreciated and this prompted her to sign many more movies with this Bollywood superstar.
5. Once Upon Ay Time in Mumbai Dobaara!
Once Upon Ay Time in Mumbai was an amazing movie that went down well the audience and Sonakshi was a part of the sequel to the movie. She played an amazing role opposite Imran Khan and was highly appreciated for her performance. Sonaskhi's unique style always manages to please the audience with her simplicity.
4. Dabangg 2
Dabangg 2 was a 2012 action sequel to the super hit 2010 movie Dabangg. This movie saw Sonakshi Sinha and Salman Khan reprise their roles from the first movie. Sonakshi played the role of Salman's wife to perfection in both the movies. Her sense of humor and emotional scenes were simply amazing for an actress that was just four movies old. Although she shared the screen with one of the biggest actors in Bollywood, her presence was extremely intimidating and appreciated by all her fans and critics.
3. Rowdy Rathore
Rowdy Rathore was a remake of a Telugu movie was released in 2012. It was another amazing action movie directed by Prabhu Deva that had Akshay Kumar (dual role) and Sonakshi Sinha in the lead roles. Sonakshi added the element of freshness to this action movie and gave the audience something to laugh about in an otherwise serious movie. Akshay and Sonakshi's on screen chemistry was amazing and lifted the story line.
2. Dabangg
This was Sonkahshi's debut movie. When Sonaskhi first appeared on screen, she managed to impress tons of people with her acting skills and her pretty face. While there were a few critics, this particular performance was a standout mainly because it was her first ever movie. Sonashki was paired opposite Salman Khan in the movie which was one of the best movies in 2010. The movie won a total of 6 Filmfare Awards and Sonakshi won her first Filmfare with Dabangg for best Female Debut. Dabangg was the best movie in 2010.
1. Lootera
Lootera was by far one of Sonakshi's best performances on screen. She played the lead role in the movie and was paired opposite Ranveer Singh. Lootera is based on the 1907 short story ' The Last Leaf' by O. Henry. The storyline was strong and both the characters managed to pull off their roles with ease. Sonakshi was highly appreciated for her role. The movie was a huge hit and was also one of the best movies in 2013 that won Sonakshi a nomination.