Bollywood, the Hindi film industry has brought unforgettable movies in various genres during its glorious century old presence. Romance is the genre which has always appealed to the Indian audience and for this simple reason, the industry has churned out innumerable romantic movies till date. Out of these, there have been some impeccable gems, which would always be etched in the memories of the Indian cinema lovers.
Here is a list of top 20 best romantic Bollywood movies ever:
20. Tere Naam
"Tere Naam" was a very different kind of romantic movie, which showed how far a lover can go in love. The movie starred Salman Khan in the unforgettable role of Radhe while Bhumika Chawla was cast as the female lead.
19. Kal Ho No Ho
This Karan Johar movie was a milestone as it set high standards for romantic movies in the industry. It had an impressive star cast with big names like Shahrukh Khan, Saif Ali Khan and Preity Zinta.
18. Bobby
The next name on the list of top 20 best romantic Bollywood movies ever is that of "Bobby", the debut film of Rishi Kapoor and Dimple Kapadia. Bubbly actors, fresh story line and melodious songs made this one a raving hit.
17. Devdas
Sanjay Leela Bhansali remadethe epic saga of Devdas-Paro-Chandramukhi with this 2002 release called "Devdas". The movie had stupendous performances by Madhuri Dixit, Aishwarya Rai and Shahrukh Khan.
16. Laila Majnu
The legendary lovers Laila and Majnu were played to perfection by Rishi Kapoor and Ranjeeta in this epic film called "Laila Majnu", which is regarded as one of the best till date.
15. Mohabbatien
Yash Chopra yet again proved his expertise in romance with this heart touching story called "Mohabbatein", which had a star cast of fresh youngsters as well as veterans like Amitabh Bachchan, Aishwarya Rai and Shahrukh Khan.
14. Hum Dil De Chuke Sanam
"Hum Dil De Chuke Sanam" is a Sanjay Leela Bhansali movie which had the amazing chemistry of Salman Khan and Aishwarya Rai literally set the silver screen on fire in 1999. The film was full of stunning romantic scenes and soulful music.
13. Hum Aapke Hai Kaun….!!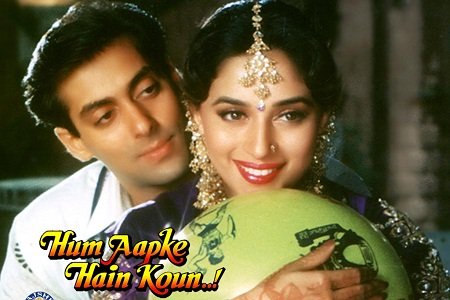 "Hum Aapke Hai Kaun….!!" (1994) ushered in a new era of family oriented love stories as this one had plenty of romance, drama, comedy and emotions. It had tear jerking performances by Salman Khan and Madhuri Dixit.
12. Dil
Next amongst the top 20 best romantic Bollywood movies ever is the 1990 release called "Dil", which starred Aamir Khan with Madhuri Dixit. This one was a fresh take on rich girl-poor boy formula.
11. Veer Zaara
Another beautiful love story that Yash Chopra gave the industry is "Veer Zaara", the amazing tale of Indian Veer and Pakistani Zaara, who are united after decades of separation by a young Pakistani female lawyer. Shahrukh Khan, Preity Zinta and Rani Mukherjee were cast in the lead roles.
10. Kuch Kuch Hota Hai
The 1998 release called "Kuch Kuch Hota Hai" is another love classic with a very different story and a big star cast comprising of Shahruk Khan, Kajol, Rani Mukherji and Salman Khan. The movie was directed by Karan Johar.
9. Lamhe
Yash Chopra had always thought out of the box when it came to romance and this unique love story called "Lamhe" proved the same yet again. The love triangle had Anil Kapoor along with Sridevi in a dual role, playing the mother and daughter in this unusual tale.
8. Silsila
Who can forget the mind blowing chemistry of Amitabh Bachchan and Rekha in the 1981 release called "Silsila". Yash Chopra had made a bold and beautiful romantic movie much ahead of its time. Sanjeev Kumar and Jaya Bachchan also played a part in this love quadrangle.
7. Kabhi Kabhie
Another classic by Yash Chopra, the King of Romance was the star studded movie called "Kabhi Kabhie". With an ensemble star cast comprising of Amitabh Bachchan, Rishi Kapoor, Shashi Kapoor, Rakhi, Waheeda Rehman and Neetu Singh, the movie went on to become one of the biggest hits of the eighties.
6. Maine Pyar Kiya
The eighties made the period of romance in Bollywood and one of the gems which came in the industry during this period was "Maine Pyar Kiya", which established Salman Khan as "Prem", one of the most loved characters in the Indian cinema till date.
5. Qayamat Se Qayamat Tak
This 1988 romantic release marked the debut of Aamir Khan and Juhi Chawla, who were considered as the cutest love birds in that period of Hindi cinema. the innocent lovers met a tragic end at the hands of their cruel parents.
4. Pyaasa
Another soulful saga of the fifties was the Guru Dutt-Waheeda Rehman starrer called "Pyaasa" which was released in 1957. It had a heart rending love story, with melodious songs, amazing performances and great dialogue.
3. Ek Duje Ke Liye
Featuring next on the list of top 20 best romantic movies of Bollywood is the North Indian-South Indian love story of 1981, which had Rati Agnihotri and Kamal Haasan as the lead pair. Despite the tragic end, the story continues to live on in our hearts decades later.
2. Dilwale Dulhaniya Le Jayenge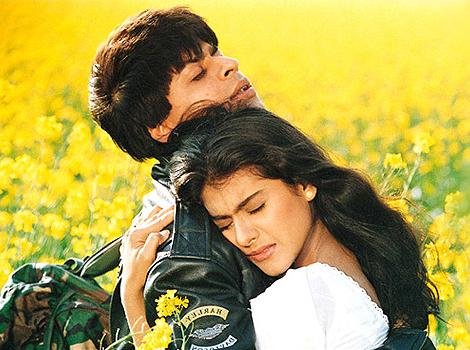 "Dilwale Dulhaniya Le Jayenge" heralded the birth of the ultimate lovers of the Indian cinema, Raj aka Shahrukh Khan and Simran aka Kajol, and their chemistry lives on till date, 20 years later. They have been regarded as the best romantic pair of the industry.
1. Mughal-E-Azam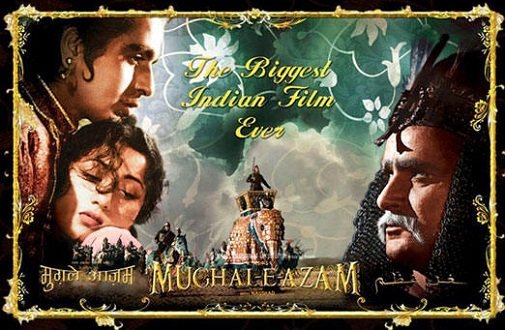 This 1960 cult classic will always be remembered as the greatest love story to have made on the Indian silver screen ever. Based on the tale of legendary loves Salim and Anarkali, it had Prithviraj Kapoor, Dilip Kumar and Madhubala giving larger than life performances. The movie was a raving success and re-released in its color version in 2004.
All these movies will always be taken as a legend.