Boys and bikes are quite synonymous. This current Indian youth are just irresistible about the bikes. Each year some exciting bikes come in picture and the youth just go crazy about it. This inspires the manufacturers to make it even good. It's always interesting to see the strategy of manufacturers in Indian scenarios though. They have to make sure always that all their powerful combinations are mated with affordable price as well. Anyway, we give you a list of the most popular selling bikes on present time.
1. Yamaha FZ-S (or Fazer)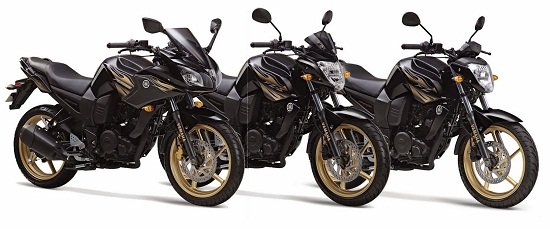 This very stylish Yamaha has made many dudes go crazy for it. Powered by the efficient 150 cc engine the bike is available in Black, Gold, Red and Blue colour options. Its four stroke engine generates 14PS power at 7500 rpm, and a torque of 13.6 nm at 6000 rpm. It holds a great 12 litre capacity of fuel. It costs around Rs 76k.
2. Bajaj Pulsar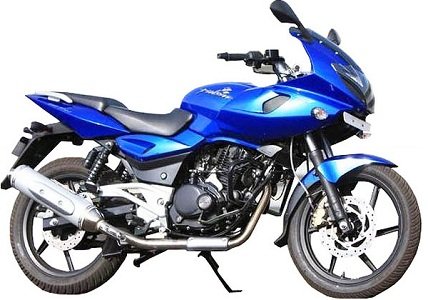 Since inception the Pulsar devices have been in news from Bajaj. This is such an amazing concept. We have seen many editions of it with many engine sets starting from 135 cc to 220 cc. Despite being one of the powerful bikes it shows enough respect for fuel efficiency as well. Bajaj knows well the mindset, and hence the bike can be bagged at a maximum cost of about Rs.85 k.
3. Honda CBR 150R
If you are someone who loves long ride, then we recommend the above Honda bike. Powered by the 149.4 cc DOHC engine it generates 18 PS clocked at 10,500 rpm. It generates the torque of 12.6 Nm. It is quite fuel efficient in nature as well offering about 50 kpl mileage. Having the top speed capacity of 140 kmph the bike carries a price tag of around 1.15 lakhs.
4. Hero Karizma
Karizma from Hero has been always the revolutionary products. The bike has all attributes that can match a global standard. Powered by the elegant 225 cc engines it takes the riding experience to the next level. You can cruise at a top speed of 125 kmph through it. Coming to the price, it costs around 1 lakh in Indian scenarios.
5. Royal Enfield Classic
This is something really regal irrespective of time and generation. In fact it is getting classic day by day. The Royal Enfield is most loved bikes in India. This is something with which you can actually feel like riding something. You must be a man to handle it as the bike is available at a minimum capacity of 350 cc. Bag it at around 1.24 lakhs.
6. Hero Moto Corp Hunk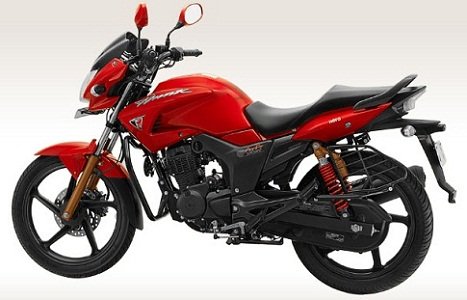 The name itself says everything about the cruiser. It carries really a hunk gesture. The best part about this specific is that it has been introducing thorough updates at a quite consistent manner. Powered by the 4 stroke 149.2 cc engine the Hunk generates 10.6 Kw power rotating at 8500 rpm and torque of 12.8 nm. You can bag it at a price of about 65k.
7. Honda Shine
There is a huge fan base of the bike. In fact Honda is greatly encouraged by the performance of this Honda Shine. This is something that any responsible family people would love to have. It packs a nice gesture and offers great comfort for the users. The terrific shock absorbers give you a flying ride. Coming to the price, it can be bagged for about Rs. 60k.
8. KTM Duke 390
Have a look at it; it looks a dude; isn't it? The bike has already made many youth go crazy for it. Despite carrying a masculine look it well maintains the physique with pretty light weight. Its single cylinder engine generates the power of 44 bhp rotating at 4500 rpm. The bike is pretty affordable as well carrying a decent tag of just about s. 38k.
9. Hero MotoCorp CBZ Xtreme
This is one of the most heroic stuff that the girls love the most. Powered by the 149.2 cc 4 stroke engines the bike generates power of 14.4 PS rotating at a speed of 8500 rpm. It has a great boy and offers superb comfort. This is something that can match expectations of every generation. Talking of the price, it is a great product at just about Rs. 67 k tag.
10. Bajaj Platina 125 Dts -si
After the envy making success of Platina, Bajaj revamped the line-up through Platina 125 DTS-si engine. It brings many excellent specs and offers the perfect riding experience along stupendous power. It has a great look as well, and can be bagged just at the expense of Rs 39 k in Indian markets.