Phones have become much more than an object of utility; they are rather a symbol of one's social and financial status. There are such feature rich and pricey phones available in the market these days, which tend to be a source of amazement for all. This year, the technology giant, Apple released one of its most expensive phones but do you think that it is the most expensive phone available on the market? Well, it's not. There are many different phones available in the market which could cost you as much as a small apartment or as much as a luxury car. That is right, the most expensive phone costs about 8 Million USD and that's not all, there are many other phones which falls in the same price bracket.
You must be wondering about the features of the most expensive phones but you must know that these phones are luxuries and the price that you pay is not for the features but for the design and the material used. Most of these phones are engraved with precious metal and stones and that is what makes these phones stand out from the crowd. Another feature that makes these phone unique is that they are never made in a lot of numbers. These phones are exclusive and they are made in limited quantity to maintain the exclusivity and this is another reason why the price of this phone is marked up at such a high price. Believe it or not but these phones still find an owner very easily as soon as they are made available and most of these phones are made to order for high profile clients.
Here is the list of 10 most expensive phones:
10. Savelli Jardin Secret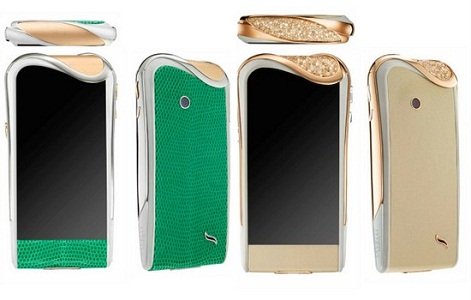 Savelli Jardin Secret is a phone brand for the rich and the famous, which showcases 12 most amazing Android phones in its collection. Priced at a whopping $ 120000, this gorgeous looking phone comprises of white gold buttons and baguette cut diamonds, a total of 75 in number, and is available in a range of vibrant colors.
9. iPhone Princess Plus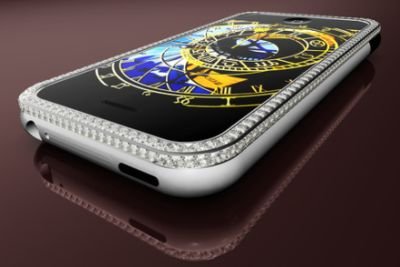 Next among the most expensive phones of 2018 is the iPhone Princess Plus, which touches a price of $ 176400. Crafted by Peter Aloisson, the famed Austrian designer, this phone is a piece of art, with 18 K gold on the rim and 318 diamonds studded over it. The phone has apple logo and the home button embedded with diamonds and the phone is really heavy because of the diamond weight. The phone was released in 2007 and there are very few models available for sale.
8. VIPN Black Diamond Smartphone
With an incredible price tag of $ 300000, the Swiss smartphone called VIPN Black Diamond is the next one to make it on this list. The exquisite looking phone has a body of Titan and polycarbonate and is equipped with performance features such as 400 MHz processor, 4-megapixel camera,and 256 TFT screen.
7. Vertu Signature Cobra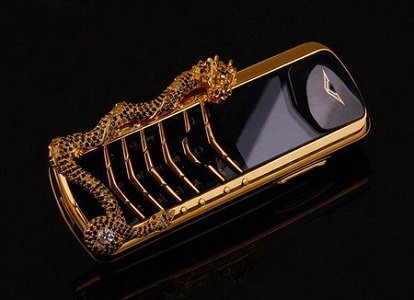 A limited edition phone with just eight available models, the Vertu Signature Cobra features next among the costliest phones, with a huge price of $ 310000. This classy looking phone has been embellished with precious gemstones such as diamonds, rubies,and emeralds. All the Vertu Phones are handmade phones and Vertu also offers many services with their phones. The phone has 439 rubies embedded in the body which makes it look really unique.
6. Luxor Las Vegas Jackpot
With an unbelievable price of $ 1 million, the Luxor Las Vegas Jackpot is one of the priciest phones in the world in 2018. This precious looking phone is from an international luxury phone brand called Gresso and has been crafted with 200-year-old African Blackwood and 180 g of gold.
5. Diamond Crypto Smartphone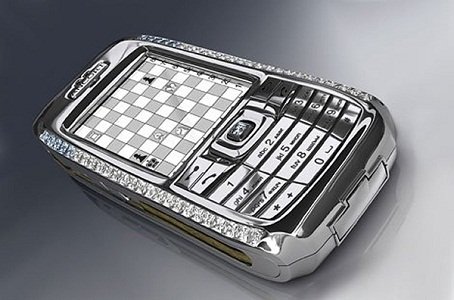 Another brilliant looking and thecostly phone are the Diamond Crypto Smartphone, a product of a leading Russian brand called JSC Ancort. This phone has been decorated with 50 high quality diamonds and commands an unbelievable price of $ 1.3 million.
4. GoldVish Le Million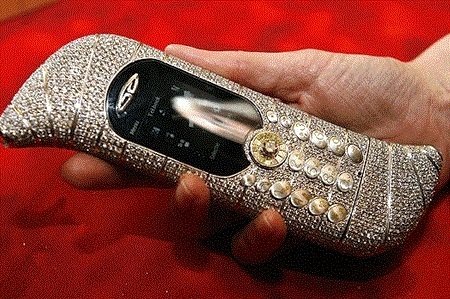 Sharing this spot on the list with the previous entry in the phone called GoldVish Le Million, which is also priced at $ 1.3 million. This beautiful diamond studded phone has been handcrafted by Emmanuel Gueit, the renowned watch and jewelry designer. The phone is also featured in the Guinness World Record because of its high price.
3. iPhone 3G King's Button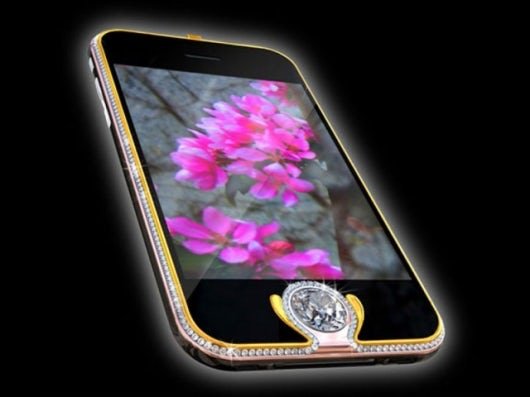 iPhone 3G King's Button is another iPhone product to make it on this prestigious list, with a price tag of $ 2.4 million. This phone is nothing less than a stunning piece of art, which is designed in yellow gold, rose gold and white gold, and embellished with 138 sparkling diamonds. The home button of this phone is covered with a 6.6 carat white diamond.
2. Supreme Goldstriker iPhone 3G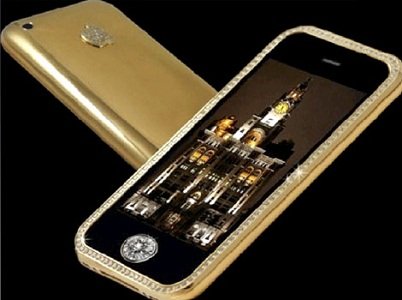 iPhone emerges as the true leader when it comes to listing the most expensive phones of  2018and the next one in this list is the Supreme Goldstriker iPhone 3G. Priced at a whopping $ 3.2 million, this brilliant looking phone is designed in 22 carat gold with 135 glittering diamond and a single cut big diamond for its navigation button.
1. iPhone 4 Rose Diamond Edition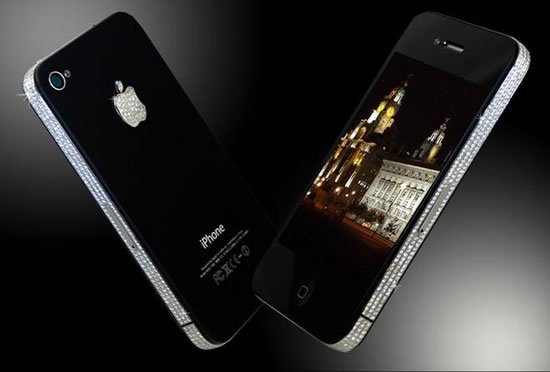 Topping this list is another exquisite iPhone model, the iPhone 4 Rose Diamond Edition, which carries a price tag of $ 8 million. This unique phone is a creation of designer Stuart Hughes, who has made liberal use of diamonds and rose gold in its design. The phone has about 500 diamonds and the total weight of the diamond itself is about 100 carats. The apple logo and the home button is also covered with the diamond
All these stunning phones are beyond the reach of common people and can only be owned by millionaires and celebrities, but continue to inspire awe in people with their stunning looks, brilliant features and exorbitant prices.There are other phones which gives a tough competition to all these phone and that includes Vertu Signature Diamond. You can expect more additions to the list as recently many companies released new upgraded models of the phone and the designers across the world are working to create a masterpiece.