Top 10 Highest Mountain Peaks Around The World
When we think of Safari to visit nature, top of mind is normally African safari. But it is good to note that, there are several other places in the world where you can visit and enjoy a safari adventure. When you want to tour the world's highest mountain peaks, you will get them spread all over with most of the top 10 being in the Himalayas starting with the Everest, Lhotse to the Annapurna.
Here are the top 10 mountain peaks around the world you should tour
10. Annapurna
This is a section of the Himalayas, which is in the North central Nepal. It is a series of peaks which are collectively referred to as Annapurna. It stands at 26, 545 feet high and its peaks are some of the world's dangerous peaks to climb with a fatality rate of 40%.
9. Nanga Parbat
At about 26,660 feet, this is one of the world highest mountain peaks which in the twentieth century was known as a killer mountain as it used to be dangerous to climb to the top. Though it is now less dangerous to climb, it is still very difficult.
8. Manaslu
This mountain is located in MansiriHimal which is part of the Nepal Himalayas on the west central part of Nepal.  This mountain was first climbed on May 9, 1956 by members of Japanese expedition, GyalzenNorbu and Toshio Imanishi.
7. Dhaulagiri
It stands at about 26, 795 feet tall and it is located north of central Nepal. Its name designates White Mountain. The west and south faces of this mountain have massive drops with each rising over 4000 meters from base with each having been the site of epic climbs.
6. Cho Oyu
It is the westernmost major peak, which is 20 km to the West of Mount Everest. It stands on the Tibetand  Nepalborder and it is known to be the main peak of the Khumbu subsection of the in the Himalaya. It stands at 26,906 feet.
5. Makalu
It is in the southeast of Mount Everest  and borders China and Nepal. It is an isolated peak, which has a four sided pyramid  shaped peak which stands at 27, 825 feet, making it one of the highest  mountain peaks in the world.
4. Lhotse
This mountain peak is located at the border between the Khumbu region in Nepal and Tibet in China. The main summit is at 27,940 feet above sea level in the middle at 27,605 feet and Lhotse Shar which is 27,503 feet. It is connected to  Mount Everest via the south.
3. Kangchenjunga
It is at an elevation of 28,169 feet and rises about 20 kilometers south of the Great Himalayan range and located at the boundary between the Indian state of Sikkim and Nepal. It contains the 5 treasures of snow which are contained in the five peaks which contains the God's five repositories namely, silver, gems, grains, gold and holy holy books.
2. K2
This mountain is located between the Taxkorgan Tajik Autonomous County of  Xinjiang in China and Baltistan in the GilgitBaltistan region of Pakistan.  At 28,251 feet, it is the highest point in Pakistan and it is referred to as the Savage Mountain as it is difficult to ascend to it and it is rated as the highest fatality rate for those who climb it. Per every four people who reached this peak, one has died.
1. Mount Everest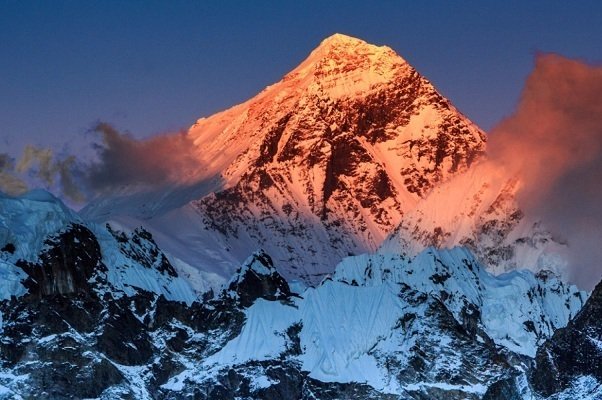 This is without dispute, the highest mountain in the world, standing at 29,029 feet above sea level. It is located on the border between Tibet, China and Sagarmatha Zone Nepal. It is part of the Himalaya Mountain range. Though being the tallest, it is one of the easiest mountains to climb and this makes it more attractive to most mountain climbers with both advanced and limited climbing skills.
You will agree that some of these mountains are the most beautiful and majestic  things that you will be privileged to witness  before you depart this world. Make an effort of climbing at least one of this top 10 mountains and share this too with your friends and inner circles via social media so that they too, can make a visit.
Save