Top 10 Cheap Budget Superbikes in India 2017
Superbikes offer utmost pleasure in motorbike riding, however they require the highest amount of attention and expertise as while riding as well. However, Indian market is a good place where enthusiasts can find their favorite superbike within a reasonable price range. The top 10 superbikes in India are mostly found around the price tag of 10 to 15 lacs rupees, but there are plenty that are over and under the specified range.
10. Kawasaki Ninja 650
Speaking of the category, the Kawasaki Ninja 650 is a superbike in the mid-tier of superbikes.
The engine displacement is 649 cc with 71 bhp maximum power output at 8,500 rpm and 64 Nm of maximum torque at 7,000 rpm.
There are 6 gears in the manual transmission system, with 220 kmph top speed.
Rated mileage is 21 kmpl for this bike.
Price: Rs. 553,239.
9. Honda CBR 650F
Honda CBR 650F keeps it regular on the exterior, but inside –
The engine displacement is 648.72 cc with 84.11 bhp maximum power output at 11,000 rpm and 62.90 Nm maximum torque output at 8,000 rpm.
It has 6 manual gears, and the top speed is around 225 kmph.
21 kmpl is the rated mileage on this bike.
Price: Rs. 760,970.
8. Hyosung GT650R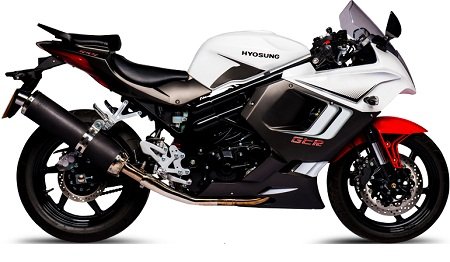 Hyosung introduced their GT650R model as a mid-tier performance motorbike in the worldwide market.
It has a 647 cc engine, and the maximum power and torque output figures are 72.68 bhp and 60.90 Nm respectively.
Both the brakes on this motorbike are disc type.
210 kmph is the rated top speed.
Mileage: 20 kmpl.
Price: Rs. 509,000.
7. Triumph Daytona 675R
The Triumph Daytona 675R strikes the market as a worthy replacement of the early day Daytona 650 released in 2008.
This variant offers an engine of 675 cc capacity.
Maximum power output for this engine is 126 bhp at 12,500 rpm, and maximum torque is 70.20 Nm at 9,900 rpm.
Fuel efficiency of the Daytona 675R is 18 kmpl.
Price: Rs. 1,273,700.
6. Ducati 959 Panigale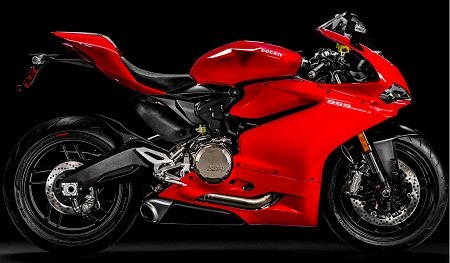 The Ducati 959 Panigale is a very latest bike, because it was showcased at the India Bike Week 2016. It's an update to the previous 899 Panigale model, a very pleasant one.
The chassis is built of die-cast aluminum for absolute strength.
The engine displacement is 955 cc with 154.85 bhp maximum power and 107.40 Nm maximum torque output.
Mileage on this motorbike is 18 kmpl.
Price: Rs. 1,404,000.