So you've been looking for the upcoming bikes in India, aye? Well, you've certainly knocked the right door. Get in. Nothing gets up more joyful than discussing the aspects of two-wheelers. And when the talk shifts to what the future for two-wheelers lays at, it's even more mesmerizing.
We, the same kind of two-wheeler enthusiasts as you, have run the rule at the upcoming bikes in India in 2017 and have lined them up for you down below to savor upon. We hope to entice you on a journey for the 'Top 10 Best Upcoming Bikes in India 2017'.
Read along, as we begin our trip into the distance.
10. Suzuki GSX-R125
Mirroring the success of Suzuki Gixxer models, Suzuki is primed to release its 125 cc variant in 2017. A fully faired model with shared design aspects from the GSX-R family of Suzuki, it will be directly in contention with KTM Duke's 125 model.
The bike features 124.4 cc single cylinder engine with Euro-IV emission norm compliance.
Price- 1 lakhs (Expected)
9. KTM Duke 125 (2017 Edition)
Another one from the KTM's clan of motorbikes, Duke 125 is famed to be the optimum choice for many. It shares its design platform with the bigger 390 model and has astiffer steel frame for support.
It comes with smartphone connectivity in form of 'KTM My Ride'. It will be available in its signature orange and white color pattern. The engine bears a four-stroke 124.7 cc single cylinder engine with 6-speed transmission. It will be launched somewhere in the mid-2017.
Price- 1 lakhs (Expected)
8. Yamaha YZF R15 V3.0
A third version of the famed R15 model, Yamaha is sure to rule the hearts of many youths in the nation. A fully faired bike with the racing charm unmatched by any other bike in the market, R15 V3.0 is nothing sort of revelation.
It has the same 149 cc single cylinder engine, 6-speed gear settings and furthermore similarities. However, the third version is said to have more power and torque. It will also feature updated design and edgy look.
7. Bajaj Pulsar RS400
Built on the similar aspect to the RS400 model, Pulsar is looking to venture into a more powerful engine segment with this one. It will bear the aggressive racing instinct design borne by the predecessor RS200.
The bike is scheduled to release in the early half of 2017. It will bear a 373.2 cc lightweight engine with 6-speed pairing.
Price- Rs 2 lakhs (Expected)
6. Hero HX250R
Hero has been an undisputed leader in the consumer segment of 100-125 cc motorcycle in the nation. However, with the bigger players burgeoning in the higher variants and new models, Hero geared up to portray its own version of sports bike HX250R in the answer.
The bike will feature a 249 cc single cylinder engine with a6-speed gear transmission. It will be in contention with other players in the same range, i.e. Bajaj Pulsar RS200, Honda CBR250 and more
Price- Rs 1.5 lakhs (Expected)
5. KTM Duke 390 (2017 Edition)
Next up is the Austrian sports bike manufacturer's fierce KTM Duke 390. The bike has been spied testing on the Indian roads already. It bears the same sporty feel and aggressive nature as the predecessor. However, a few revisions have been made on this one.
KTM Duke 390 will house the 373 ccsingle cylinder liquid cooled engine with speed transmission offers up to 6-speed gears. It shall bear LED headlamp and a revised rear along with there fined exhaust.
The bike will be priced a bit higher than its predecessor model which came in at around 2 lakhs.
4. TVS Apache RTR 300 (TVS Akula)
A fiery sport bike from TVS, this one titled as Apache RTR 300 or TVS Akula is the one to foresee. A direct competitor to the existing Yamaha R3, Kawasaki Ninja, upcoming Bajaj Pulsar VS400, Apache 300 is sure to heat the groove.
It will be the flagship model for TVS, who have borrowed design cues from the BMW G310R. The bike features carbon fiber body with LED lights and 6-speed mated engine. it will bear a power source of 313 cc single cylinder liquid cooled fuel injected engine.
It will be launched in the upcoming year with the specific date yet to kick in.
3. Suzuki Gixxer 250
Having been already launched in the Japanese market, Suzuki's Gixxer 250 will be seen doing the rounds in India somewhere in the later-half of 2017. It features the sporty looks paired with high functioning engine calibration.
The design team has cued the model after its larger variant GSX-R1000. It has shareable aspects with the smaller sibling Gixxer 155 which has been running for a while in the Indian market.
It will feature a 248 cc liquid cooled parallel twin engine bearing 6-speed transmission.
Price- 1.5- 1.8 lakhs (Expected)
2. Kawasaki Z250
In a market where premium bikes are the esteemed choice for many, Kawasaki thought of tapping into it by launching its Z250 model. It will be hitting the market pretty soon in 2017.
The bike will feature 249 cc single cylinder liquid cooled engine. It is expected to bear shades from the higher variant of Kawasaki bikes in terms of design and graphics. It will be contending against KTM Duke 200, Bajaj Pulsar RS200, Honda CBR250 and the upcoming Hero HZ250R.
Price- Rs 2.5 lakhs (Expected)
1. Benelli TNT 135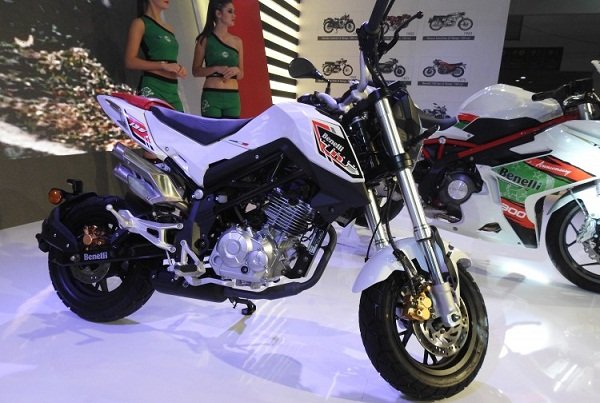 The premium bike segment is booming along and therein has been the rise of Benelli in the nation. Benelli is set to announce its next piece for 2017 in form of TNT 135. The bike will be naked-design with aggressive looks. It will bear a 135 cc single cylinder four-stroke engine.
It will be one of the cheapest pieces on offer by DSK Benelli.
Price- Rs 1.5 lakhs (Estimated)
Any thoughts on these? Share them down below and let us know your quips.
Save
Save