Top 10 Best Thermos Flasks in India With Price
It's our very nature to seek thermal comfort. We tend to go for hot in cold and towards cold in hot. And why wouldn't it be so. After all, balance is the key to our survival. In order to help us strike this balance in our everyday lives engineers have created an amazing device cum container called Thermos Flask.
Thermos Flasks have a vacuum insulation property that preserves the temperature of beverages and liquids that they hold. There are hundreds of companies that manufacture these flasks.
How To Choose A Right Thermos Flasks For You ?
Are you looking to go outdoors to enjoy your cup of hot coffee or tea? To keep the coffee or tea hot for a longer time, you will need a thermos flask having the best features. In the market, you will find lots of manufacturers and different designs of thermos flask that you can pick according to your requirements. However, you will need to consider your requirements because you can go with different sizes and shapes of thermos flask according to the type of liquid or food that you want to carry in it.
If you are looking to make the right choice for thermos flask, here are some of the important considerations for it:
Size and material of thermos:- First of all, you will need to choose the right size as per your requirement. There will be excess options from small to very large so you can go with the right one as per your choice. Go with the right material having long durability, high functionality, and insulation inside the thermos bottle.
Type and uses of cap:- There should be features of using the cap like a small glass, and it should be made in a proper way to provide the insulation features for the stored liquid in the thermos bottle.
Make sure to go with a reputed and trusted manufacturer in the market because you will find high durability and easy to use functionality in the thermos flask if you are getting it from the right manufacturer.
So, here we compiled a list of Top 10 Best Thermos Flasks in India. They have been arranged according to their popularity in sale.
10. Zafos Pexpo Glossy Black-1000ml
Featuring a gorgeous design, the Zafos Thermos Flask Bottle has an excellent temperature retention quality. It comes with a silver steel opener and glossy coloured body that makes it just perfect to carry on your sports meets or kitty parties. Fabricated with 304 Grade Stainless Steel, the double lining prevents condensation on the outer body keeping your hands and clothes dry.
Brand: Zafos
Capacity: 1 litre
Features: Spill Proof mouth, Rust free
9. Solimo Thermosteel Flask, 1000ml, Silver
So, the next year when you travel by Volvo, you won't have to purchase any water bottles or tea cups on the way. The Solimo Thermosteel Flask packs away all your hassles in a corner of your bag. The flask comprises of a twist round cap that also serves as a cup at times. Its wide mouth is designed to easily accommodate ice cubes.
Brand: Solimo
Capacity: 1000ml
Features: Anti-drip Lid, Belted Nylon Cover
8. Cello Senorita Vacuum Flask, 1 Litre, Burgundy
Especially if you run a café or a guest house, this Cello Vacuum Flask is just perfect. It consists of a plastic surface lined with durable glass interiors and a C-handle for easy pouring. Beaded Shell type cork lid opens to a spout that enables the pouring of liquid without spilling it either ways. The glossy burgundy surface of the flask adds to its luxurious appeal.
Brand: Cello
Capacity: 1 litre
Features: Anti Spill Mechanism, Toxin-free
7. Cello Sensation Belt Flask, 1 Litre, Brown
Now gift your child with this belted flask bottle. Its double lining of plastic and glass keeps the liquid warm for 4 hours and cold up to 5 hrs. The flask also accommodates a retractable matching belt for easy carrying. The dual purpose lid serves both as lid and a cup. Apart from its creative surface design, the bottle is available in blue, brown and white, that your kid will love to carry to his school.
Brand: Cello
Capacity: 1 litre
Features: Durable Break-Resistant Glass, anti-leach and Non-Toxic Plastic
6. Milton Thermosteel Flip Lid 1000ml Silver Flask
This thermos is a product of Milton's range of superior quality Thermo steel bottles. It comes with a Press-and-sip lid that also serves as a cup for juice or a tumbler of hot chocolate. Also, you can drink directly from the thermos. So, don't you think your next picnic or that family get together will be incomplete without this amazing flask cum bottle.
Brand: Milton
Capacity: 1 litre
Features: Drip Resistant, Rust Proof Steel
5. Milton Thermosteel Duo Deluxe 1L
Stay hydrated in summers and cosy warm in winters with this deluxe thermal bottle from Milton. It comes in a wide range of colours including pink, purple, red, grey, silver and multicolour. Its cola shaped shoulders with bumps at the seat enable even more strength and stability. Due to its high heat retention, the bottle is great both for warm espresso or chilled ice tea.
Brand: Milton
Capacity: 1 litre
Features: Pure Stainless Steel Fabrication
4. Milton Thermosteel Crown 600 Flask, 500ml, Silver
Your body demands hydration, but why let it fall in way of your passion towards sports. This Milton Thermo steel Crown 600 Flask keeps you hydrated and fresh all day. It comes with an insulated steel flask and a transparent shell-like sipper lid, that is available in shades of orange, blue and purple. Its compact body can easily fit in the side pocket of your bag and looks classy too.
Brand: Milton
Capacity: 500ml
Features: 100% Rust Free Steel, Temperature retention mechanism
3. Milton Thermosteel Flask, 350ml (EC-TMS-FIS-0044_STEEL)
Featuring a Press-n-Pour Cap, this Milton Steel Flask has been fabricated intricately with 18/8 Quality Stainless Steel. Its fully insulated vacuum interiors keep the liquid hot up to 18hrs and cold up to 24 hrs. The bullet shaped cap also serves as a drinking cup.
Brand: Milton
Capacity: 350ml
Features: 100% Rust Free, 100% Leak Resistant
2. Cello Lifestyle Stainless Steel Flask, 1000ml
With this Cello Lifestyle Flask, carry green tea or coffee at your office in style. It features a dispenser that is walled twice for enhanced heat retention along with preserving the flavour and freshness of your beverage. The silver Stainless steel surface emanates an elegance that makes the flask to keep on your desk.
Brand: Cello
Capacity: 1000ml
Features: 100% leak proof, Odourless, Stain Resistant
1. Milton Thermosteel Carafe, 2 L (EC-TMS-FIS-0041_STEEL)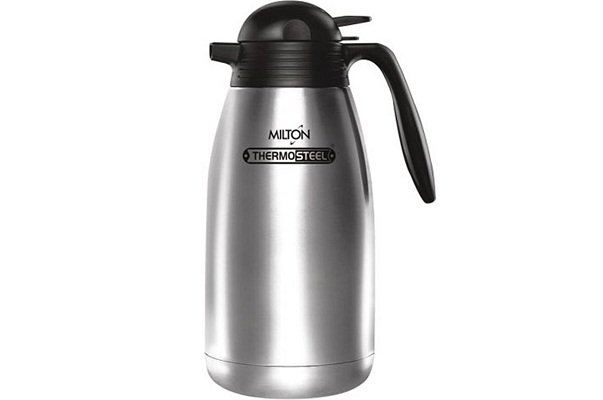 What's better than a compact thermos that serves both as your refrigerator and as the coffee maker as you require. This Thermo steel carafe from Milton is truly a brilliant invention of Thermodynamics Engineers. It enables you to keep chilled rose sherbat or hot coffee without hampering its temperature for hours, even if your guests show up late for hours! The carafe is easy to clean inside out with a mild dishwasher.
Brand: Milton
Capacity: 2L
Features: Excellent Heat Retention Mechanism