Wearing the right shoes is important for you to keep up your exercise regime and stay healthy. Improper footwear can cause stress and strain on your legs and back and would result in pain, which will prevent you from exercising. It is essential to do a thorough study of factors such as the purpose for which you are buying the shoe, it could be jogging, running or even brisk walking, consider if the surface is even or uneven, learn about the features of the shoe, check if it suits your personal taste and budget and choose.
Top 10 best running shoes for women in India with price are listed:
10. Power
Power Women's canvas Running Shoes and Power Fanny Running Shoes is a cut-shoe model which can be worn as casuals and sportswear. Power Women's Plazma Ina315 is the higher end model which available on online.
9. Campus
Campus FLEXI Model women Running shoes are available in various sizes and color and easy to clean. This attractively designed shoe of lace-up style. The Campus Berlin blue women's shoes are attractive and with affordable price.
8. FILA
Fila, is a well-known brand and it has many models of running shoes which are elegant and comfortable.The economic model in this brand is Fila women's Lara Running Shoes, online and Fila Women's Elvey Lite Running shoe is the higher end medium price as well.
7. Sparx
Sparx Women's mesh and synthetic leather running shoes is a lace-up shoe made of mesh and synthetic leather. Women's running shoes from Sparx is mauve and green in color and is suitable for running, jogging and brisk walking. It has an adjustable Velcro, stick on straps. Sparx Women's gray and Red Mesh running shoes have a flat heel and a mesh top with lace-up and available for a lower price online.
6. Skechers
There are about 50 models of running shoes with lace-up and cut shoe style. There are shoes of different colors and modern designs. The model which is priced least is the Skechers GO RUN 4 Running Shoes available in sizes 1,2,3,4,13. Skechers SHOE Skech Air RF Running Shoe is designed with Air-cushioned outer sole and Air-cooled memory foam innersole with a rounded tip, which makes it one of the best shoes to wear.
5. Adidas
Adidas ADIRAY women's running shoe is a lace-up model shoe which is suitable for sports. This is one of the 25 models of shoes offered by Adidas. The higher end model is the Adidas EDGE LUX women's running shoes, which is available in unusual colors such as purple, pink and blue and have flat laces.
4. Nike
Nike WMNS DART 11 MSL Running shoe for which is people seeking low price in this brand. Nike WMNS FS LITE RUN3 Running shoes, which is gray and pink in color, is an amazingly lightweight shoe, though it is made of mesh and synthetic leather. A single shoe weighs just 175gm, when compared to other company shoes made of synthetic leather which weigh about 238gm. In the high- price category you have Nike WMNS ROSHE ONE FLYKNIT Running Shoes which is attractive and red in color.
3. Lee Cooper
Lee Cooper is one of the leading brands. Lee Cooper women's Running shoes made of synthetic material is blue in color and comes in different sizes. There are also other models in the brand, but, the size options are limited.
2. Puma
Puma street rider women's DP running shoe is the one which fall under the lower price category. It is black and purple in color and is ideal to wear, even for sports activities. Puma IGNITE Disc Women's running shoes and Puma IGNITE ultimate running shoes, which are available in bright feminine colors like orange, pink etc. The raised midsole and articulated design along with extra PU foam underneath provides maximum comfort.
1. Reebok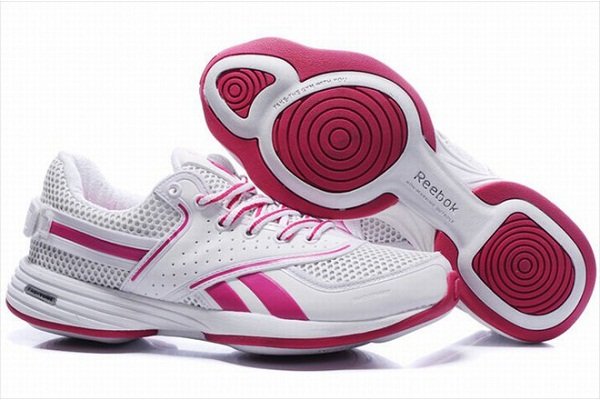 Reebok Women's Super Lite Running shoes is flat heeled and can be used as a casual wear. It is available in Blue Ink, Crisp Blue and White color. The running shoes is the Reebok ZQUICK Lite Running Shoes which are ideal as a sportswear. Looking for variety? There are about 49 different shoes from Reebok within the above mentioned price range for you to choose from.
Wearing the right kind of footwear helps you to maintain your gait. Even if you intend to buy shoes online, once you chose the brand, take the time to visit the store and try on the shoes of your choice, make sure you are comfortable in it and buy.