Top 10 Best Photo Editor App for Android
Gone are the days when people would carry a point & shoot camera to anywhere and click pictures. Instead, those cameras have now found their ways into the smartphones. Photos clicked on a smartphone camera can instantly be put up on a social netwoking platform and the whole world can know what an individual is up to. However, preparing a photo between the time it is clicked and it is uploaded is the phase where photo editing apps come along. Without a great photo editing app, it is quite difficult to bring the best out of a photo. Thankfully, the Android platform has a good number of premium photo editing apps and we review the top 10 of them.
10. Bonfire Photo Editor Pro
Among the current photo editor apps for Android, this Bonfire Photo Editor Pro title has gained a lot of popularity. A catchy title, almost endless number of features, appealing features and basic editing tools at the user's fingertips – that's all for the popularity. A filter named Fancy turns a photo into watercolor, apparently such look to a photo is getting popular these days. Download.
9. Adobe Photoshop Lightroom
Anyone into photography knows the significance of Adobe Photoshop Lightroom in a photographer's life. There's of course the standard version of Photoshop which is capable of doing all the heavy-lifted editing tasks to a photo, but Lightroom comes along helpful when the basics are needed to be done in easier ways. Adobe Photoshop Lightroom for Android is very capable, yet it's free. Download.
8. Adobe Photoshop Express
The above description would fit in Photoshop Express app's shoe, almost. However, people who need the backgrounds of their photos removed or swapped with some other background can't resort to Photoshop Lightroom but can to Photoshop Express – that's where the basic differences lie. It's free with in-app purchases. Download.
7. Cupslice
People who enrich their mobile-photography trend with filters would certainly love the Cupslice app. Reaching the desired level of modification on a photo is only few filters away on the Cupslice app, the stickers are added bonus. Also, the stickers are very much up to date with ongoing trends and one will never find them backdated. Download.
6. AirBrush
As the title goes, AirBrush mostly deals with brushes and excels in charming-up faces. People who take lots of selfies would find themselves useful with tools like teeth whitening, blemish remover, eyes brightener, face re-shaper etc. Also, there's a good number of filters and presets to reduce the time required to fiddle with the app. AirBrush has a 4.3 rating which indicates how popular the app is! Download.
5. Photo Director
When it comes to photo editors on Android, Photo Director claims to occupy a newer seat. However, Photo Director offers a lot of manual retouching to a photo rather than caking them up with one-touch filters. It's exact opposite to what most people non-techie would want, or in the other wants – those who are much enthusiastic about photography would love Photo Director. Starting from brightness & contrast to HSL sliders – there's pretty much everything and it's free! Download.
4. Fotor Photo Editor
Fotor has been around in the Android photo editing game for a very long time. Almost since the time when the cameras on Android weren't even remarkably good performers, yet Fotor made its mark. There are tools like brightness and contrast adjustment, saturation and vibration, shadow, highlights and exposure, tint, crop etc. Download.
3. Photo Editor by Aviary
Photo Editor by Aviary was created and developed almost at the same time when Fotor was released to the Google Play Store. Being the senior member in the club, Aviary knows how to please the photo-enthusiast Android users so there's nothing to worry about. Between Fotor and Photo Editor by Aviary, it really comes all the way down to user preference of the UI. Download.
2. Photo Editor Pro
Photo Editor Pro acts like a myth-buster to the myth 'generic named apps aren't usually good'. The name Photo Editor Pro sounds pretty dull, but the features aren't even close. There are all regular photo editing features with a good number of exciting filters, frames and stickers. Users would love this free yet fantastic app. Download.
1. Photo Mate R3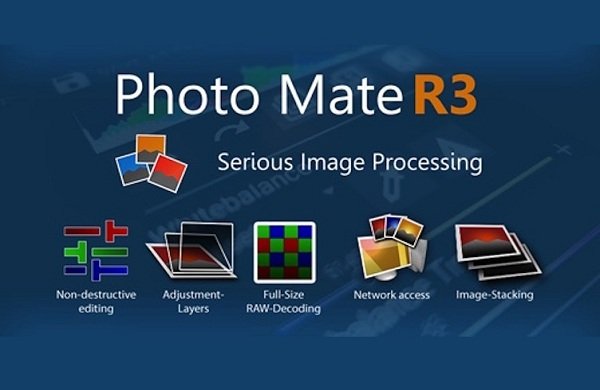 In this list of ours, Photo Mate R3 is the only one that isn't a free app. For a one-time payment of $8.99, the user gets to process their RAW photos on their smartphone. Since a lot of smartphones are now capable of taking photos in RAW, we would recommend making this investment if you are planning to take mobile photography to a more serious level. Download.
Conclusion
All these apps are available in the Google Play Store. Photo editing apps take up lots of resources, having a high-configuration phone would come useful.
Save