Top 10 Best Inverter Batteries in India With Price 2019
Inverters are more or less essential in modern day life. Because we need electricity every day all day. So, this will help to store the electricity and give it to us when there is no electric power is available and it will be very efficient in some days where we need most. The inverter needs batteries to store the electricity that will draw from when the actual power is available or else it can be used to store the solar energy electric supply. Batteries are the important part of an inverter and they are many companies that produce good quality of batteries for their customers. The main things we look at a battery when we buy are their size, capacity and their quality and storage power.
These are some of the best-selling and more trusted batteries available in the market and they are also available in online shopping portals too and they are
10. Exide Inva Master
Exide is one of the leading manufacturers of batteries for bike, car, and trucks and they also produce some high-quality batteries for the inverter. This battery from Exide has the ability to store 150ah power and also it can be available in two colors and they are white and red. This has also come in compatible size and also the weight of 6614 grams.
9. Luminous Iverlast Tubular battery
Luminous also another brand which most of the Indians have trust on it. It is one of the brands that comes with plastic and lead acid materials. The product is very high-quality also having 42-month manufacturer's warranty. This warranty tells about the quality of the product. It is also available in Gray and White colors.
8. Exide New Insta Brite
This is another Exide battery and it is available with 36-month manufacturer's warranty and also it is very easy to handle and also easy maintenance because of having float guide that will help to indicate the electrolyte level available in the battery. It also has molded handles that will help to move the battery very easily. There are some resistor available in the battery to restrict fumes and acid while operation called Spark arrest or. This inverter is available and makes it as one of the cheapest battery available in the market with the same storing capacity than others.
7. Exide Inverter Plus
Exide is the leader in the production of batteries in India by producing the best quality and different types of the battery according to the different needs of the customer. This one is very low maintenance and made up of hybrid alloy materials and also have high reliability. It also has magic eye it will help to enable instant state of charge without opening the plug.
6. Luminous ILTT 18048
In India, there are only two companies have the direct competition over the production of high-quality batteries for their customers. One is Exide and another one is Luminous. This battery from Luminous is one of the best batteries available in the market, having an internal partition connection to prevent internal discharge and it accepts excellent charge acceptance.
5. Exide 150ah battery
This battery can be used in any type of UPS like luminous 1100va and having the strong storage capacity, which was maintained by the thick plate construction. It is made up of special alloy material to help to reduce water loss and dual-plate separation that reduces premature failure.
4. Luminous Inverlast Battery 150av/12v
This one of the best battery in inverlast series from Luminous. This is the made up of plastic material to withstand high temperature drawn to the battery and lead acid is also used to reduce the power leak. It also comes with the 18-month warranty from Luminous and it is one of the top four best-selling battery in India.
3. Microtek TT 2450
Microtek is also one of the leading manufacturers of Inverter and their batteries. This battery is just a type of battery which has Hadi tubular technology. It also has the storage power of 150ah. It is one of the batteries that give longer backup option and also good performance. It uses quick recharge formulation techniques and the water level indicator is ceramic.
2. Amaron Inverter
Amaron is the only other company than Exide and Luminous to produce one of the highest-quality batteries for inverters. They also have high heat tolerance, which is best suited for Indian weather conditions. It also has high reserve capacity and it was come as factory charged. Charging of this battery happens fast and easy. Maintenance of this battery is not often needed and also lead reserve in this battery is very low.
1. Exide 150Ah New Insta Brite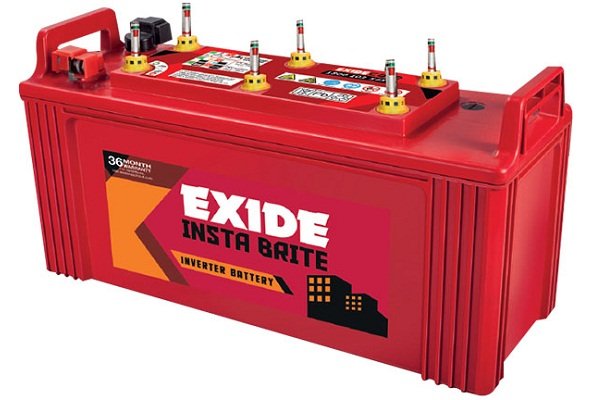 It is no wonder that Exide takes the first place in best-selling battery in India. This company has the trust and reputation of making good quality batteries. It has the storage capacity of about 150ah and it is more suitable for any type of 12V inverter.
These 10 batteries are the best-selling and top most trusted batteries in India which was used by people all over the country.
Save
Save