Many kitchens are turning out to be modern ones now-a-days. Every woman aspires to have all the amenities in their kitchen which will relieve them from stress. Modern kitchen amenities help a woman to manage her time in an efficient manner. They do most of the things that are otherwise time consuming in a jiffy. Hand Blender is one such kitchen amenity that does many things big and small within seconds relieving the women from many tasks that are time and effort consuming.
Let us have a look at the Top 10 Best Hand Blender Brands in India with Price range
10. Big Boss B115 160-Watt Portable Blender
Big Boss B115 Portable Blender is a 160-Watt capacity blender that is portable in nature. It comes with many accessories that help in various kinds of blending function. The model helps the user with variable speed that has two controls in total. It comes with a wall mounting stand that helps in space management and is a very easy to clean model
Cost – Rs. 1675/-
9. Morphy Richards Pronto Hand Blender
Morphy Richards Pronto Hand Blender is a high quality blender that has a 300 Watts capacity. The variable speed control feature that is inbuilt in this model Hand Blender helps the user adjust the blending speed as per the requirement. The easy locking system locks and unlocks the blender easily. The leg of this blender is detachable making cleaning easier than any than any other model.
Cost Rs. 1395/-
8. Philips HR1351/C 250-Watt Blender
Philips HR1351/C 250-Watt Blender is released from the house of Philips who rules the kitchen appliances market for many decades now. It is a highly attractive piece with a pearl and gemstone finish. The complete blending done by this brand blender throws a new light on the blending function. It runs on a 250 Watts power and comes with a chopper attachment which is a value addition to the piece.
Cost Rs. 1945/-
7. Orpat HHB-157E-EC 250-Watt Hand Blender
Orpat HHB-157E-EC 250-Watt Hand Blender is a sleek looking high quality Hand Blender that is designed in a unique manner. The Ergonomic design helps blend many tough ingredients within few seconds. The finish of the blender as a product is super clean. It comes with superior quality accessories that can withstand the test of the time.
Cost Rs. 1320/-
6. Jaipan JTB-250 250-Watt Turbo Hand Blender
Jaipan JTB-250 250-Watt Turbo Hand Blender is one of the best Hand Blender available in the market today. It comes with accessories that are made of study material making them last long for many years. The simple but elegant design allows users to operate the blender with ease.
Cost Rs. 749/-
5. Prestige PHB 6.0 Hand Blender
Prestige PHB 6.0 Hand Blender is a sturdy looking model whose capacity is 200 Watts. Operating this Hand Blender is easy and can be done with a single touch. The chopping blade that comes with spring enable finer chopping when compared to other similar models available in the market.
Cost Rs. 1950/-
4. Boss B101 Portable Blender
Boss B101 Portable Blender comes with high quality accessories for serving various purposes of blending. This model is easy to clean as well as operate. The 125 Watts capacity makes it operate in a smooth manner. It comes with 3 different types of blades made of stainless steel to enable different kinds of blending.
Cost Rs. 1275/-
3. Philips Daily Collection HR1363 Hand Blender
Philips Daily Collection HR1363 Hand Blender comes with a highly powerful motor whose capacity is 600 Watts. The anti-splash blade guard feature ensures that the blended matter does not get splashed out. The soft touch grip acts smooth on hands without making the customers hold the same in a hard manner. The plastic jars that come with this model are detachable aiding in easy cleaning of the pieces.
Cost Rs. 2380/-
2. Maharaja Whiteline Turbomix Hand Blender
Maharaja Whiteline Turbomix Hand Blender is a sleek looking blender that comes in a red and white combination. The LED bulb glows to indicate the working of the blender. Both the main blender and the accessories are ergonomically designed to provide the maximum utilization value for the money invested in the product. The metal foot looks elegant for the white body and all the parts in the model are detachable to aid easy cleaning.
Cost Rs. 799/-
1. Wonder chef Nutri Blend Black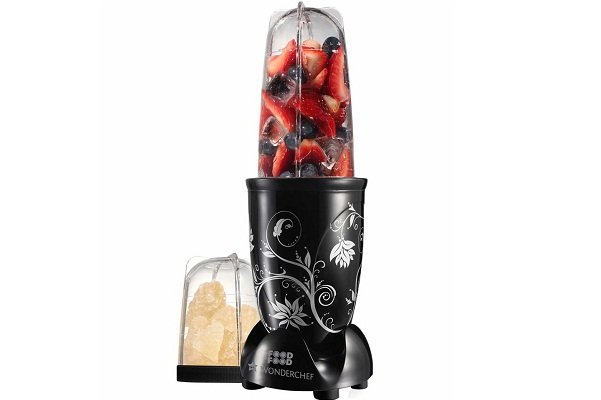 Wonder chef Nutri Blend comes in an elegant black colour with floral designs making it a look very peppy. The 400 watts motor capacity aides in fast blending of food items. It operates on 220 to 240 volts and can be operated easily even by children. The design ensures it provides complete safety during operations and is totally detachable. The main blender as well as the accessories that come with the same is rust proof and can be washed easily since they are detachable.
Cost Rs. 2436/-
When you go in for buying a blender, choose models with more metal surfaces since they can be cleaned easily when compared to the plastic ones. Buy ergonomically designed blenders which will have handles increasing your grip on the same. Look for blenders that come with many high utility value attachments like beakers and bowls. The more the number of attachments, the more the functions the blender can perform like whisking, chopping and whipping over and above blending.