A woman always desires to look gorgeous and the most beautiful women among all. And to look more beautiful she puts on makeup to enhance her beauty. But while putting make-up we often ignore our eyebrows or just simple drag a pencil over there, but that's not how full touch up is given trust me if you're missing any one thing in your make-up collection, then no matter how expensive your dress is and how amazingly your makeup is done there will be something missing. If you care about your lip color to eye shadows, then you must care about your eyebrows too or else your look will be incomplete. And so to complete your magnifying beauty, then add these beautiful eyebrow powder to your desk and look 10 times more beautiful. These tinted powders will give your eyebrows a fuller shade and these ravishing powders will surely hide all your grays. Although cosmetics have numerous brands available, but here are top 10 best eyebrow powders which are available in India and you can trust them blindly as they are the best to try one.
Keep reading to know more about these powders:
10. Joan Rivers Great Brow Day Eyebrow Powder
This product is a transfer proof makeup, which is essential and you must have this eyebrow powder in your kit and enhance your look even more with this beautiful product. It is easy to wash with soap with no side effect.
9. Palladio Cosmetic Eyebrow Powder
Palladio cosmetic eyebrow powder offers 3 shades i.e. Taupe, Auburn and Dark brown. These shades of eyebrow powder bring out the natural shade and also complement your eyebrows with ravishing look. The price of this product is Rs 1,026.44 available on all shopping sites.
8. E.L.F Eyebrow Powder
This eyebrow powder contains a huge amount of pigmented wax because of this quality your eyebrows look more thicker,and fluffy and also enhance your beauty. Add a nice finish to your eyebrows with E.L.F Eyebrow Powder and the double sided brush also helps in arching eyebrows perfectly.
7. Jordana Brow Powder Duo:
this product is produced from US and then this is also a deo powder for those who always wish to add some matte finish to their eyebrows. It has total four combinations, which are medium, dark, bright and black.
6. Hypercolor Brow and Hair Powder
Cosmetic always comes with a huge number of varieties and so does these eyebrow powders. Here is another eyebrow powder of Anastasia Beverly Hills. This eyebrow powder is so easy to apply and same it is so easy to wash too. It has some electric shades you must try to give a jazzy look to your eyebrows.
5. Billion Dollars Brow Powder
There are many billion dollar eyebrow powders, but this uniquely made powder give your eyebrow a little pop up and make them look thick and beautiful. It comes with four shades which are light brown, blinde, taupe, and raven.
4. Sigma Brow Powder Duo
Sigma Brow Powder Duo comes in with 4 combinations which are Auburn, Light, Dark and medium color. They help in creating full bodied and totally natural looking eyebrows.
3. Anastasia Eyebrow Powder Duo
To make your look flawless and collect more complements only one shade of eyebrow powder is not sufficient this eyebrow powder is smudge proof and consist of two tone shades. In the market, it is available in 10 beautiful combinations which you must try.
2. Maybelline Ultra Brow Powder
Maybelline offers products which are inexpensive and they give stunning results. The same comes with Ulltra Brow powder, it gives a natural texture to your eyebrows and also enhance the color of your eyebrows and the result always come with a glorious beauty. If not tried yet then, go ahead and get the flawless beauty.
1. NYX Cosmetics Eyebrow Cake Powder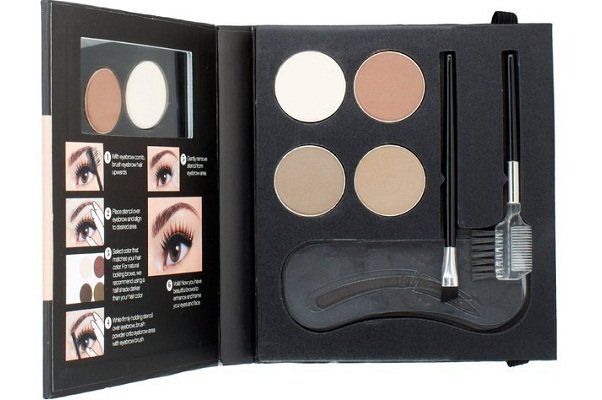 A must buy product for every woman to enhance the glorious beauty with this NXY cosmetic eyebrow cake powder. This a best eyebrow powder product available in India and you must try it one it is available in a cake form and easy to blend. Step ahead and grab it.
Save
Save