Top 10 Best Designer Kurtas & Kurtis Brands in India
Though girls and ladies nowadays are attracted most towards western casual wears but they can't avoid the desi ethnical wears especially in professional events, cultural and traditional function. In fact, they like ethnical wears like kurta/kurtas more in terms of decency they give among other outfit options. These dresses give more charm and add beauty in girls and ladies.
Many brands are an option today but I have selected top 10 best designer Kurtas and Kurtis brands in India, so that you can get one that of your favorite picks:
10. People Kurtis
-This brand is recognized for its color combination and fabric quality is used in its product. It uses 100% cotton fabric which makes the Kurtis more relaxed to wear and suits all body types. Its offers eye-catching patterns and neck designs.
-It can be worn in family functions, traditional occasions and kitty parties. Beautiful design,outlines, and cuts make it trendier among young women. It offers diversities in design for every event and occasions.
9. Span Kurtis
-This is the brand known for its trendy color and its combination. Every season it brings new colors and fresh piece to enhance your style in the traditional manner. It provides comfort throughout the day you wear them.
-The material used in it is cotton giving it a classy look and making it inimitable in the market. And, you can wear it regularly in college and get together with friends.
8. Shakumbhari Kurtis
-The new and exclusive assemblies of Kurtas has uplifted this brand from middle-level brand to one of the highly preferred. It is capable of developing prints in attractive styles and new trend.
-It is now very famous in the market especially due to mild color tones which offer adecent look in casual and daily wears. The quality of materials used makes it light and ease to wear.
7. Global Desi Kurtis
-Among Indian consumers, it is famous for the urban customary designs. Well, known for its eye-catching graft round the neck and 'Anarkali Cuts' gives look like Angel to young women especially.
-It comes with comfortable fittings making it easy to wear and facilitating body movements easily and has got beautiful combinations of colors.
6. Fab India Kurtis

-The smooth fabric used in this brand gives it a unique recognition. It offers excellent quality of materials at reasonable prices. It produces limited pieces of specific design, hence surprises you by its new design every time.
-It becomes difficult to switch from this brand to others once you select this. This brand is mostly preferred for its unique sleeve cuts and neck forms.
5. Rangriti Kurtis
-What comes to the mind of urban women first in Kurtis brand? Yes, it is Rangriti Kurtis. It's due to multiple reasons like quality of materials, unique pieces, and affordable prices.
-Apart from these, it offers varieties of patterns in neck, sleeves, prints and colors counting "An" in every segment of fashion. The products of this brand are said to create a MODERN traditional expression.
4. Aurelia Kurtis
-In compare to other brands this brand offers slightly low at cost but it does not compromise on its quality. Aurelia is worth choice for those who doesn't want to spend lots of money for ethnic wear.
-The quality of fabric used provides great comfort. The design as a border on sleeves and neck make it looks stylish and simple.
3. Libas Kurtis
-There is no match for this brand as it provides designer quality kurtas for all age group women and all other sorts. The dense design on the kurtis and transnational-style cuts make it wearable in different occasions like party, family gets together and traditional events.
-It is an Indian brand offering kurtas like that of international level outfits. This kurta suits better with a little make-up, a pair of kurtis and especially with heels on your feet (not necessarily high heels) as it extends long up to your upper ankle.
2. Biba Kurtis
-A very high preference is given to this brand as the kurtis provided by this brand are so adaptable and flexible that is can be paired with palazzos and leggings which make women wear it easily, not being so much selective regarding paring.
-The women being experimental in their look should definitely try this brand. The designs and style provided by this brand suit with different haircuts and accessories as well.
1. W for Women Kurtis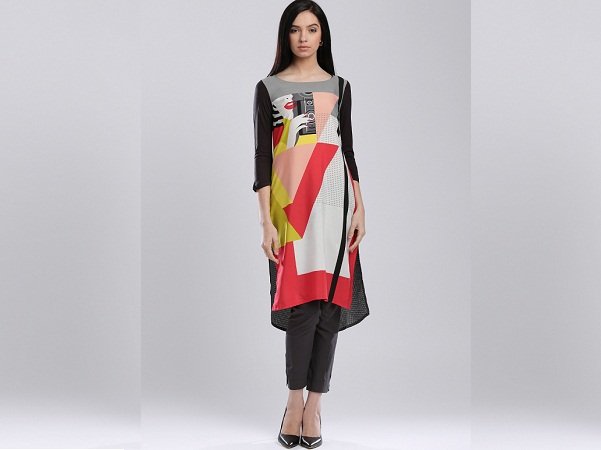 -Women who are very selective and want to make them look different from others in crowd generally go for this brand. The designer kurtas give exclusively different personality and satisfaction to women.
-The exceptional and progressive style pattern used by this brand brings it to the top level. In every respect like the color combination, design, and quality of materials and carved works it comes to the first rank. It is highly comfortable to wear and provides flexibility during body movement.
Kurtas and Kurtis are must to fulfill our wardrobe and fulfill our fashionista. We have discussed on the different designer brand of kurtas and kurtas which will definitely assist you to select one good piece for you. Ultimately the design and color that blows your heart and eyes are to be selected by you. Still, these are some of the most preferred brands in terms of the rankings. It is difficult to choose best of them but you can get good one keeping in mind from above description on each brand.