Top 10 Best Chess Games for Android
Chess is apparently the oldest board game that's still being played like it was invented just yesterday. People play chess all over the world, and it's not something that was invented as a smartphone app. Instead, the real life chess boards made their pace towards the computer and smartphone screens because the demand is so skyscraper! There are casual chess games, also a lot of trainer apps which could teach an individual to learn playing chess from the scratch. Most of these apps are free, but quite a good number a paid as well.
Here's a list of top 10 best chess games for Android platform.
10. Real Chess
Real Chess comes with a very simple user interface, yet the graphics is really good on this game. The online multiplayer mode helps people to play chess with their friends on the go. Players could either play with a friend or some random player from one million registered users of Real Chess. There's a total of 2400 game levels in Real Chess. For less capable phones, Real Chess comes in a 2D version as well. Download.
9. iChess
More than 1000 different levels and puzzles are added in this game, the players will find passing time very easy once they are indulged in iChess. However, speaking of difficulty there are three different levels. The game begins at a beginner level difficulty and goes all the way up to a very hard stage. iChess is playable offline. There's a lot of optional in-app purchases. Download.
8. lichess
The number of registered online player with lichess is around 150 thousand, there's bound to be someone online whenever you launch the lichess app. There's a whole lot of puzzles and few different games under one interface, namely – Chess 960, King of the Hill, Crazyhouse etc. lichess is open source and developers are invited to tweak with the source code to make the game even better. With this many customizable options, lichess is a great free chess app. Download.
7. DroidFish Chess
Popular chess engine for chess games 'Stockfish' has been used as a game engine for Droidfish Chess. This game supports PGN, EPD and FEN files – that's a wide range of support for anyone who's into tweaking and advanced chess playing. Players can tweak the chess boards according to their taste. The themes and animations on-board are truly useful for the puzzle-solving minds out there. DroidFish Chess is one of the best free chess games for expert chess players. Download.
6. CT-Art
Not only playing but people who are considering to learn chess on a very serious level should grab CT-Art for $7.99 from the Google Play Store. There's many levels with different difficulty levels which are designed to provide a widely comprehensive idea for the players. 2200 basic exercises, 1800 auxiliary exercises all managed into 50 different topics – that's the basic approach of CT-Art game. There's a free version to try, but the paid version offers all these functionalities. Download.
5. Chess Tactics Pro
Chess Tactics Pro isn't just a chess board where the players get to move the pawns, instead it is more of a puzzle that builds up the chess-players though process. It takes a lot of thinking before making the move on a chess board, the move is most likely to be not correct without brainstorming in the right direction. Chess Tactics Pro will offer their players with daily puzzles for practice. Tweaking features like themes, level history etc. are available. Download.
4. Chess with Friends
No matter how many advanced UI apps one has, playing an exciting chess with friends will never offer the same level of fun and knowledge session. Chess with Friends is developed by popular game developer Zynga. There's a lot of user-friendly chess-playing feature on-board. Players can chat with the other participating players in the game interface. Download.
3. Chess Opening Blunders
Not having the right head start in chess could mess up the whole game. Chess Opening Blunder was developed with the newbie players in mind. The levels are designed in such ways that the beginners in chess will find the process very useful. Players need to storm their brain to find the perfect move in Chess Opening Blunders. Download.
2. Chess – Analyze This
Chess – Analyze This is one of the best chess games which not only offers boards to play chess casually but also improves the players though-processing while playing a game. This app comes with PNG and FEN files. Game replies will be played after major moves and players can annotate on them. It costs $4.99. Download.
1. Chess Free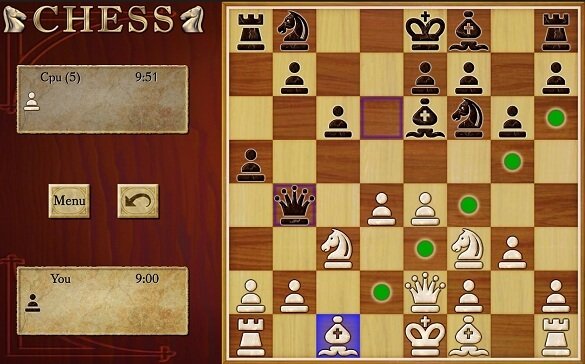 The name's very generic for Chess Free but don't get misguided, the game isn't unimpressive like most of the generic-named apps or games are. Although simple, yet there's a whole lot of analytical tools for serious chess players. It offers local multiplayer for playing face to face on smartphones. There are 12 different modes on Chess Free. However, there's a paid version as well, price $0.99. Download.
 Conclusion
For chess players of any expertise and mindset, there's at least one game in this list. Explore through the titles and find out which one should suit you best.
Save
Save