Stress has become a part of life for every individual. The hectic work schedule, the traffic and changes in sleeping and eating patterns have all added up to the stress and strain of a person, which manifests itself in the form of body pains and aches. Getting a massage done in the Spa could be expensive. You may not have the time to visit the Spa. There are plenty of high-tech massagers in the market for you to choose from.
Pros and Cons of Using a Body Massager
Pros of Using a Body Massager
Most of the times, it is the body massager that will help you relief from the pain. Your muscles require rigorous work which only a machine designed for the purpose can help you get.
Body massagers also help in improving the blood circulation of your body, which will help you in getting a lot of relief
With regular massager, you will experience less headaches and anxiety, and eventually you shall be free of any kind of stress.
Cons of Using a Body Massager
If you are using the electric massagers, there is a high possibility that you might try to use it in and around the area where you should not actually use it. Some of the places where it should not be used include the throat and the neck region. When this happens, the possibility is that you shall end up getting strokes and other problems.
You need to understand that when you feel that your muscles are tired and that you need some relief from the pain in the muscles, using a body massager may not work in those circumstances. There is a possibility that you will end up getting even all the more pain.
The way in which most of the body massagers need to be maintained is really tight and heavy. You have to be careful that you do not touch them with wet hands or anything. These are, after all electric devices. If you do touch them with wet hands, you might end up getting a big shock, which of course is no good whatsoever.
Check top 10 best & good body massage machine brands with price range have been put together.
10. Royale
Royale Dolphin shaped Infrared Body massager is in the shape of a Dolphin. It is red and white in color and is stylish. It is made of plastic, though. It comes with some attachments and is effective in stimulating the pressure points. It acts as physiotherapy to all parts of your body and features two adjustable speeds. It is useful to relax your muscles after rigorous activity. The price range of Dolphin Massage is between Rs.560- Rs.650. The Royale DP011 Magic massager is priced around Rs.2,700.
9. Kawachi
Kawachi manufactures and exports excellent quality Dolphin body massagers, which work based on reflexology and stimulate the nerve ends. It is made of quality materials and is quite efficient in relieving stress. The price is around Rs.1,900.
8. Arogya
Dual dolphin massager from Arogya uses Reflexology therapy and stimulates the nerve ends. This helps to improve blood circulation and body metabolism. This handheld massager has 3 attachments and is priced between Rs 650- Rs.700. The dolphin massager is priced Rs.600.
7. JM
This brand offers Female personal mini hand massagers, 12 in 1 vibrator therapy massager, Weight loss anti fat trimmer cellulite sculptural body slimmer massager, 8 in 1 Full body Digital Acupuncture slimming massager and many other massagers for beauty treatments in its product range. These massagers combine vertical motion with irregular rotary motion, which gives a good massaging effect and also clears the blood vessels, to improve circulation. Cheapest is the Female personal mini hand massager is priced Rs.350 and the most expensive product in this brand is 7 in 1 hammer therapy cellulite sculptural full body slimmer massager at Rs.2,749.
6. Ozomax
The Ozomax Professional 17 in 1 Body Massager is white in color. This massager is designed to provide vibrating massage therapy. It comes with 17 attachments which you could use to alleviate pain in different parts of your body such as neck, face, shoulder, back, chest, hand and legs. You could also use it to improve blood circulation and rejuvenate your blood circulation and ensure your well-being. It is equipped with two adjustable massage speeds. Fast massage speed helps to relieve your tensed muscles,while the slow speed massage eases muscular pain. It is priced Rs.755, but can be purchased online at about Rs.500-Rs.550. Ozomax 12 in 1 is priced Rs.399.
5. Manipol
The Manipol Body Massager Full Body Muscles Relief Fat Burning massager is designed to massage your body and at the same time help you to burn fat in your body. It works on the principle that the best way to lose weight is to get the moving, so that, it is burnt easily. The massager is said to set the fat moving by applying repetitive movements in the area. It relieves body pain and burns fat. The massager is provided with speed regulators and it is available in different colors. It is priced Rs.590. The Manipol Body Massager Very Powerful Whole Body Massager reduces weight and fat and is priced at Rs.572. There are many variants within this brand with slight differences in product features, all priced around Rs.570- Rs.600.
4. Deemark
The Deemark DDM Full Body Massager is multi-colored and the 7 different massage eyes serve as excellent pain relievers and stress busters in any part of your body. This is the most sought after massager by health professionals because of its quality and motor strength. It is quick in eliminating fatigue by working on the pressure points which stimulates blood circulation. While the price of this massager is Rs.2,999, it is available for Rs.1,399 online.
3. ANCS
ANCS Thrive 717 powerful massager is gray in color. It is designed for long use and the powerful motion provided is as good as a hand massage. You could decide on the hot or cold mode and set the switch accordingly depending on the symptoms. In the hot mode it just takes a few minutes to reach the maximum temperature of 55 degree centigrade and it is advisable to use the unit without any accessory. The price is Rs.2,999.
2. Kemei
Kemei km-3200 5 in 1 massager is white and pink in color and comes with 5 attachments that is suitable to massage all parts of the body using vibratory movements. It requires 220v-240v power and is priced Rs.2,495 but available for Rs.1099 online.
1. Panasonic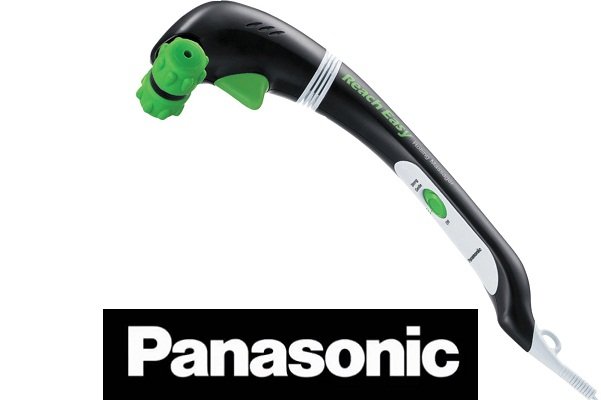 The Panasonic EV2510 hand held massager reaches all spots of your body easily and relieves pain. It is designed to massage based on vibratory movements and there are variants within the brand with prices ranging around Rs.3,300 and may be a little lesser around Rs.3,050 in online stores.
The body massage machine gives you the convenience of invigorating the muscles and tissues in your body within the comfort of your home. You can use it any time and there is no need to wait in queues or fix prior appointments. Choose, based on your requirements.