Belts are an important part of the executive dressing for men. Not only executives prefer wearing a belt but also there are common men wearing casuals who don't feel free and comfortable, if they are not wearing a belt. In this perspective, selecting a belt has great importance. Women also use belts for fashion. In belts a lot of brands are available across India. They may range from very cheap and the local one's to costly and branded one's. There are also branded belts which are available at a price affordable for the common man. The quality of leather may vary for different brands.
Different Types of Belts
Belts for men are available in various styles for different occasions, ranging from casual to formal, chain to braided, etc. While these belts have quite different functions, let's check the wide variety of belts men can choose according to their needs.
1. Formal belts
These types of belts are generally appropriate for formal events and occasions and are often dressed down with dress slacks or suits. Such belts are sometimes paired with semi-formals, however, based on the quality may also fit in with more formal attire. They are made of light ingredients like nylon. Formal belts buckle easily and serve as the ideal match for pants like chinos, denim, slacks, and cotton.
2. Leather belts
One of the most used and widely popular belt types. Brown or black are the most common leather material has gained popularity among men. The reason could be its elegance and simplicity in style. This may be due to its grandeur and simplicity in style. In contrast, faux leather is one such thing for those who live a vegan lifestyle. One may choose among top-grain, bonded, synthetic, and full-grain leather. They can be worn in both formal and casual settings.
3. D-ring belts
If you are bored with the notch and buckle system, you must give a try to D-ring belt. These belts are fixed firmly with two D-shaped rings where the end edge of the belt is threaded to hold it in place.
They are designed using cotton, canvas, or other fabrics instead of leather. Unlike the traditional buckles found in belts, there is less material in a belt. Sometimes, D-rings get too casual. Most of the belts flaunt spunky designs that don't fit with anything or belong to any decade. Since D-rings are available in a variety of patterns, colors, and textures, you have a wide variety of options to choose from.
4. Dress belts
These belts are typically designed of premium quality full-grain leather. They seem sturdier and even smoother compared to ordinary leather belts. Lay the dress belt flat against soft dress pants, tuck your shirt in place and tie it with whatever color combination you're paring off. These belts often look elegant, with little stitching around the edges. You can pair it with any suit with a beautiful single-color dress belt.
5. Obi belts
It is a wrap-style belt consisting of a thick, long piece of leather or cloth that covers a man's midsection. In addition, it is tied in a bow style, like a garment worn in martial arts or a Japanese kimono.
6. Cinch belts
Generally, cinch belts are wide and are used to cinch one's waist and give a distinctive shape to a silhouette. These belts are made using fabric, leather, or elastic material that is flexible to adjust to the shape of your midsection.
7. Reversible belts
Reversible style belts are formal or casual varieties that have a twistable buckle. This feature allows men to wear it inside out. One opposite side of the reversible comes with a variety of coloration than the other side.
List of Top Belt Brands in India
Let us take a look at which are the Top 10 famous belt brands with price range in India presently one by one.
10. Nautica
Nautica Men's Reversible belt is an attraction from Nautica. The belt can go with any type of dress and any age group too. It is a belt that can be used officially, casually, or with uniform or whatever. It is made of leather but not much durable.  Price range is between RS.1000 and RS.6000. They provide a 1 year warranty for manufacturing defects. They also sale women belts.
9. Louis Vuitton
It is a luxurious belt brand with good collection of variety belts. Their most popular designs are Damier and Monogram patterns. The buckle of this belt comes in different designs of the stylish LV Logo. They aren't long lasting and there is no guarantee for the products. Price starts from an affordable Rs.900. They sell belt for women too.
8. Woodland
Woodland is a branded range of belts available in India. They are popular for their pure leather products. The name Woodland or a tree is the logo of this brand.They may exchange the defective product within 14 days of purchase but provides no warranty for belts. The price range is between Rs.800 and Rs2000. Woodland products are durable and affordable to common man.
7. Fossil
Fossil is a good brand of belt with good quality. The Fossil's Joe Belt is made of 100% leather. Available in various sizes but there are conditions that must be cared for the belt to last longer. The belt should not get wet or it shouldn't get hot in the sun. Because all these can bring damage and shorten the period of durability. They sell belts with other materials too like a combination of leather and some other materials, elastic, polyurethane, etc. They give a 1 year warranty for the belt with applied terms and conditions. Fossil also sell stylish ladies belts too. The price for Fossil belts varies from Rs.1500 to something near Rs.7000. They also trade in women belts with floral designs.
6. Hermes Belt
Hermes is popular for its big H logo buckle and is a company that is spreading it's branches to bags and garments . It is available in great varieties and designs. Hermes also use crocodile and snakeskin for their high quality leather.They also sell belts for women. It is long lasting and they give a warranty cover for one year on certain conditions. Price starts from Rs.20000.
5. Armani
Armani is an Italian brand belt popular for it's luxurious and stylish look. It is available in different types of leather with an eagle symbol on the buckle. The price for this brand starts at Rs.20000. It is quite durable and provides a warranty of two years. It is popular all around Europe and have their markets in other countries too. They have stylish belts for women too.
4. Kenneth Cole Reaction
It is a renowned and acknowledged brand of belt. The material is durable and of high quality. It has simple and variety in designs. It comes in size that is apt for everyone. It is a  trusted and reliable brand. No guarantee for products and not long lasting. The rate is between the range of Rs.2000 to around Rs.14,000. They trade in women belts too.
3. Gucci
The Gucci is the best choice of designer belts. It comes with a stainless steel double G logo as buckle.The symbol G represents Gucci. It has other items like shoes, bags, etc and the G symbol unifies it. Gucci belts are durable and costly. The price for Gucci starts at Rs.60,000. This is the most luxurious belt among the belts mentioned here and not often affordable for a common man.
2. Calvin Klein
It is a renowned and acknowledged brand worldwide. CK is famous for the durability and quality of its products. Simple, elegant design makes it suitable for wearing with any type of dress. The price range for CK belts is between Rs.1000 and Rs.10,000. The product is quite durable. They provide simple and elegant belts for ladies too.
1. Tommy Hilfiger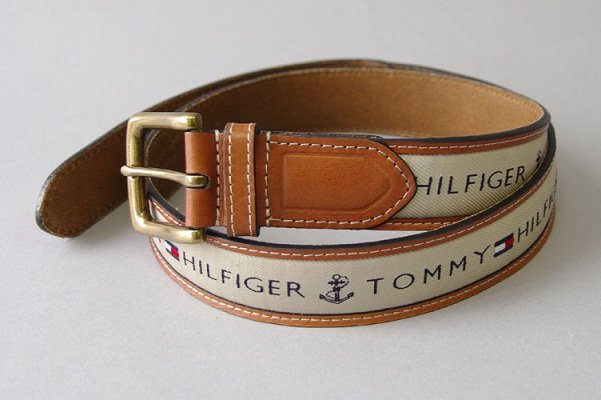 Tommy Hilfiger is one of the best and most bought belts by adults for its simple trendy style. It is made up of Cowhide leather,  Buffalo split leather and cotton. This makes the belt durable and long lasting without any issues. Tommy Hilfiger trade in women belts also.They provide a warranty of 1 year The price range is between Rs.800 to Rs. 5000 which starts at an affordable price for the common man. The affordable rate and quality keep this brand number 1.
Belts are an essential requirement. And if that requirement goes to brand that keeps anyone's standard one step higher. There are branded belts available at an affordable rate even for the common man. So get branded and get noticed.
How to Choose the best belt in India?
Being selective with belt brands will ensure the right fit is selected. However, requirements and preferences will vary from person to person. So, it is up to you to choose the belt as per your preference and budget. Each brand has characteristics that make it different from the rest. If you are looking for a belt for personal use, read the given buying guide.
Material
Nowadays, men's belts come in a wide range of materials, such as leather, so on. Though, leather is the most popular choice for every formal occasion as it is durable & as well as classy. The Indian market is also loaded with some other materials which add to the flexibility. Presently, braided belts also become trendy among youngsters since they come in numerous styles and funky colours to admire different attires. The functionality of any belt depends on its material, so choose any belt carefully.
Types of belt
The belt comes in many styles, including narrow belts, jean belts, textured belts, beaded belts, chain belts, tie belts, fringe belts and more. Appearance also matters when it comes to dressing a belt on any outfit. From all the given styles, you can choose the one that suits your needs.
Buckle
In addition to style and material, the buckle is also an essential aspect to give assurance about the functionality of your belt. A ton of buckle designs are available in the market under different brands. In addition, they are available in sterling steels or alloys of various sizes and shapes. Finalizing the best buckle design depends on your preference to style out the belt. But, you must keep in mind the purpose for which you are buying the belt.
Body Type and Belt Size
Shortlisting a belt of adequate size is a vital part of buying. In general, it is necessary to have a few inches of leather on the left side of the buckle once it is fixed firmly. The belts are neither too long nor long. When it comes to choosing belts for women, all types of belts suitable according to the body type should be kept in mind. Those who have thicker waists should look for elastic belts instead of leather belts as they are not much comfortable due to excessive waist size.
Colour
Belts available in brown, blue and white are the common options as they are compatible with any attire. Nowadays, belts brand come up with numerous different shades & designs to complement different occasions and looks. Belts designed for casual belts are high in demand. Apart from casual belts, formal belts in different colours are also available. If you are choosing a belt for a particular purpose or occasion then keep the right colour and design in mind to avoid mismatch.
Price
Price is another crucial aspect that should keep in mind while buying a belt. A brand that leads the market offer belts under different price range. It is a fact that high-quality products are premium and ideal for long term use.
Save
Save
Save
Save