Top 10 Best Baby Diaper Brands in India 2019
Nowadays disposable diapers are an inseparable part of a baby. The ease of use and hygiene has made the diapers an integral part of baby care. Unlike cloth diapers, disposable diapers are for one time use. Remove and put it in garbage bag – no hassle to clean it again and again. These are designed such a way so that they do not leak. It is convenient to use when the baby is sleeping or while travelling. There are so many brands available in the market now it is tough to select among them.
Below few top brands of diapers in the Indian market are lists which will help you to choose the right one for your loved little one.
10. Zogo Dry
This is one of the most well-known diaper brands. It is made up of high quality absorbency and leakage protecting mechanism. It is economical too which has made it popular.
9. Pigeon
Serving since 1957 it is one of the veterans in diaper industry. With a special side leak prevention guard, it does not let the diaper leak. Good quality absorbent does not let the diaper form a pulp, keeping the baby comfortable and clean.
8. Bella Baby
This product is introduced in Indian market on 2002. It uses very soft cotton which comforts the soft skin of the baby. It provides ample room for air flow and helps vanish the odour.
7. Dry Plus
This product is introduced by Xtracare. It has varieties like nappies, diapers and tissues. It can absorb the liquid very fast and prevent the side leakage.
6. Snuggy
Manufactured by Godrej, it is one of the oldest and trusted brands of diapers. Its reliability is based upon the cloth like feeling in spite of a disposable diaper, a superb absorbent system which keeps the baby dry throughout the night.
5. Wipro Baby Soft
Stepped into the market in 1991 and became popular for its unique super gel absorbent system which soaks the liquid deep into the diaper and does not let the baby feel uncomfortable. It has brought a new variant in the market – cloth feels diapers, which keep the baby out of the irritation of a conventional diaper.
4. Johnson & Johnson
One of the pioneer brands of disposable diapers instead of cloth diapers. The brand name says it all. It is the most trusted brand for baby products. Well, availability, softness and ease of use has made this popular among the parents of a new born.
3. Pamper
This Procter & Gamble product is serving the babies for 50 years in a row. When it comes about sanitation or hygiene P & G is named everyone trusts. It has a variety of style (Pant like diapers and conventional diapers). It is so popular because of its wide and easy availability. These are comfortable for the babies and give them long lasting dryness and keep their skin soft.
2. Mamy Poko pants
This Japanese brand has a huge market and requirement. It is slightly different than the usual shape of the other available diapers. It is shaped like a pant and it needs to be pulled up. Unlike conventional diapers it does not have stickers which often cause rashes so it is much more comfortable for the babies with sensitive sin. These diapers are very soft, lightweight and keep babies dry for a long time.
1. Huggies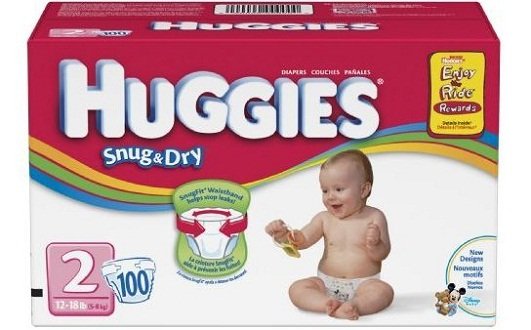 Manufactured by Kimberly-Clark Corporation it is the most sold baby diapers in the Indian market. The manufacturer itself is world's leading healthcare organisation. It is so liked by the parents because these are soft, keep your baby rash free, do not let the baby feel wet. It is made up of high quality absorbent. It has a wide range of variants based on baby's age and weight and available in all medicine shops and departmental store.
These are highly popular and effective brands.