Sunil Shetty can rightly be called the "He Man" of Bollywood because he is a leading action hero in the industry. He has also achieved great success in emotional role, which makes him a complete package. Sunil is not seen in many films these days, but he has diversifies into other businesses now.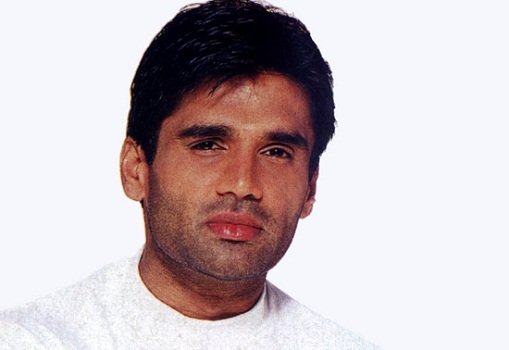 Net Worth: $ 10 million
Income Sources: Sunil Shetty has made most of his money from his successful acting career, making as much as Rs 2-3 crore per year. He is also a successful hotelier and also has liquor and boutique business. He is also a film producer.
Born: 11th August, 1962
Marital Status: Married to Mana Shetty. The couple has two children, daughet Athiya Shetty and son, Aahan Shetty.
Height/Weight: 5 feet 10 inches, 83 kg
Personal Background
Sunil Shetty was born in Mulki, Mangalore in the state of Karnataka. He is a trained martial artist and holds a black belt in kick boxing. Besides his acting skills and business expertise, Sunil is also recognized for his philanthropic efforts. His wife, Mana Shetty runs an NGO, which works for the betterment of underprivileged children. He has recently changed his name to Suniel Shetty as per numerology. He has hosted a television show called Biggest Loser Jeetega on Sahara TV. Sunil also captains the cricket team called Mumbai Heroes on Celebrity Cricket League.
Career Graph
Sunil Shetty made his Bollywood debut in 1992, with an action movie called "Balwaan". The movie was an average hit, but he received real recognition in the industry with his first major hit called "Mohra", a 1994 release in which he shared the screen space with the other action star of Bollywood, Akshay Kumar. Next came, hits like "Dilwale" and "Gopi Kishan", which performed well at the box office. Sunil got the reputation of the leading action star of Bollywood through the nineties. However, he also gave wonderful emotional performances in films like "Border", "LOC Kargil" and "Refugee", and the best one was in "Dhadkan", which fetched him the Filmfare Award for Best Actor in a Negative Role. Later, he discovered an altogether different genre by giving some wonderful comic performances in films like "Hera Pheri", "De Dana Dan", "Phir Hera Pheri" and "Aawara Paagal Deewana". He was also nominated for Best Actor in Negative Role for the Shahrukh Khan starrer film "Main Hoon Na". Till date, the actor has done more than 100 films.
Home and Cars
Sunil Shetty resides in a luxurious apartment in the posh locality of Vakola Bridge in Mumbai. The house lies close to his hotel as well as production house. He owns another house in the city, which he uses as a retreat for relaxation and calls it "Haven Nature House". This property is tastefully decorated with beautiful Buddhist of Buddha and also has a swimming pool, making it perfect for spending leisure time. Speaking of his stylish travel options, Sunil owns an amazing fleet of luxurious cars and trendy bikes. One of his most prized possessions is the powerful vehicle, Hummer H3.