With the goodness of nature and blimey of landscape, tomato is one of the most nutritious and the healthy food that is regarded as the vegetable but surprisingly it is a fruit. Juicy red in color and tangy in flavor, there is probably two or three dishes that are completed without tomatoes.
Tomatoes are considered to be the gift of nature by its lovers and the blessing of the season by its admirers. Tomatoes are having numerous varieties and also the numerous health benefits that make this fruit one of the most used and loved fruit in the world.
If you also love tomatoes and want to seek the unlimited benefits out of them, then you need to turn them into the quick and simple recipes that will make you to enjoy these pleasures of every season:
10. Pasta with Tomato Cream Sauce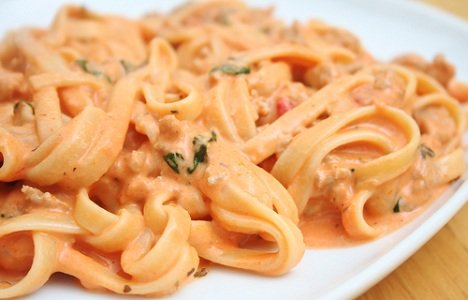 One of the best recipe that you ca try with tomatoes is the Italian recipe that includes lots of tomatoes for your health and to tantalize your taste buds. This is the quick and the easy recipe that needs only two main ingredients and some time to prepare. With the drizzling of the creamy tomato sauce over the tender pasta makes this recipe unique and worth trying.
9. Tomato Crostini with Whipped Feta
This is another amazing and the tempting recipe that use the goodness of tomatoes with the addition of some other healthy ingredients that make your mouth to water. Tomatoes when assembled over the whipped feta along with the cream cheese topped on the baguette breads gives the most pleasure full experience that you never ever had.
8. Tomato Feta Pasta Salad
For the love of tomatoes and pasta, you need to try this amazing pasta salad that is full of cream and sun kissed tomatoes. Just prepare a sauce of tomatoes with the addition of olive oil and some seasonings and drizzle this sauce over the pasta along with the cheese and parsley.
7. Homemade Tomato Soup
Try this amazing and the really homemade tomato soup that is really easy and quick to prepare. With the tangy flavor of tomatoes and some herbs, this soup is really the best remedy for cold and fever.
6. Stuffed Tomatoes
Tender tomatoes are hollowed and filled with the amazing filling of the rice, chickpeas, and mix of spices, these stuffed tomatoes are really the amazing gateway to get the flavors of tomatoes and the nutrition of rice and chickpeas.