Ravindra Jadeja is one of the upcoming talents in Indian cricket, who has earned a slot in the Indian cricket team with his brilliant performance. He is a left-handed middle order batsman and a slow left arm orthodox bowler, who has made excellent contribution to the team as an all rounder, in recent times.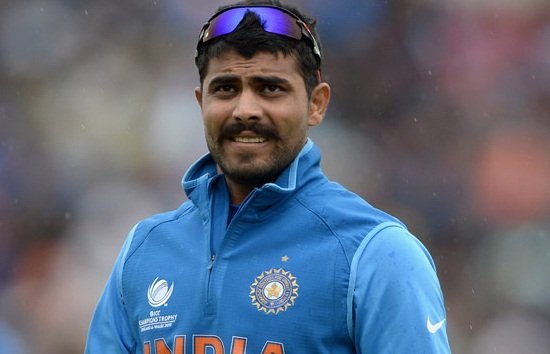 Net Worth: $ 4.5 million
Income Source: Ravindra Jadeja earns a whopping salary of Rs 25 lakh per annum.
Born: 6th December, 1988 (28 years old)
Marital Status: Married to Riva Solanki.
Nick Name: Jaddu, RJ, Rockstar, Sir Ravindra Jadeja
Height/Weight: 5 feet 7 inches, 60 kg
Personal Background
Ravindrasinh Anirudhsinh Jadeja was born in a Rajput family in Navagamghed, Gujarat. He has had a very modest upbringing, due to limited financial resources of his father, who was employed as a watchman in a security company. Ravindra almost gave up his career when his mother expired in 2005, because it grieved him a lot. But fat had something else in store for him and he went on to become one of the youngest talented players to play for Team India. He is presently based in Jamnagar. He fetched a whopping price of $ 2 million in IPL, when he was bought by the Chennai Super Kings team in 2012.
Career Graph
Ravindra Jadeja began playing cricket at a young age and his prodigious talent made him a part of under 19 team at the age of 16 years only in 2005. He was the vice captain of the under 19 team, which lifted the under-19 World Cup in 2008, which took him in the eyes of the national selectors. He was selected in the ODI team in 2008 to play against Sri Lanka, while his test debut came in 2012, against England. He has played an important role of an all rounder for the Indian cricket team. In a total of 12 test matches, Jadeja has scored 364 runs and hauled 45 wickets, while his ODI records show 1649 runs and 127 wickets in 105 matches. He played a key role in the team during its victory in the Champions Trophy in 2013. He plays domestic cricket for the team of Saurashtra since 2006, while he has played for different IPL teams in the seasons of IPL. He started with Rajasthan Royals, followed by Kochi Tuskers Kerala and currently plays for Chennai Super Kings. He was the first Indian bowler after Anil Kumble to make in among the top rankings in the ODI ICC ranking. His career was however marred by the controversy of a verbal battle with team mate Suresh Raina, when he dropped two of the catches of Jadeja in a match against West Indies in 2013. He was also involved in an argument with English player James Anderson in 2014.
Cars and Bikes
Ravindra Jadeja is known for his love for cars, bikes and horse riding. Considering his modest background, he has made some big leaps in his life. Currently, he owns a wonderful collection of cars, including a black Hyundai Accent and a white Audi A4. He also owns a bike called Hayabusa.
Save