M C Mary Kom has scaled unbelievable heights, from being a woman belonging to the backward tribal area of Manipur to becoming the most famous women boxer of India by fetching a bronze medal at the Olympics, amongst a number of other glorious achievements. Despite the cricket love of the country, she has been able to bring herself in limelight, getting such a great popularity that a movie was made on her life story.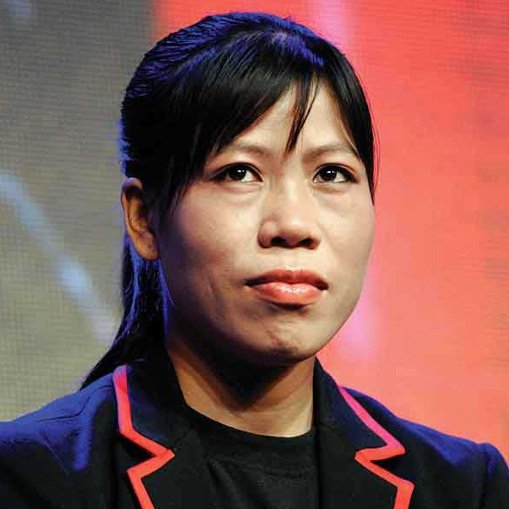 Net Worth: USD 625,000/Rs 3.32 crore
Income Source: Mary Kom gets income from boxing and has recently done some brand endorsements too.
Full Name: Mangte Chungneijang Mary Kom
Born: 1st March, 1983 (33 years old)
Marital Status: Married to K Onler Kom
Height/Weight: 5 feet 2 inches, 51 kg
Personal Life
M C Mary Kom was born tribal village called Kangathei in Churachandpur district in Manipur. She studied till class eight and found her interest in boxing at a young age. She was trained by M Narjit Singh, the state boxing coach of Manipur. Despite all the odds, Mary Kom gave her best shot to boxing and was able to become one of the most well known women boxers of India. She married her friend K Onler Kom in 2005 and has twin sons called Rechungvar Kom and Khupneivar Kom. Peple thought that this would be an end of her career but she came back stronger after that. The Bollywood movie "Mary Kom" which stars popular actress Priyanka Chopra in the title role, is a rest honor for her considering the fact that she comes from the lesser known sport of boxing. She has become an inspiration for every Indian woman and runs an academy in Manipur, teaching self defense to girls. She is also employed as the DSP IN Manipur Police. Mary Kom has proved that nothing is impossible if you dare to draem.
Professional Career Graph
MC Mary Kom has earned the title of "Magnificent Mary" because of her amazing skill and technique, which are not expected from this tiny woman coming from a backward area. Her contribution tom Indian boxing is literally stunning, as she has won the prestigious World Amateur Boxing Championship five times. Also, she is the only female boxer to have bagged a medal in all six world boxing championships, making history in her own right. These achievements were dwarfed by the ultimate dream for any sportsperson, a medal at the Olympics, which came for Mary Kom in the 2012 London Summer Olympics, when she got a bronze. Surprisingly, she was the only Indian woman to make it into the event that year in the Olympics. Her incredible run did not end here, but continued in the Asian Games 2014 held at Incheon in South Korea, where she bagged a gold medal in her category. After performing so well for India on the intyernational level, she was honored by the Indian government, with the greatest national honors in the field of sports. These honors and awards include the Arjuna Award (2003), Rajiv Gandhi Khel Ratna (2009), Padma Shree (2010) and Padma Bhushan (2013).
Save