Raj Babbar is a well known actor in Hindi and Punjabi cinema, who has one many a heart with his charming smile, handsome looks and versatile acting. He has performed different types of roles with equal ease, which made him one of the top choices of film makers as well as audience of the yesteryears.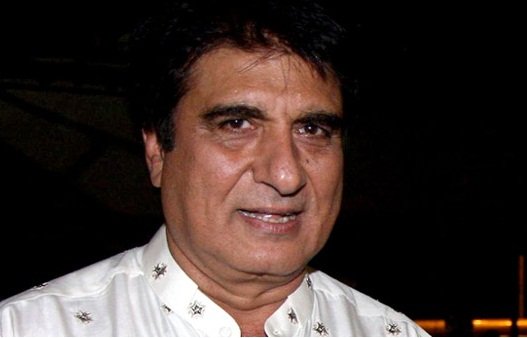 Net Worth: Rs 11 crore
Income Sources: Raj Babbar has acted in a large number of Hindi and Punjabi films, in addition to some prestigious television projects. He is also a film producer and politician.
Born: 23rd June, 1952 (62 years old)
Height: 5'8″ Feet
Marital Status: Raj Babbar got married to actress Nadira Zaheer in 1975, but the couple separated in 1983. They have two children, Juhi Babbar and Arya Babbar, both of whom are in the acting field. Juhi is married to famous television artist, Anup Soni. Raj Babbar caused quite a stir with his second marriage to top actress, Smita patil, but the latter died while giving birth to their only son, Prateik Babbar, who is also an actor in Bollywood.
Personal Background
Raj Babbar was born in Tundla in Uttar Pradesh and displayed his interest in acting at a young age. He got his early education from Faiz E Aam College in Agra and went to Agra College for his college level education. To pursue his love for acting, Raj joined National School of Drama and completed his acting course from there in 1975. Besides acting, Raj Babbar has also tried his lick in film production and owns a production house called Babbar Films Pvt Ltd. He has been into active politics since 1994 and has been a Member of Parliament thrice. Earlier, Raj was a member of Samajwadi Party but in 2008, he shifted his loyalties towards Indian National Congress. He fought the 2014 elections from the constituency of Ghaziabad, but lost to General V K Singh.
Career Graph
Raj Babbar trained in acting by being a part of street theater in Delhi and later moved to Mumbai to begin a career in movies. His first film was "Insaaf ka Tarazu", in which he played the negative role of a rapist who rapes a young model and later her sister. He portrayed the sinister character to perfection and became a favorite with B R Chopra camp, who roped him again for a Muslim background based film called "Nikaah". This time, he played a positive role in the movie and proved both, his mettle and versatility with this movie. Next came, "Aaj ki Awaaaz", during which he fell in love with co actress Smita Patil and got married to him despite having a wife and two children. Raj Babbar worked in a number of hit films one after the other and got commercial success as well as critical acclaim for his brilliant performances in diverse roles. Besides being a recognized actor in Bollywood, he also made name for himself in Punjabi film industry by delivering a large number of hits there. some of his best Punjabi films include "Chann Pardesi", "Marhi da Diva", "Long da Lishkara", "Mahaul Theek Hai" and "Shaheed Udham Singh". He has also been seen in some prestigious television serials such as "Mahabharat", "Bahadur Shah Zafar" and "Maharaja Ranjit Singh", the last one being his home production.