A glucometer has become an important device to keep handy at the current time. Since our lives have become more stressful, we need to check our health regularly since we often indulge in practices that are not too good for our lifestyle. Thus, to keep a check on your blood sugar levels and their maintenance, you can track them easily with the help of a glucometer.
After extensive research and browsing the internet, we have brought you the best Glucometer that you can opt for in the market for your convenience. For curing diabetes and other related problems, it is essential to track and maintain your blood sugar level. You can do that by using the On Call Plus Glucometer without going to your physician. This user-friendly device makes the user feel comfortable while checking their blood sugar levels. It provides results in just a few seconds and comes with a free sterile lancet.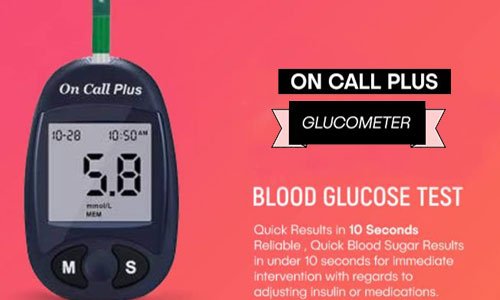 What are the features of this Glucometer?
For improved performance and good results, this Glucometer bears the following features-
It is made from premium quality material, which provides durability.
It runs on a battery which is a coin-shaped battery.
It provides super-fast results.
It has the characteristic to store previous data from previous tests and their time and date.
It also comes with a memory cleaning facility.
It comes with a warranty period of five years.
Lancets are present to poke your finger to take out the blood.
Ten sterile free strips are present.
It comes with a clear cap to test on your palms and forearm.
Fast and accurate result displays.
It comes with a good display that is easy to read for everyone.
You can dispose of its strips quickly.
How to use the On Call Plus Glucometer?
You can find the usage methods of this Glucometer inside the user manual present in the box. However, given below is a guide to take you through the proper usage of this Glucometer:
Firstly, you should carefully wash your hands to prevent any infection.
You should turn on the device and place a test strip when ready.
Next, you have to keep a lancet on the device and prick your fingertip, particularly the side, between the bottom of the fingernail to its tip.
Put a drop of blood on the testing strip and wait for almost ten seconds.
The Glucometer will calculate your blood sugar levels and display them on the screen.
Pros:
The demand for this Glucometer is increasing day by day. Some reasons for the same are given below:
Ten free sterile strips are available with it.
Provides accurate readings.
Delivers results in just ten seconds.
It requires only 0.4 microliters of a blood sample to process your blood sugar levels.
One lancing device is also present to prick the finger and take out the blood.
Early hypoglycemia detection through beep function.
Cons:
Some of the drawbacks of this Glucometer are as follows:
This device is not compatible with other testing strips.
Few customers found its battery to be problematic.
Safety Information:
It would be best if you read some of the safety procedures before using this Glucometer:
You should keep it away from children.
Do not prick yourself too hard with the lancet.
Do not keep the device under direct heat or sunlight.
You require only a tiny amount of blood for testing.