The sport of cricket has enjoyed a long and illustrious history, creating thousands of memorable moments during its existence.
From its humble beginnings cricket is now a worldwide phenomenon, with fans able to watch top class action throughout the year, enjoy online betting on the sport or engage with its stars on various social media platforms.
However, past events remain of huge interest to many cricket lovers around the world and is something that the Blades of Glory Museum in India has sought to tap into. Read on as we take a closer look at this great facility.
Tendulkar collection takes pride of place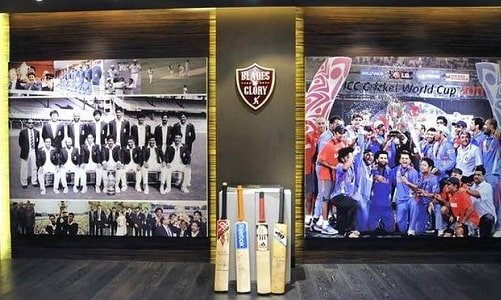 First opened in 2012, the Pune based museum features some of the rarest cricket memorabilia you will find anywhere in the world.
A section devoted to Indian cricket legend, Sachin Tendulkar, is the centrepiece of the museum and received a huge seal of approval from the great man himself.
The display of miniature bats features details of the 100 international centuries he scored, each with information about the teams, score and venue.
There is also a T-shirt and other items of cricket equipment worn during the 2011 World Cup final which have all been autographed by Tendulkar.
Cricketing stars of the past honoured
In addition to the prestigious Tendulkar items, Blades of Glory features plenty of other important pieces from the cricketing stars of yesteryear.
These include a Sir Donald Bradman bat displaying his career statistics alongside bats used by other cricketers who scored more than 10,000 runs.
There is also memorabilia from Sir Garfield Sobers, Muttiah Muralitharan, Waqar Younis and many more high profile players.
Ricky Ponting has also contributed items to the museum in addition to helping its owners gain access to many other Australian cricket stars and their memorabilia.
Jadhav adds coveted shirt to the collection
Indian all-rounder Kedar Jadhav has had a long career in the sport, enjoying plenty of success in both domestic and international cricket.
His performance against England in a one-day international back in 2017 will live long in the memory, with his score of 120 leading India to a famous victory.
He went on to be named Player of the Series and has since firmly established himself in India's middle order.
Jadhav's shirt from the England game now resides at the Blades of Glory Museum and draws admiring glances from the thousands of people who visit each year.
The Blades of Glory Cricket Museum is located on the 3rd Floor, Govind Gaurav Apartment "C", Swanand Society Lane 1, Sahakar Nagar 2, Pune, 411009, Maharashtra, India. It is open seven days per week from 10.30am until 7.00pm. Please telephone +91 9822454567 for further details.