Mehndi Hai Rachne Waali Star Plus TV Serial Wiki, Story, Timing, Cast Real Name
Mehndi Hai Rachne Waali is a show on Star Plus, and the show is being produced by SOL production. This show is a remake of a Telugu Series which was known by the name of Gorintaku. The first show of Mehndi Hai RachneWaali was aired on 15 February 2021. To learn more about Mehndi Hai Rachne Waali, check out the sections below.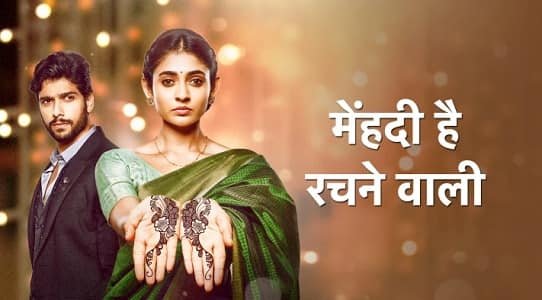 Wiki
The main cast of Mehndi Hai Rachne Waali includes Shivangi Khedkar & Sai Ketan Rao. The show was launched recently, and you can easily catch up with the old episodes of the show. Since the series is available on Hotstar, you can even binge-watch the episodes. The show has gained popularity because of its unique storyline.
Story
Mehndi Hai RachneWaali revolves around Pallavi, who is a hardworking girl. She is too much into her family, and you will notice that her character is very caring. Pallavi is ready to sacrifice anything for her family. One thing you would notice about the character of Pallavi is that she is scared to get married, and she wants to avoid it at any cost. However, the story has a twist when she meets a local goon, and she feels attracted to him. With this, her story starts, and you will notice the new elements with every episode that you watch.
Timings
Mehndi Hai Rachne Waali is aired on Star Plus from Monday to Saturday at 6:30 PM. The runtime of the show is between 20 to 22 minutes. We do not have the information on the repeat telecast at the moment. In addition to this, you can also watch Mehndi Hai Rachne Waali on Disney+ Hotstar.
Cast Real Name
Shivangi Khedkar as Pallavi Deshmukh
Sai Ketan Rao as Raghav Rao
Milind Phatak as Vijay Deshmukh
AsmitaAjgaonkar as Sharda Deshmukh
Anjinkya Joshi as Milind Deshmukh
Snehal Reddy as Sulochana Deshmukh
RutujaSawant as Mansi Deshhmukh
Priyanka Dhavale as Amrita Deshmukh
Karan Manocha as Nikhil Deshmukh
SnehalBorkar as Krishna
HimanshuBamzai as Farhad
SayliSalunkhe as kirti