Lata Mangeshkar is undoubtedly the most famous and talented female playback singer from India, who has rightly earned the title of the Nightingale of India. She is someone who has defied age and continues to sing like a 16 year old, despite her old age. Her contribution to the Indian music industry has been unmatched, and she has performed thousands of songs in as many as 30 languages till date.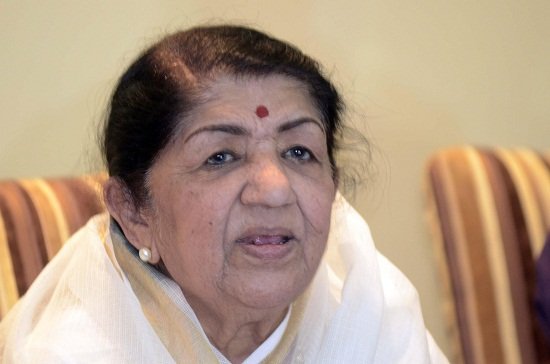 Net Worth: $ 10 million
Income Sources: Lata Mangeshkar is the top most playback singer in the Indian film industry, who has been giving her voice to actresses from all the generations since the past many decades. She has retired from an active career in 2012, but continues to be the queen of hearts of millions of fans around the world/
Born: 28th September, 1929 (85 years old)
Height: 5'1″ Feet
Marital Status: Single
Personal Background
Lata Mangeshkar was born in Indore in a musical family, with her father Pandit Dinanath Mangeshkar being a great classical singer and her guru and her mother Sudhamati was an ardent devotee of Lord Krishna. Lata started young as her father introduced her to singing at the age of six years. She was taught alphabets at home by a family servant and was trained in singing by her father, and later by Aman Ali Khan and Amanat Khan. She had to start playback singing at a very tender age, when her father expired when she was just 13 and she had to do so to earn money to support her family financially. Her sisters Asha and Usha are also well known singers in the industry. Lata has been known for her love for diamonds and emeralds and she is also fond of dogs, having owned as many as 9 dogs at one time. She loves watching cricket and her hobby is photography.
Career Graph
When Lata joined the industry in 1942 to overcome her financial problems, she was initially rejected due to her thin voice. No one could ever imagine that this shy young girl with such a thin voice would once become one of the most famous singers in the world, but Lata proved everyone wrong and reached the top with her outstanding talent and amazing resilience. During her illustrious career which has spanned over seven decades, this great performer has given her voice for as many as 500 movies and has been honored with countless awards for her glorious contribution to the industry, including the Filmfare Lifetime Achievement Award and the prestigious Bharat Ratna. She has a wonderful voice quality and an amazing range, and can sing in 3 octaves as compared to others, who can sing only in 2 of them. She has a great respect for her profession and always entered the recording studio barefooted.
Home and Cars
Lata Mangeshkar resides at a plush flat at Peddar Road in Mumbai, right next to the home of her sister, Asha. She owns another bungalow in Kolhapur. She bought a grey colored Hillman as her first car, but right now owns a Mercedes, which was a gift from Yash Chopra.