Leaving behind a smelly loo can be really embarrassing, especially in an office or in a friend's house or worse when you are travelling on your honeymoon! The solution out there for dealing with toilet odours are aerosol sprays. These toilet freshener sprays are loaded with toxic chemicals that are bad for your health and for the environment. Not just that, they don't deal with the bad smells efficiently, and you land up leaving behind a washroom that smells a bit like flowers and a lot like poop. Researchers have identified that air freshener chemicals are linked to cancer, neurotoxicity, and endocrine disruption. Not to mention a large portion of the population experiences headaches and respiratory difficulty from exposure to such aerosol sprays. Yet on store shelves, you'll find them in numerous forms: electric, automatic misting sprays, pressurized cans etc. And even more surprising is how many people will make use of them without giving it a second thought.
Don't fret anymore, Essentially Happy Marketing is disrupting the way we have dealt with bathroom odours in India by launching India's first Pre-Toilet spray – Poo de cologne, before-you-do-no.2 toilet spray. A Natural & Pure alternative to harmful aerosol sprays.
What is a pre-toilet spray? A pre-toilet spray is used "before" you do the "Big Job." It is sprayed directly over the toilet bowl water. The essential oils in the formula form a layer over the water's surface trapping the bad smells below, while above the water they spread their beautiful aromas in the toilet. This method of blocking bad smells before they can spread into the air is based on the basic science that oil floats on water. This concept of pre-toilet usage gives Poo de cologne a solid unique selling proposition.

Pure & Natural Solution. Poo de cologne pre-toilet spray has no gas and uses no toxins. It uses no aerosols, alcohol, parabens, phthalates, formaldehyde, synthetic fragrance within the products, which are also cruelty-free and not tested on animals. It is a natural product made from pure essential oils.
Who is it for and where can it be used? With the tagline, 'Confidence to leave the loo. Consideration for those in queue' the target group is everyone who poops, literally! Poo de cologne toilet freshener is the next level in personal hygiene and personal care. Besides regular use at home, this innovative bathroom freshener is a must-have in shared loos like co-living and co-working spaces, restaurants, bars, cafes and malls. It is a travel essential, especially for honeymooning couples. Office dump-takers must keep a spare one on their desks and a good host must stock one in the guest bathroom.
The company
Essentially Happy Marketing was established in December of 2019 with a vision to bring the best and safest hygiene products to the Indian consumer. Its first launch, Poo de cologne, is a product of a rigorous product development process, extensive consumer testing and most of all a deep desire to provide safe products at affordable prices.
With the best manufacturing, packaging and raw material partners, Essentially Happy Marketing has developed a formulation that has created a new benchmark in product quality and delivery for dealing with toilet odour. Using 100% pure essential oils, the range has been developed to suit the Indian consumers' preferences and priced to suit their pockets.
The range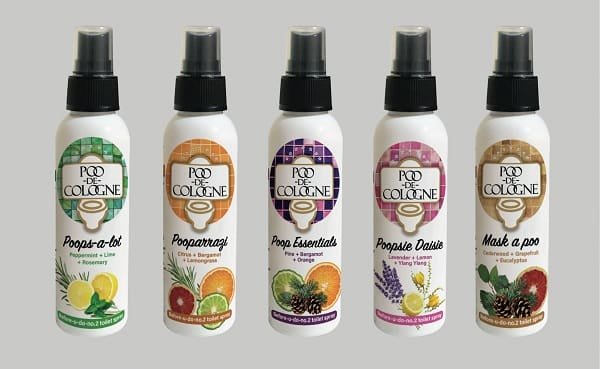 Poo de cologne is available in 5 wonderful proprietary blends:
Poopsie Daisie – Floral Blend – Lavender + Lemon + Ylang Ylang
Poops a Lot – Minty Blend – Peppermint + Lime + Rosemary
Mask a poo – Woody Blends – Cedarwood + Grapefruit + Eucalyptus
Poop Essentials – Pine & Citrus Blend – Pine + Bergamot + Orange
Pooparazzi – Citrus Blend – Citrus + Bergamot + Lemongrass
One of a kind: Poo de cologne is disrupting the way we have dealt with bathroom odours in India. It is a natural alternative to harmful aerosols and the only preventive solution that stops the problem of bad toilet odour before it can even arise. There is nothing like this in the Indian market.
Poo de cologne is currently selling online and you can buy it on amazon
https://amazon.in/poodecologne and it will soon be entering retail stores. For bulk orders email: essentiallyhappymarketing@gmail.com