Top 10 Hottest Movie Moms in Indian Pictures
If an actor believes in herself/himself, they can make you believe too. There are actors who play varied roles and are also well known for their exemplary performances. All the actors are expected to work in the forte different than theirs and that's how their true skill shows up. There are actors and actresses who go long way for the sake of their roles in movies. For example in the movie Paa, we see Amitabh Bachan playing the role of a young boy suffering from a rare condition.
Gone are the days when the roles of mothers were played by Nirupa Roy, Lalita Pawar, Nargis etc. they usually played the role of soft and fragile and emotional mothers. But now with the changing times, lots of actresses are now taking up roles of mothers on screen and are giving a new image to the motherhood. These tinsel town divas have been taking up challenging roles and proving their mettle in the industry.
Here's a list of the top 10 hottest Bollywood actresses who are way too young to play Movie mothers and surely never fail to make every heart tremble.
10. Richa Chadda in Sarabjit
This was a great role that Richa Chadda portrayed. She plays the role of Sarabjit's wife in the biopic opposite Randeep Hooda and Aishwarya Rai Bachchan. Her role of Sukhpreet in the movie as mother of Sarabjit's two children was very striking and opened new horizons for the actress.This 29 year old actress has done some extraordinary roles in the past and in this movie as well she showed her strength of acting skills.
9. Hema Malini in Baghban
Hema Malini is paired opposite Amitabh Bachchan and Salman Khan in this movie and is a mother to their 4 children. It is shown how both the parents sacrifice for the upbringing of their children so that they can lead a good life but when children grow up they end up ignoring their parents and become self-centered ending up insulting their parents. This movie portrayed how parents suffer even after the children get settled in their lives.
8. Kajol in Kabhi Khushi Kabhi Gham
Kajol played the role of a bubbly Punjabi mom in the movie Kabhi Khushi Kabhi Gham. She was widely appreciated for her role in the movie. It was a totally new avatar for the actress and she totally slayed it. However in her private life as well she is an amazing mom to two cute children daughter Nysa and Son Yug. Also, she is still robbing hearts with her acting skills and is an adorable Bollywood actress who has an expertise in managing her personal and well as professional life.
7. Karisma Kapoor in Biwi No 1
Karisma Kapoor played the role of mother of two cute children in Salman Khan Starrer Biwi No 1. She captivated lots of hearts in the movie by playing the role of a simple housewife and then the transformation to a modern chic made her win many awards. In personal life also she is the most stylish mother of two children daughter Samaira and son Kiaan.
6. Sridevi in Mom
Mom was Sridevi's 300th film. Mom is a thriller movie where Sridevi played the role of a step mother and this movie was also appreciated. Though it did not do well at the box office but this movie definitely left an impression on the audience. She played mother's role in the movie 'English Vinglish' as well. In her personal life, at 50 years of age, Sridevi looks so delicately beautiful and brilliantly gorgeous. She is the mother of two beautiful daughters, Jhanvi and Khushi and recently she got honored with Padmashri award for her acting skills.
5. Ramya Krishnan in Bahubali
Ramya Krishnan is a well-known name in the film industry. She has done many pivotal roles in Hindi and Tamil Cinema. But her portrayal of Rajamatha Sivagami Devi in the movie Bahubali was extremely strong and her performance majestic. She played the mother of Bahubali and Bhalladeva in the movie and was handling the entire kingdom with intelligence and justice for all. The two brothers eventually fought for the crown of the state. She will always be remembered for the role of Rajamatha Sivagami Devi.
4. Rekha in Koi Mil Gaya
One of the hottest movie stars of yesteryears and who can still give some of the fine actresses a run for their money, Rekha, portrayed the role of Hrithik Roshan' s mother in Koi Mil Gaya. Her acting was appreciated all across as she played the role of a mother to a mentally unstable child who befriends an alien. She raises him all alone as her scientist husband dies in a car accident and later when alien enters the movie, he cures all his mental illness. She is appreciated for this role. Apart from this Rekha acted in various other movies portraying as mother like Krrish, Dil hai Tumhara etc.
3. Aishwarya Rai Bachchan in Jazbaa
Aishwarya played the role of a mother in the movie Jazbaa opposite Irrfan Khan. She plays the role of Anuradha Verma, a well-known and an honest lawyer and a single mother who was forced to defend the criminal as her daughter got kidnapped. Her role was extremely applauded and praised. Though the movie did not do well at the box office, her role portrayed that she is capable of acting as mother too. In real life, the timeless Miss World is the proud mom of Aaradhya Bachchan.
2. Vidya Balan in Paa
Vidya plays the role of Amitabh Bachchan's mother in the movie Paa. This movie was critically acclaimed and Vidya's role was widely appreciated as she plays the mother of a child who is suffering from Progeria – an uncommon genetic syndrome.  Her hardships and tribulations are shown in the movie. Overall, Vidya has shown us some of her exemplary work by working in movies of different genres and has impressed the audience a lot.
1. Kareena Kapoor in "We are family"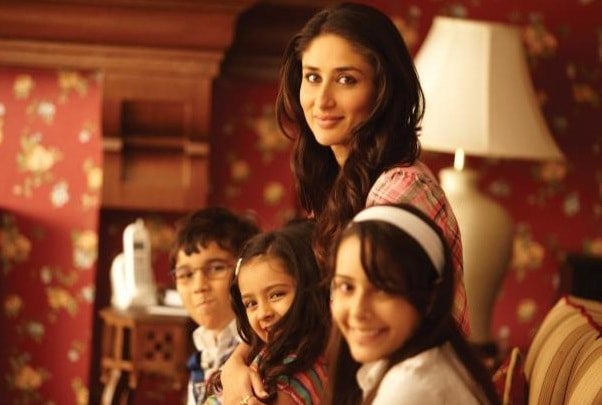 Kareena Kapoor played as a mother in the movie "We are Family" opposite Kajol and Arjun Rampal. She became the famous and loved, stylish and fashionable Step mother. She was appreciated for her role in this movie. Another movie she played the role of mother was Ra.One opposite Shah Rukh Khan. She is always appreciated for the choice of her roles and these two made us believe that Bebo can play the role of mother exceptionally well on reel. In real life, she got blessed with a cute son named Taimur Ali Khan.
Conclusion
Managing career, family and other ventures may be challenging – but our B-town leading ladies seem to be handling all very elegantly. These tinsel town divas have made their mark in the industry by playing the roles of all genres and have proved time and again that they are capable of taking more and more challenging roles in the future. Though most of the ladies in the list above have embraced motherhood in the real life and we believe that's what helped them in taking up these roles and totally slay the audience with the mind blowing performance.