When it comes to Punjabi music, Gurdas Mann is certainly a name that should not be forgotten. He is now one of those extremely famous Punjabi singers that India has to offer. In fact, he has been a constant participant for a number of music awards not only in India, but in some parts of the world as well. Apart from being a renowned Indian singer, he is also a famous actor, choreographer, and songwriter.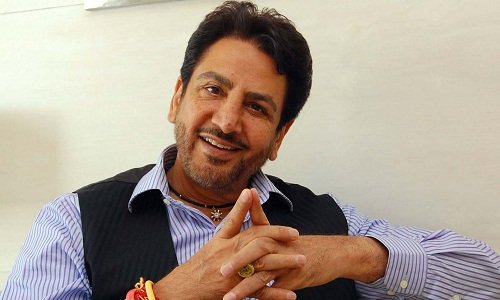 Net Worth: $50 million (Estimated)
Sources of Income: Obviously, Gurdas Mann is acquiring a lot of money from his very successful singing career. He is paid a whopping amount in every song track he releases. Aside from that, he is also earning a lot from being an actor. He has been starring in a number of films, so there is no question why he has that unbelievable amount of net worth.
Full Name: Gurdas Maan
Born: 4th January, 1957
Marital Status: He actually got married to an extremely popular Indian woman, who is into Punjabi film directing and producing. She's none other than Manjeet Maan.
Car: Toyota Landcruiser (Old Green), Toyota Landcruiser (New Black)
House: His residential address is in Giddarbaha, Sri Muktsar Sahib in the Indian state of Punjab.
Height/Weight: Unknown
Personal Background
 The city of Giddarbaha in the Indian state of Punjab was actually the birthplace of Gurdas Mann. He came from a Sikh family. His father was named Sardar Gurdev Singh Mann, while his mother was named Bibi Tej Kaur. Gurdas has one son to his wife, Manjeet Maan. His name is Gurickk. Just in case you don't know, Gurdas was involved in a couple of major car accidents in the past. The first car accident he experienced was when his Range Rover was accidentally hit by a truck on January 9, 2001 in a certain village in the state of Punjab. The second car accident happened on January 20, 2007 in a certain village in the state of Haryana.
Career Graph
 Gurdas Mann became popular in the Indian music industry way back in the year 1980 when he released his very first song titled "Dil Da Mamla Hai". After this very successful song album of Gurdas, other albums were released like the "Chhalla" and the "Mamla Gadbad Hai" albums. His great singing career has given him the chance to perform not only in India, but also in some other parts of the world like in the United Kingdom. As part of his world tour, he got the chance to perform in a live audience in Royal Albert Hall in London. In the year 2009, his hardwork in the music industry paid off when he captured the Best International Album award in UK Asian Music Awards. His debut in acting can be traced back in the year 1982 with the Punjabi movie, "Ucha Dar Babe Nanak Da".
Two of the movies that he starred with in which he portrayed his commendable acting prowess were "Shaheed-E-Mohabbat" in the year 1999 and the "Waris Shah-Ishq Da Waaris" in the year 2006. The latter had brought him to the Indian Academy Awards since such movie was nominated.
Save